Blog posts are a great way to get your name out there and establish yourself as an expert in your field. Blogs also provide people with valuable information that they can consider when making decisions about their own lives, such as how to set up a blog or what SEO strategies are the most effective for local businesses. The local SEO services help you to rank your blog high in the search engine.
This post will explore some of the reasons why blogging is crucial for your local SEO strategy, including increasing rankings on Google maps, building credibility in the eyes of potential customers, and providing content that engages readers who might not otherwise find you through traditional search engines.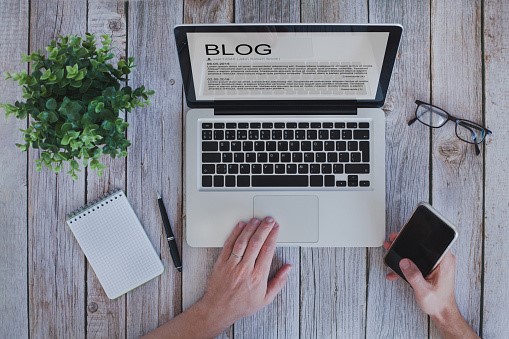 Reasons Why Your Small Business Needs A Blog
Small businesses do not always have the resources they need to discover and implement the latest marketing tactics. One great solution might be a business blog that can provide content that engages potential customers and positions your business as an expert in its field. Here are five reasons why your small business needs a blog.
Increase Your Rankings on Google Maps
Google has made it clear that they want to provide people with the best possible search results, including listings for businesses that are accurate and relevant to the individual user's query or situation at hand. Blogging can play a role in helping your business rank higher for certain keywords, allowing potential customers to discover you who might not have found you otherwise.
Build Credibility with Customers
While it is important to rank high on search engines for relevant keywords, some of the most valuable traffic that a business can receive is through word-of-mouth referrals from previous customers. One way to improve your chances of getting referred by existing customers is to keep your blog up-to-date with relevant content specifically targeted towards your customer base.
A blog provides a platform for potential customers to get to know you and your business on a more personal level, making them feel as though they are a part of the company. This increased familiarity might also lead to an improvement in the overall perception of your brand.
Increase Your Brand Awareness
Blogging can help to increase a business's overall online presence because of the number of different places that blog content shows up on the Internet. A business blog will typically have a URL that people can visit directly or a link that they can share with their friends and family through social media sites such as Facebook and Twitter.
Generate Leads
Blogging can be an excellent way to generate more leads for your business, especially since the content on your blog posts is usually more detailed than what can be found through search engine results or even social media posts.
The information you provide through blog posts is also often higher quality than content that can be found on the Internet, which can make leads interested in learning more about your business feel as though they are receiving more value when they opt-in to receive future blog posts. In addition, the local SEO services can also help you get more quality traffic for your business.
Using Content Marketing to Rank Higher on Search Engines for Local Customers
One of the ways that businesses can use blogging to gain an advantage over their competition is through content marketing, which involves creating blog posts that are rich with relevant keywords and using these keywords in strategic places throughout the blog. When done correctly, this strategy enables businesses to rank higher on search engines for the most pertinent keywords related to their business or industry.
The following sections will discuss how local SEO companies can use content marketing to position clients as experts within their industry and, more importantly, on the first page of Google for local customers.
1. Focus on Relevant Long-Tail Keywords
One of the most effective ways to market a business with a blog is by using long-tail keywords that are highly targeted towards the client's industry. For example, if a local SEO company is working with a client with an online store that sells pet products, the blog might focus on using keywords like "best dog food for Yorkies" or "how to promote your pet store on Facebook."
2. Use Keywords That Potential Customers Are Using When Searching for Your Business
One of the best ways to find relevant keywords for a client's business is to look at the words and phrases that current customers have used when searching for the company in Google or another search engine. By noting what words potential clients are using, local SEO companies can use this information to help their clients rank higher on search engines for keywords that potential customers are searching for.
3. Include a Call-to-Action in Every Blog Post
Since a blog is a form of web content, it should be treated as such when efforts are being made to market the client through blogging. A call-to-action can include having readers subscribe to future blog posts by checking a box on the page or writing their email in a designated spot to receive updates when new blog posts have been published. Having this type of call-to-action in every blog post will encourage readers to take action, leading them to eventually become customers.
4. Include Visual Content In Every Blog Post
Including visual content such as infographics or images in blog posts can increase readers' chances to share the post with others on social media sites such as Facebook and Twitter. Visual content is also often shared on other websites such as Reddit, Pinterest and Tumblr.
By including visual content in every blog post, businesses will gain an advantage over their competition. They will attract more readers to their posts because they are often shared on various social media platforms.
5. Partner With Authority Blogs Within Your Industry
One of the best strategies to market a client's business is partnering with other bloggers within their industry. By offering guest posts to authority blogs, businesses will gain a link from a high-quality source, which can help improve the rankings that the client receives from search engines for keywords related to their business or industry.
6. Call Out Clients in Your Blog Posts
Since local SEO blogs should primarily focus on the client's business and industry, it is good for businesses to call out their clients when they are mentioned or discussed in blog posts. This can include a quote from a well-known authority within the industry being cited within the post or having a client's business mentioned when talking about a new development within the industry.
By including clients within their blog posts, businesses can often capture potential customers looking for information related to the client and/or his/her business.
Blogging Is Crucial for Your Local SEO Strategy
When people think about businesses using blogging as part of their local SEO strategy, many will believe that large companies only use it to promote themselves. However, blogging can be a very effective way for small businesses to get their name out there on the Internet while positioning themselves as experts within their industry.
The most important thing for companies and individuals who are using blogging to market their business is to remember that blogging should not be treated like traditional content marketing, where only keywords related to the client's industry are used. Instead, blogging should be treated like any form of marketing by using keywords that are highly targeted towards the client's industry and including relevant long-tail keywords that potential customers are using when searching for the company.
Blogging is becoming an increasingly crucial aspect of local SEO strategies because search engines such as Google value web content as a way to help search engine users find the information they are searching for. By adding a blog to a company's website, a local SEO company is positioning their client for success by having an effective marketing tool that will help increase traffic to the site and position them as experts within their industry through post frequency, the freshness of content and number of pages indexed.