Plagiarism is a major concern for every blogger. It could be bothering you as well, but don't worry. This article will help you find online tools that you can use to detect plagiarism.
We can find hundreds of plagiarism checkers online, but how can we ensure that they work correctly to find the duplicity in our content?
Bloggers have to write multiple blogs daily. Therefore, they have to consider uniqueness as a crucial element in their writing. Otherwise, they can face severe consequences.
In the following sections, we will discuss some plagiarism checkers that everyone can use. We will also discuss the benefits of plagiarism-free work in your professional life.
So, stay reading!
The 5 Suggested Plagiarism Checkers to Use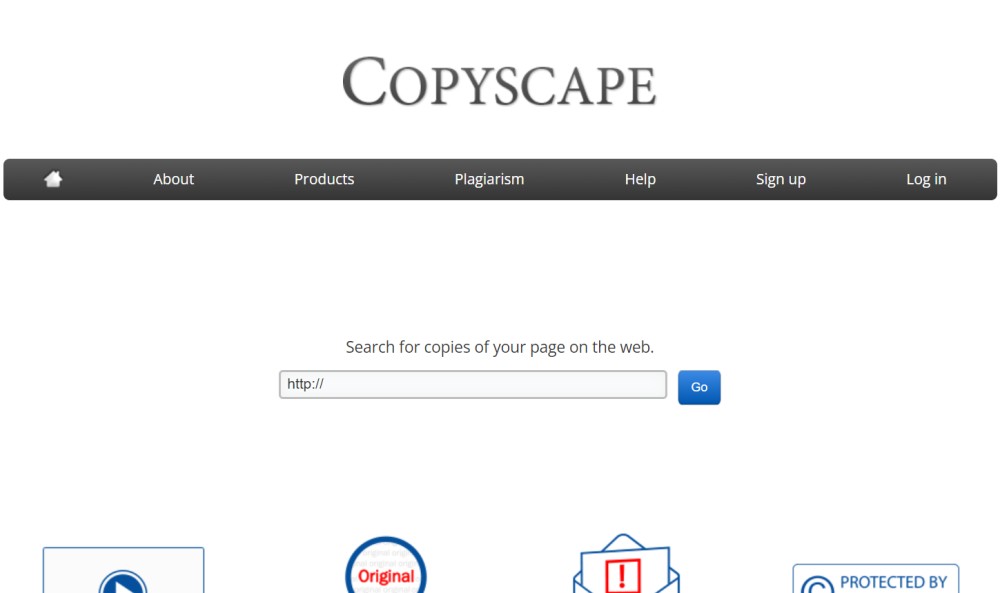 First off in the list, we have the plagiarism checker by Copyscape. Copyscape is one of the most popular names when it comes to plagiarism checkers, and it provides accurate results.
Users can use it anytime and anywhere, on their smartphones and laptops.
You have to copy the text material you want to check for plagiarism to use the tool. After copying the text, go to the tool and paste the text into the white input box.
It is very helpful for everyone because it is not possible to carry laptops wherever you go. You can check plagiarism on almost any system with the 'Google Drive' and 'One Drive' options.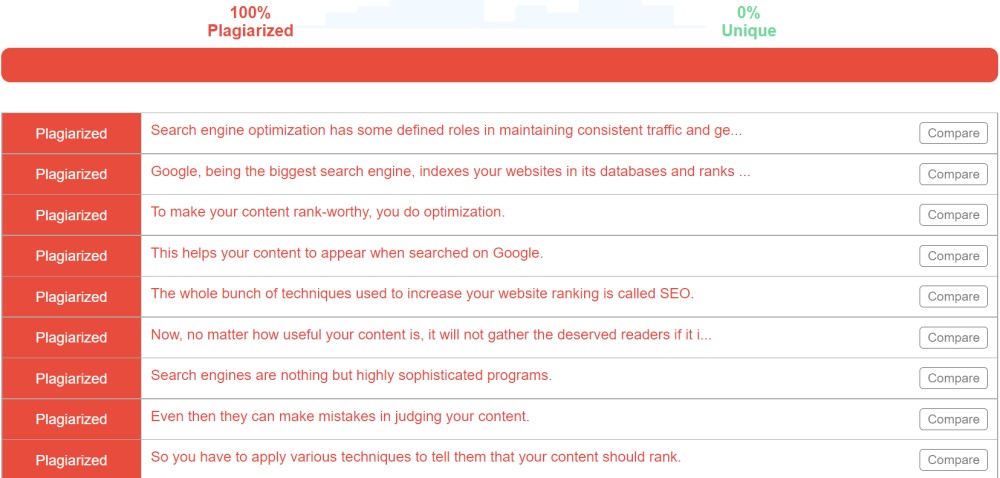 Next, we have a free online plagiarism checker by Editpad.
Bloggers know how a single plagiarized blog can destroy the reputation of their website. It is always suggested to check your blog for plagiarism.
To use the tool, click on the link attached, and you will be directed to the tool window. You will see a wide, white box on the tool with the 'Paste your content here to check plagiarism' caption.
You just have to copy the text and paste it into the box. After that, hit the blue button to start the plagiarism checking process.
You will see that the tool will calculate your results and show them in the percentage format very quickly.
The uniqueness percentage will tell you how unique your content is. And the plagiarized percentage will tell you the amount of plagiarized material in your content.
Additional Features of this Plagiarism Checker
Support Multiple file formats
Editpad's plagiarism checker supports multiple file formats to help students, teachers, and professional writers.
Users can upload files with the .DOC, .DOCX, .TXT, and .PDF extensions. This is not something that you can always enjoy with free tools.
But with this tool, users are not restricted to a single file format. They can upload files in different formats.
List sources of plagiarism
This plagiarism checker also gives you a list of the matched sources.
If your text contains any percentage of plagiarized content, you can compare it with the sources listed and remove it by changing the sentence structure or rewriting the sentence/paragraph.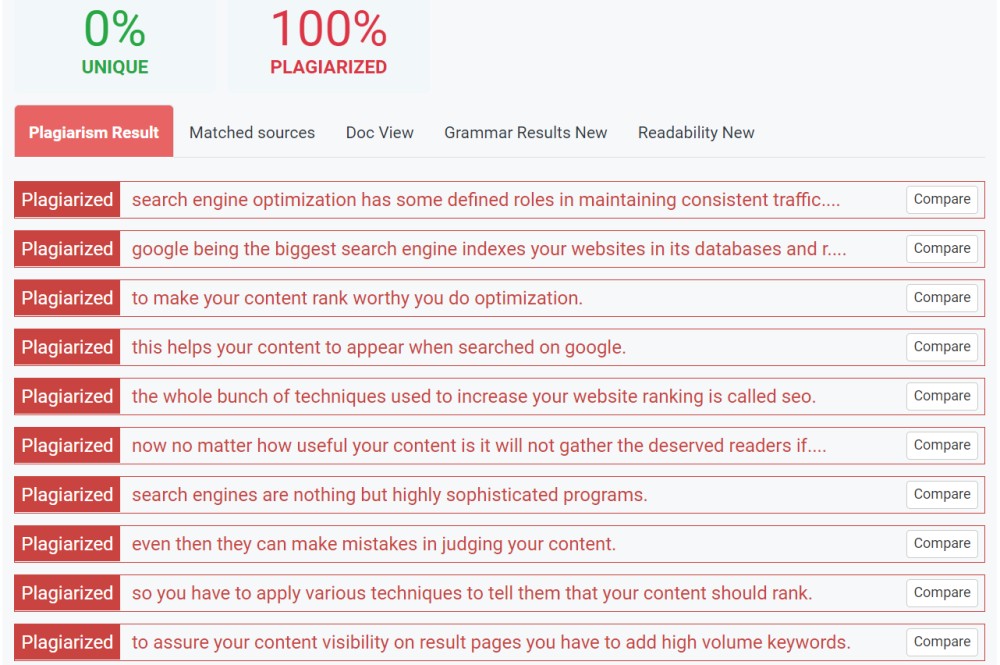 Moving on, we have a plagiarism checker by Softo. Softo.org offers 213+ free online tools. Among them is the plagiarism checker.
This plagiarism checker is built using artificial intelligence techniques that calculate content resemblance using several plagiarism detection algorithms.
This tool finds plagiarism quickly and helps users save a lot of time which they can utilize in other productive tasks and activities.
The interface of the plagiarism checker is quite admirable as it meets users' needs and expectations. The tool requires no expertise to operate. Anyone can use it without difficulty.
Additional Features of This Plagiarism Checker
Determine Multiple Types of Plagiarism
Plagiarism is not of one kind or category. Plagiarism can be of several types, including:
Patchwork plagiarism
Direct plagiarism
Accidental plagiarism
Softo's plagiarism checker can determine plagiarism in all the categories mentioned above. And users don't need to pay any extra or hidden charges for this.
Generate Report Which Users can Download
This plagiarism checker generates an adequate report of results that users can download to share with their clients or employees.
It is beneficial for students and teachers. Students can attach the report with the final submission of their research paper or thesis.
4. PLText.com

PLText.com is an excellent free online tool that you can use to check for plagiarism in your content. The tool is quick and easy to use, and it does not require any type of registration or signing up.
PLText.com shows you the percentage of the original and plagiarized text in your entered content. It also gives you the exact URLs of the matched sources.
One thing that we liked in particular about PLText.com was the additional and surplus features it provides on top of the basic plagiarism-checking function.
You can go to the 'Edit' tab to write out your content differently in order to remove plagiarism from it.
PLtext.com has an in-built rewriting tool that you can use to get your content rewritten in different wording. You can use it by clicking on the 'Rewrite' button in the 'Edit' bar.
Additional Features of PLtext.com
Get Detailed Reports
PLtext.com provides you with detailed reports with different content statistics such as similarity score, phrases matched, date of scan, etc.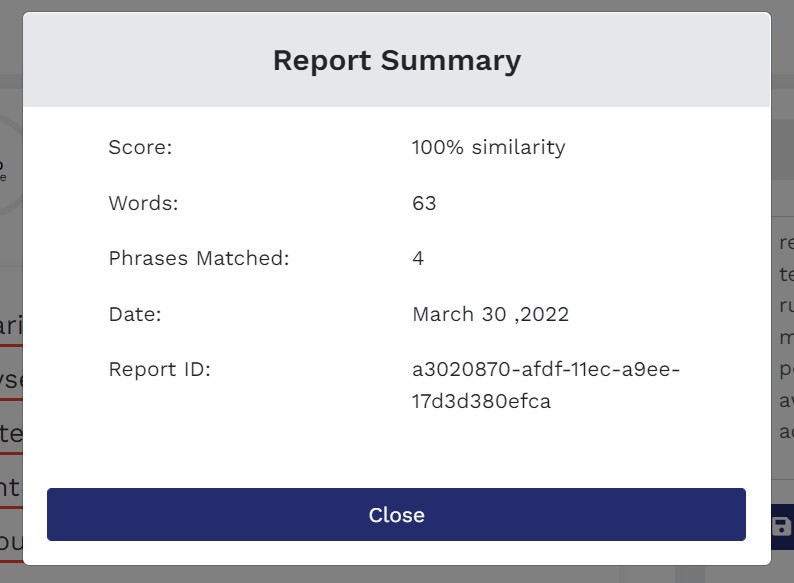 Get Sentence, Word, and Character Count
You can, while writing out the text in the input box, get an exact character, word, and sentence count in the bottom bar. You will be able to see the exact length of the written content.
5. Writer.com
Writer.com is a platform that comes with multiple content optimization tools. However, it also has a free plagiarism-checking tool that you can use for free.
The feature that we liked when using Writer.com was the fact that it does not require you to upload your content and then press a button to trigger the process.
You can just start writing in the given box, and the software will let you know if there is any plagiarism in your content.
In other words, the plagiarism checker works side-by-side with the writing process and does not have to be specifically activated or triggered.
It also gives you the exact sources of the matched text in your content.

Benefits of plagiarism-free work for bloggers
Bloggers' professional reputations can be improved
Bloggers' work credibility will be enhanced
Bloggers can get more traffic by publishing original and reliable content
Final Verdict
In a nutshell, this article summarizes the five best plagiarism checkers that every blogger can use to enhance their professional work credibility.
Give this article a read to know about some plagiarism checkers with their working, and some additional yet amazing features that can go with your needs.