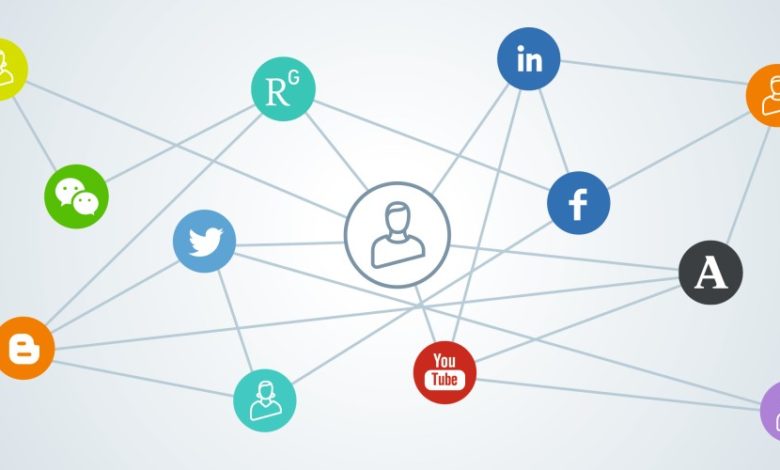 Let's Start
The answer to what is this social media is known to everyone, because today everyone is using social media. Yes, among friends, the social Medias I am talking about is nothing but these are Facebook, Twitter, Instagram and other networks. We know about the networks, if we do not know, then it is nothing but connecting with others. For example, Blogging's network, Business's network.
In the same way, social media means to connect with people through social communication. It is just like Physical Network, it just happens in network online. Since now is the time of online, people use this social media to communicate among themselves, to increase contacts or to exchange their live things and information? Many times it has been found that many of our friends and relatives do not live with us and some live abroad, so social media is very useful for us to interact with them and maintain friendship.
So today I thought, I'm choose this topic today to give full information about what social media is to you and how it has become a major part of our life, then the delay Let's start
What is Social Media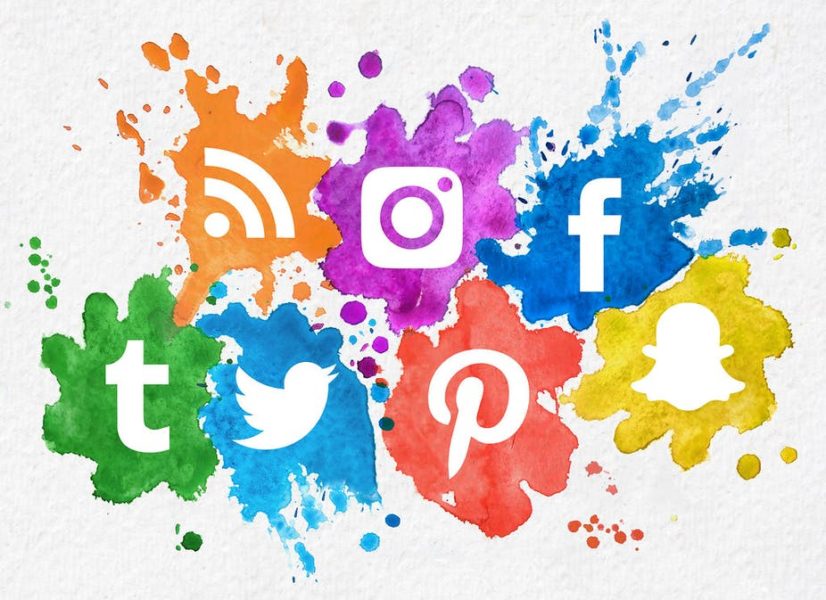 Social Media is also known as Social Media Service. This means connecting with your friends and relatives using the Internet. Where you exchange friendship, relationship, education, interests with each other. With this, we can know about the events happening in the country and abroad. With this we can learn about the interests of others and also explore them.
Definition of Social Media
Generally, Social Mediating Services allow users to create a profile. We can mainly divide them into two broad categories.
Internal Social Media (ISN)
External Social Media (ESN)
Internal Social Media (ISN)
ISN is mainly a closed and private community where small or small number of people are connected, it is like a community between those people. Here, an invitation is required to join this network. And you can join them only on invitation. For example, an Education group, Photography group or Hacking Community or a Secret Forum.
External Social Media (ESN)
Whereas, ESN is mainly open and public community where people are connected in large or large scale, it is like a community among these people. Here anyone can join this network who wants to join it. It mainly attracts more advertisers as there is more traffic here. Users can add their picture here and can also become "friends" with others. For example, Facebook, Twitter, Instagram, MySpace, WhatsApp and more.
Often, in social media, a user cannot link between themselves unless they confirm to other people.
History Of Social Media
Friends, we will hardly know about the history of the social media that we use every day without which our day would not have started.
After all, how did social media come between us? Know ahead the story of social media …
The first Social Media Site was name is "Six Degree". It was created in 1997 by Andrew Weinreich.
September 4, 1998 day Alphabet Inc. launches Google search engine, Google was created two PHD students, Larry Page and Sergey Brin who were students of Stanford University, California.
For your information, let me tell you that, Google is not exactly a social networking site.
It remained quite famous among Site Users until 2003, when Tom Anderson created his Site Myspace. This site also allowed users to create their own profile to play their favorite music. It was used a lot among Site Users.
After this, Facebook came and Facebook changed the attitude of social media. Mark Zuckerberg launched Facebook in 2004. Facebook made a lot of efforts to stay on top. Facebook also added Hashtag to keep up with Twitter. Later, Facebook also added stories to its site to give Snapchat a competition.
When Instagram arrived in 2010, Facebook thought it was a Tough Competitor for it. Facebook bought Instagram in 2011. After this, Facebook became stronger in the world of social media.
In this way Social Media spread like a fire among the world.
What are the Risks of Social Media?
Where the use of Social Medias helps us to take advantage of a lot of possibilities such as increasing contact with our friends, getting to know the world closely, knowing about cultures, long-distance relationships, etc. At the same time, it also brings many such risks with which we need to know.
Using social medias can become equally risky if we do not know how to use it. Because in online we can find many such frauds and molesters who can trick us by pretending to be friends and get us wrong. So let's know a more about this.
Main risks that can be done using Social Medias
Loss of our privacy: All the data, information, photo, video or file that we upload on social media becomes a part of that, which later becomes part of administrators' files. In return, if a hacker hacks that system, then he can easily get all our data and can also use it incorrectly. So never save all your information on any social
Access of inappropriate content: Since there is less control over our network, so the information we see on the Internet may have bad and inappropriate content in it, even if we do not want it. They can be of any humus, such as violent, sexual, or things related to nerves etc. These things can also be published or shared on social media by some other people in the form of links,
Harassment by Colleagues, acquaintances or strangers: The main two fundamental cases can be seen
Cyberbullying: Harassment that is done by any colleagues or strangers through threats, insults, etc. in this network.
Cybergrooming: These are mainly done by adults with minors so that they can get their photos and information from them, which they can later use to get their work done.
Social Media Advantages
Many people start their day with social media, who first check their phone as soon as they wake up in the morning.
Are you also one of those who do a post on Daily Social Media?…
So friends, not only you, there are many people who daily update a post.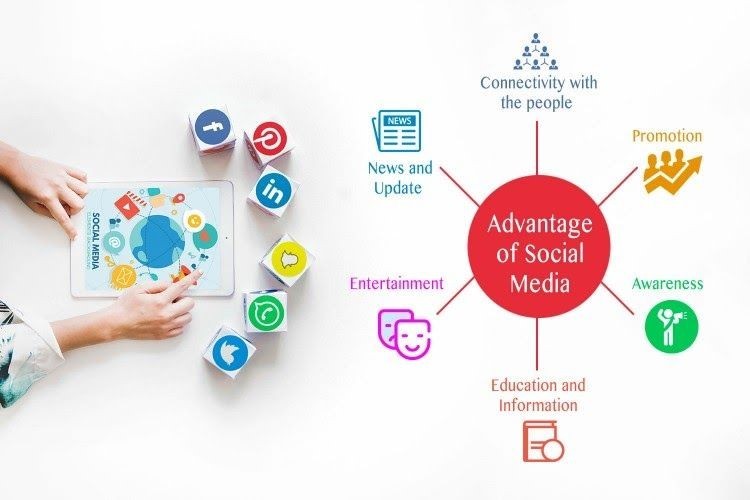 Let's know now Social Media Advantage
Social Media can be used by anyone, whether educated or
Social media makes communication
With its help, you can easily share your photos, videos, information with
Social Media has provided many resources of entertainment
With Social Media, you can stay connected with your friends and relatives every
Through this, you can convey your things to people, with social media you can share any information through
If you want to advertise your product or brand, then Social Media is the best way to do
If you have some skills, you can take help of the Social Media Platform and share your talent among
It has also become easier to find a job through Social Media Sites, nowadays there are many Social Sites that provide
You can do marketing through social
These are the benefits of social media.
If you feel that social media only benefits, then it is wrong. When you use it – when you get addicted to it, you will not even know.
Along with the benefits of social media, there is also the disadvantage of social media, which has a very bad effect on people.
Social Media Disadvantages
Once you are addiction to social media, no one can save you from the side effects of social media. So if you are also trapped in social media effect, then definitely know this loss and try to get away from them today.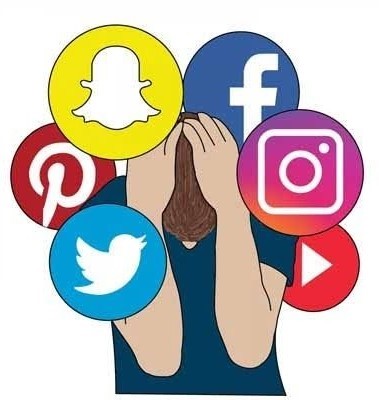 Let's know now Social Media Disadvantages
People who use social media more often fall prey to loneliness because they spend more time on social media so that they get away from friends, relatives and
Social media has promoted casteism and violence, even the smallest thing takes the form of
People can cheat you by creating fake account on Social Media and can steal your personal
It is also a waste of time, spending more time on social media also spoils the time and we waste half our time on
Health also has social media effect. This causes health issues and by sitting on the same place for a long time, using social media, the body becomes a victim of
On social media, a little bit of rumor is spread. Because of which people come to wrong things and also come down on
Cybercrime is the biggest problem of Social Media
Your social account can also be hacked so that your personal data can go to anyone and it can also be
Being constantly in touch with social media affects the minds, eyes and eyes of children and adults and causes many health
Being more active on social media weakens the mind, reduces concentration and causes mental
Social media also has a bad effect on children. He does not focus on studies due to running more time social media, which affects his
These are the loss of social media.
Conclusion
I hope you have liked my article what is Social Media? – Advantages and Disadvantages of Social Media.
If you liked this post what is Social Media? Or got to learn something, then please share this post on social networks such as Facebook, WhatsApp, Pinterest, LinkedIn and Twitter.