SEO
Top 10 Killer Magento SEO Tips For Your E-Commerce Website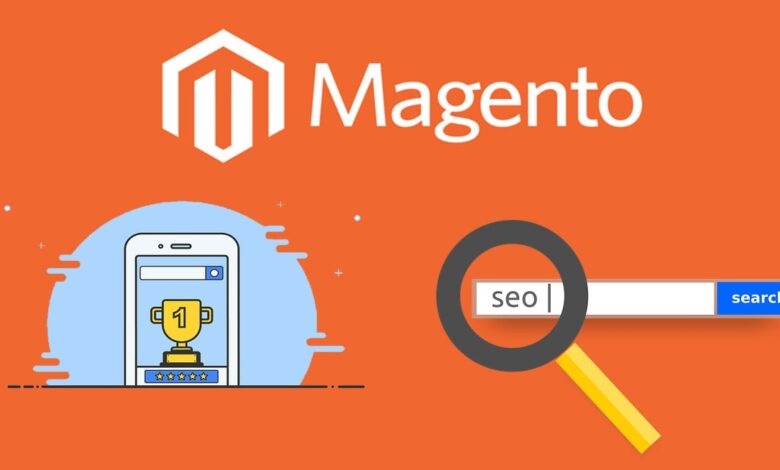 Magento is the world's most successful and fastest-growing open-source e-commerce website, and its creative and comprehensive personalized features have made it a necessity in today's e-commerce marketplace. Magento is the premier e-commerce platform for growth, whether you are a working professional and entrepreneur looking to develop your e-commerce site or a major multi-channel retailer looking to enhance your online presence and maximize conversions. The role of SEO in a marketer's business campaign cannot be overstated. These Magento SEO tips are designed specifically for eCommerce merchants to help you understand how to do SEO on Magento pages.
Since Magento SEO is such an important element in the success of an online shop. The higher your Magento SEO management, the more consumers will be able to buy your product/service, increasing your chances of brand expansion. However, Magento SEO optimization is never simple, and it becomes much more difficult to get information go to this site when working on SEO with an eCommerce platform with a large number of product lists. The default functions Magento provides to help merchants improve their company illustrates this partnership between Magento and SEO.
Do you realize that the significant growth of the virtual marketplace is no longer a fallacy, but now a fact for any e-Business? In addition, a large number of new company owners are also concentrating on their online store in order to boost their retail sales and earnings. In this web universe, where most online companies live with their online entity, we can all see the popularity of eCommerce websites. Because of its highly creative and personalized features, Magento 2 is one of the most common and rapidly-growing open source E-commerce platforms to use as your online store for your enterprise.
Choose a URL structure that is user-friendly.
A URL is a web address that specifies where a website on the internet can be found. If it's for a product page, category page, or subcategory page, the URL layout must be user-friendly, according to Magento's requirements. Instead, use a flat URL format for a massive product list. Don't know how to go about doing it? So, go to stores, then to set up, then to catalog, then to search engine optimization and settings. For the product URL, select "NO" for the categories path and "Yes" for Canonical Link, Meta Tag, and categories. While Magento SEO experts will help you index bloat so that product pages can be reached via a single URL, you can use the best URL layout possible for SEO.
Avoid boring product descriptions.
For your Magento e-commerce platform check this link right here now for hire expert magento developer, creating unique product descriptions is just as necessary. Your product descriptions can be excellent, artistic, and educational all at once. The descriptions you write should be able to get in more visitors to your website. The majority of e-commerce companies do not make the goods they offer. They obtain products from suppliers or a wholesaler who has product specifications created by the vendor. Instead of sticking to what comes with the item, most reputable e-commerce companies build their own product details. Your product pages can have useful little bits of information that can be found everywhere. There is no substitute for outstanding and exclusive product details if you choose to score higher on SERPs.
Avoid duplicating content on your eCommerce website.
In your eCommerce store, you can avoid using redundant material. You can include other products in the same category, but there are some differences in colors, configurations, and dimensions in the products. As a result, it is worthwhile to write an accurate product summary for each item. You must use the canonical tags in Magento to avoid repeat content information. Select the shop's choice, then set up, catalog, and change the canonical hyperlink tags for your products.
Update  Magento Platform (latest version)
The next Magento SEO tip is to keep the Magento edition up to date and go to this site. The better Magento SEO functionality will be revamped in new updates. If you want to achieve a high ranking in search engines, you'll need this. Aside from that, upgrading to the new version brings a slew of improvements, including improved Magento SEO performance, bug fixes, and, most notably, increased protection. Magento encourages all users to update to the most recent release version as soon as possible. When the website is constantly updated and redesigned, this helps to improve the efficiency of Magento SEO support. As a result, the most recent version helps improve Magento SEO results.
Opt for Meta Tags that are Optimized.
There's no denying that meta tags, such as the meta title and meta definition, play a significant role in click-through rate and search engine ranking. As a consequence, refining meta tags are equally critical if you wish to rank higher in search results. The optimal character length for an SEO-friendly meta title is 60 characters or fewer, according to SEO experts. Remember to use the focus keyword in the meta description. When it comes to SEO definitions, up to 160 characters is the optimum count. Have both your primary keyword and any secondary keywords you'd like to aim for. It's a good idea to use more than one secondary keyword, so avoid keyword stuffing. Additionally, the SEO definitions should be distinct.
HTML sitemap optimization
Magento does not generate an HTML sitemap on a regular basis, so you'll want to use plugins to customize the HTML sitemap. There are a plethora of plugins available for configuring the sitemap. You may want to give the Magento 2 Dynamic HTML Sitemap a shot. You should have an external connection in your sitemap and separate your products with commas. When you configure the XML sitemap in Magento 2, it will replace your pages on a regular basis. You can change the XML sitemap from the catalog option in Magento 2. Click on the shops, go to the options, click on the setup, and then click on the XML sitemap. If you have no experience in coding, hire a Magento developer to work on your eCommerce website.
Search engine optimization for product images
To attract new customers, you can have a range of images with your offering and hire magento developer. Such images can influence your website's ranking on search engines like Google, so it's worth optimizing your product photos with alt-text. On your product images, don't use a lot of main phrases as alt-tags; instead, use similar definitions as alt-text. From your Magento admin line, you can adjust the alt text of your images. Simply go to your stock catalog and double-click on the thumbnail of your product to go to the product's element tab. Scroll down the page and double-check your photographs and videos, then double-click on the images and enter alt text in the provided field.
Improve the Output of Your Website
The pace of your website is critical, and this point cannot be overlooked. You may want to create a website that is both trendy and quick to load. If your site takes longer than 3 seconds to load, your bounce rate can increase by as much as 40%. In addition, for mobile devices, Google uses page speed as a rating metric. But, how can a website's pace be improved? Take the steps outlined below.
Take advantage of browser caching: Browsing caching allows you to collect static website information using the browser of the user. This will allow you to satisfy the visitor's request by accessing the same file they are looking at. But, to help the load speed up, reduce the total number of visitors.
Switch hosting providers: If your current hosting provider's page load speeds aren't up to par, consider switching providers for better results. Choose one of the Magento hosting kits that are highly configured.
Choose a content delivery network (CDN): A content delivery network (CDN) delivers content from servers near your visitors' locations, allowing your site to load faster. To appeal to your content and increase load time, choose between free and paying CDN options.
Magento Full-Page Cache Configuration
A cache is a storage location for temporary data. Full-page caching is allowed by default in Magento, but there is one setting you can change to boost response times. Your Magento 2 cache will be set to Built-in Cache by default. This isn't ideal in terms of efficiency. Varnish caching can be used for complete Magento efficiency optimization.
Create a blog page.
You can't argue that a blog page for your e-commerce website is successful. Aside from product sites, launching a blog page is encouraged if you want to extend your keyword strategy. You might be surprised to learn that e-commerce sites that have a blog have 434 percent more indexed articles. Make several sites with different URLs and use keywords that you don't use when marketing products. This is how you can get the site the most attention possible. You will instruct the listeners about topics such as which items they can own and how to go about making a buy from your store.
Add social media sharing buttons to your website.
Use social media to promote high-quality content through multiple digital marketing platforms. Google also uses social media networking data to determine the importance of the page. As a result, integrate social media networking buttons into your Magento store so that consumers can share the content they want. These buttons would improve interest, exposure, and traffic to your pages.