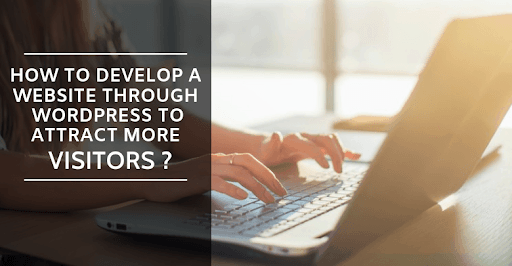 No one would doubt the amazing benefits of using WordPress as a platform to build a website. You have lots in store with a WordPress website. Most probably, you have a well-thriving business and you want to take it online.
In this case, you can rely heavily on a WordPress site to bring more customers to your business. But there are some nitty-gritty aspects involved to achieve this. What are they?
Well, in this article we talk about how you develop a WordPress site and run it in such a way that you get more visitors.
Essentials that Make your WordPress Website Attractive to Users
Focusing First on Creating an Engaging Website Design
Creative designs often lure us. When asked from many users why they mistrusted a website, 94 percent of them owed it to ill-designed websites. Therefore, factors to keep in mind while developing a website design are,
Have a clean and functional layout. This enables easier loading, navigating and moreover the viability on different platforms and devices.
Have an easy-to-follow navigation
Make getting around your website easy for visitors. Have your navigation menus design simpler. Furthermore, make your menus standard in appearance to make your readers feel comfortable.
Have clear calls to action
Your ultimate goal would be to make your visitors click on the buttons. Therefore, design your buttons in a way that makes them "pop" to a visitor scanning your website. On the other hand, have short and direct texts on your buttons.
Short and sweet is what everyone likes. Not the dragging and aimless content. Therefore, focus mainly on using what you know about your visitors to minimize their options.
Predominantly, pay attention on contents related to your products and ads. Avoid needless bragging.
Provide enough of whitespace
Be conscious of providing lot of empty space in your website. They necessarily need not be white but let that space contain no images or texts. This improves the level of readability.
Whitespace helps your customers to pointedly see the benefits and solutions of your products, instead of taking the strain to visually sort out through a noisy and cluttered layout.
Incorporate eye-catching colours
First, have a basic colour for your whole website. Then choose a contrasting accent colour for your buttons and a different colour for other interface elements.
Employ visually balanced, clear and intriguing fonts for your website text. Few popular fonts are Brandon Grotesque, Museo Sans, Railway and Playfair Display.
Having engaging videos and rich images
Content with visuals will lead to a 100 percent increase in unique users. Therefore use scalable images (SVGs) to ensure high-quality user experience.
Componential Elements of a User-Attractive WordPress Website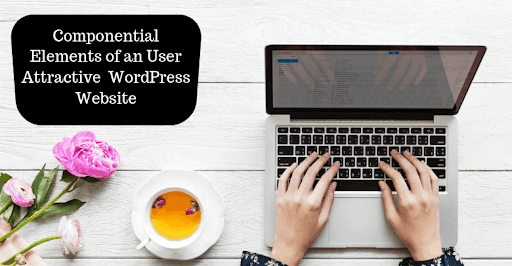 Place an attractive theme for your WordPress website
Choose a website design that matches your subject. If not choose the "premium theme". Don't use themes that are two years older.
Optimize your WordPress website database
Your customers tend to leave your site if the page takes a long time to load. To avoid this, choose a simple theme that does not overload your WordPress website with unnecessary photos and videos.
You can try installing W3 Total Cache plugin to considerably improve the download speed. Furthermore, you can either ask for further advice on Free Site Speed test services like YSlow or Google Page Speed.
Improve your Search Engine Optimization (SEO)
Your WordPress website should be pushed atop the Search Engine Result Pages (SERPs) to enable visitors to see your website. To enable this to happen, your site's SEO should be improved. Some of the SEO factors to consider in order to increase traffic to your site are,
Increase your site speed
Your site should be mobile-friendly
Optimize your images
Write meta tags
Keywords should be included on your site pages, title/headings, and blog posts
Importantly, include internal links for Google indexing
An easy way to enable all the above is to install the WordPress plugin called Yoast SEO.
Create useful and engaging content
Tons of traffic can be generated to your WordPress site by posting blogs regularly. Your blog creation can be turned towards writing how-to's, guides, interviews and writing on other most-searched contents in the web.
Importantly, your blog content should be authoritative and true. Furthermore, add relevant keywords in your blog's body content and headline so that when a user enters a query into a search engine, your content will appear in the SERPs.
One important tip is that you should always write "to sell".
Have users returning to your site again and again by creating an email list. An email list will help you send subscribers messages reminding them to return to your website to check for new content, announce new products and promote sales.
Furthermore, you can use exit-intent popups to encourage visitors to sign up for your email list. You can create good exit-intent pop-ups for your site using the OptinMonster tool.
Share your content on social media and Pinterest
Sharing your content on social media helps to reach to a wider audience who will visit your website. You can share your content on Facebook, Twitter, LinkedIn, Instagram, Pinterest and other platforms where you think your users will hang about.
Correspondingly, you can use a free WordPress plugin like Social Media Share Buttons. This allows visitors to your website easily share your content with a click of a button.
Make your site mobile-friendly
Mobile phones account for half of the web traffic, worldwide. Therefore your website should be mobile-friendly. Your website should be responsive. You can use Google's mobile-friendly test to see whether your website is mobile-friendly.
Eventually, a mobile-friendly website tends to rank higher on mobile searches.
Input breadcrumbs navigation which is the key to usability. Enable users to feel familiar with the navigation structure. Furthermore, breadcrumbs alter and improve your SERP appearance.
Guest blogging increases traffic on your WordPress blog. Therefore more visitors will your website.
Create content-rich product pages
If you are having an eCommerce website then your product pages should attract the highest traffic from search engines, since most users search with product names and models. Your product pages should have the following structure,
Titles
Description
Images
Reviews
Similar products and
Related blog posts
Bonus: Active Ways to Boost the SEO of Your WordPress Site
Select a good web host
Alter the default permalinks structure
Install an .xml sitemap plugin
Install an SEO plugin and start using rel="canonical"
Use a CDN to boost your site's performance
Optimize images on your site
Review and optimize your theme
Switch to responsive design
Customize your robots.txt
Add fresh and new posts frequently
Place the most important keywords in the first-100 keywords zone
Limit URL lengths of your post
Try to create viral content to have an immediate surge in traffic
Conclusion
Get the maximum of your WordPress site by implementing the above tactics and increase traffic to your website. Gone are those days when a professional was hired to develop your website. Now, you can even try developing a website through WordPress on your own. On the other hand, you can also depend on a reliable Wordpress Development Company to help you.
You can also make use of the WordPress Development services offered by several entities to enhance the working of your WordPress website.
Let us wrap up with this. Now it's your time to come up with an elegant and fit WordPress site. Share your thoughts with us on creating a website with WordPress.
Waiting to see your WordPress website on the SERPs! Best of Wishes Friends.