WordPress
Top 10 WordPress Migration Plugins to Move Site in Minutes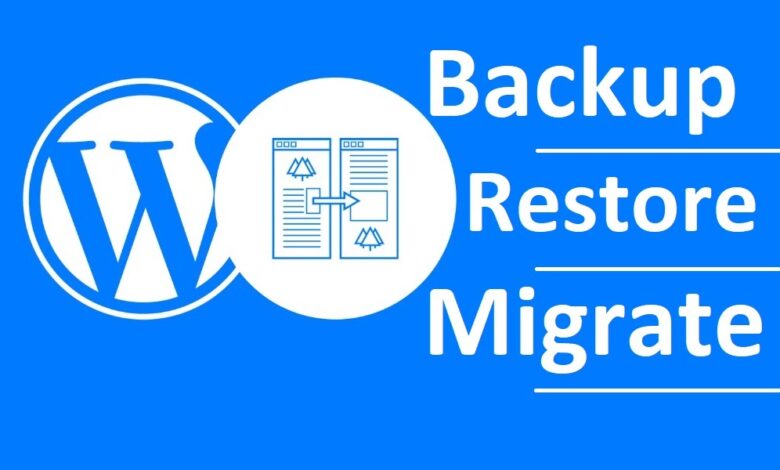 Do you want to move your site to a new host or domain but don't want the hassle of moving your data? We understand, moving a website might seem overwhelming and a tedious process.
If you are looking for a solution to escape from all these hassles then you are in the right place! After careful research we have come up with the best WordPress Migration Plugins which will make your moving experience seamless. Be it your database of users, media files or site contents, most of these amazing plugins will let you transfer all of them that too at the click of a button!
Top WordPress Migration Plugins
1 – Migrate Guru
This Migration plugin is on the top of our list because it's absolutely free, is supported by 5000 hosts around the world and will migrate all your data with one click.
This plugin is best for sites that have huge amounts of data and large files. You can transfer up to 200GB of data and is one of the fastest migration plugins in the list.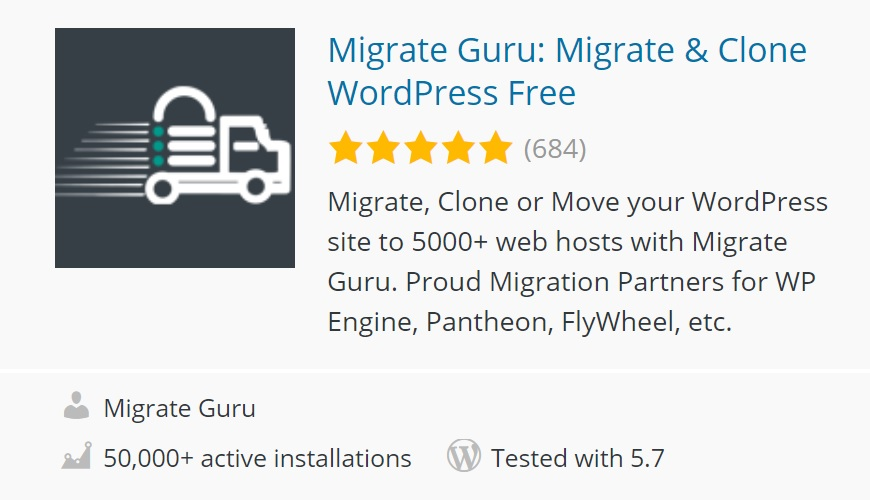 Migration Guru also supports WP multi sites which allows you to maintain multiple websites with a single WordPress dashboard! Since it does all its transfer on its own server therefore there is no risk of your site getting crashed or your server being overloaded. You don't need to worry about storage space for the transfer as it copies the site to its server during the process and deletes it once the transfer completes. The only con of this plugin is that it doesn't provide you with the option for your site backup like some other plugins in the list.
2 – UpdraftPlus
With more than 3 million active installations UpdraftPlus is clearly the most popular migration plugin on the list. If you want a migration plugin that efficiently backs up your site and protects it from hackers then UpdraftPlus is your answer.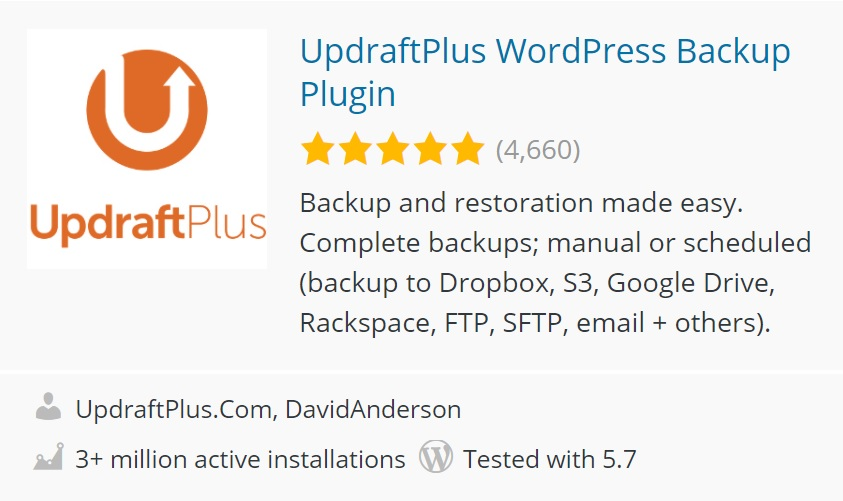 This plugin can help you keep the backups in cloud storages like Google Drive, categorize them into different file types (media, database etc.) and Azure and also helps you with backup automation. For fast, secure and easy migration UpdraftPlus is a good option and it also helps in migrating multisite networks.
The free version lets you transfer your site from one location to another but within the same domain, if you want to transfer files to a different domain then you have to buy the premium version.
3 – WPvivid
If you are looking for a free website migration plugin which is compatible with all your devices and lets you keep your backups on cloud and as well your devices then you should definitely go for WPvivid.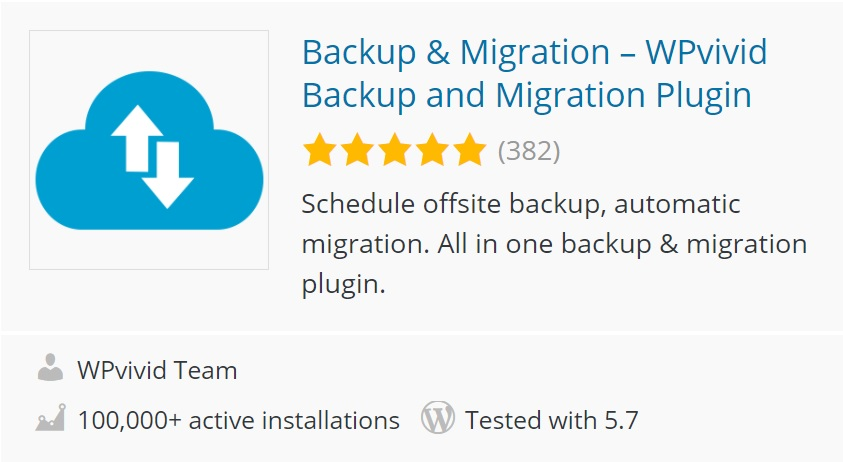 WPvivid is an overkill migration plugin for being free. It helps you migrate sites in one click and the best part is you can set the limit on the file size while migration. Limiting file size means you can let go of larger files for a faster migration. WPvivid will also help you in clearing out temporary files as well unused images hence saving you space. It is optimized for shared Web hosting and supports backup splitting.
With this migration plugin which is optimized for any host you can set as many backups as you want and there is no size limit of the backup. The professional customer support will address all your queries in one mail.
4 – Duplicator
In our research, we found that Duplicator was one of the most famous WordPress Plugin and has over one million active installations. One of the unique features of Duplicator is that the migration takes place without any downtime which means that transfer will be done without any interruption. The files so migrated are zipped into a single portable zip file called package and provides one click download option for the packages of all your sites.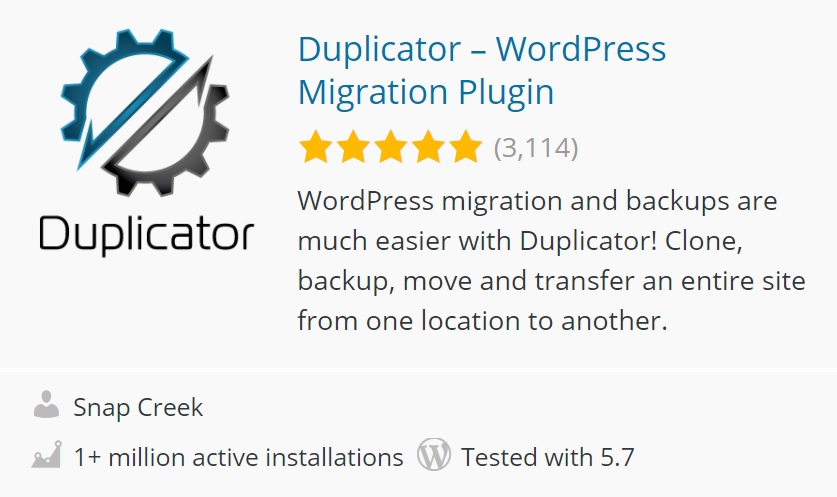 With the help of this plugin, you can clone your site, copy it, move it and also create the backup of your entire site on your device. This plugging supports MYSQL and provides you with a Cpanel for more control on the file transferring process.
The premium version allows you to keep your backup in the cloud (for example Dropbox, Azure, Google Drive etc.) and also helps you create automatically scheduled backups.
The user interface isn't as friendly as WPvivid as it involves several steps to switch to a new site, host or domain.
5 – All-in-One WP Migration
All-in-one as the name suggests is your one stop solution to all your problems relating to migrating sites. This migration plugin is compatible with a huge number of hosts, works nearly on all the operating systems and devices.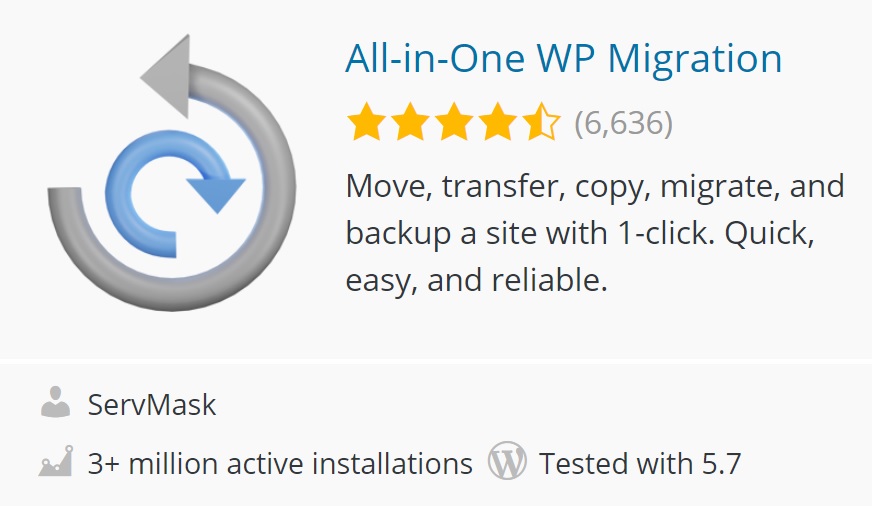 This open-source software provides you the option of bypassing files you don't need and set a size limit of the files which is very useful for sharing hosting users.
This plugin supports MYSQL and MYSQLI and works with all the versions of PHPs. The plugin has an easy-to-use interface and the premium version will provide you with cloud storage support.
6 – BackupBuddy
BackupBuddy stands out as an excellent contender and provides many features to make your site moving experience easy.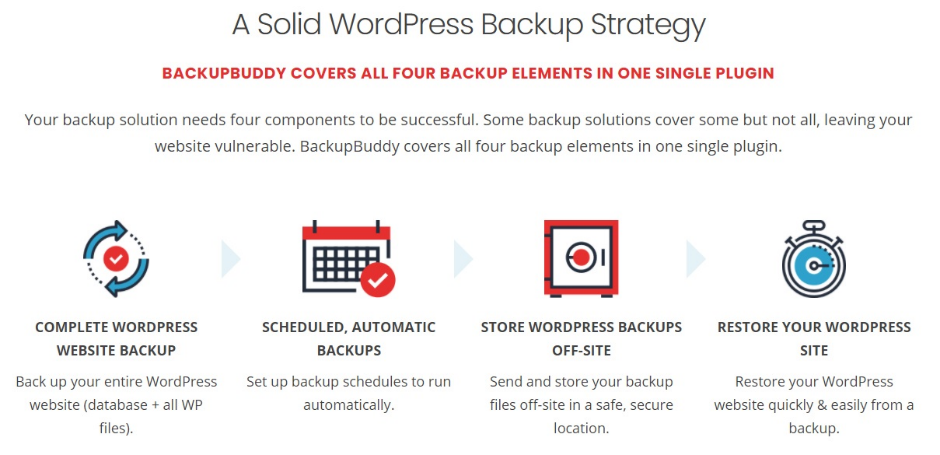 Though the plugin is not free of cost you can get lifetime access to its premium version by paying only once.  You can schedule automatic backups and easily make a copy of your entire WordPress sites. If you want you can also use cloud storage. BackupBuddy will replace all the URLs during the transfer process.
This plugin which is currently active on more than half a million WordPress sites gives you 1Gb storage for your data and also helps you in connecting your staging site to an existing site. So, any changes can be implemented or copied smoothly.
7 – WP Migrate DB
Though not as simple as other migration plugins in the list, WP migrate DB will provide you with more options or choices on which files of your gets transferred and how the flow of your transfer will look like. The migration on a click option is only available in the premium version which allows migration in about four active sites with a single user.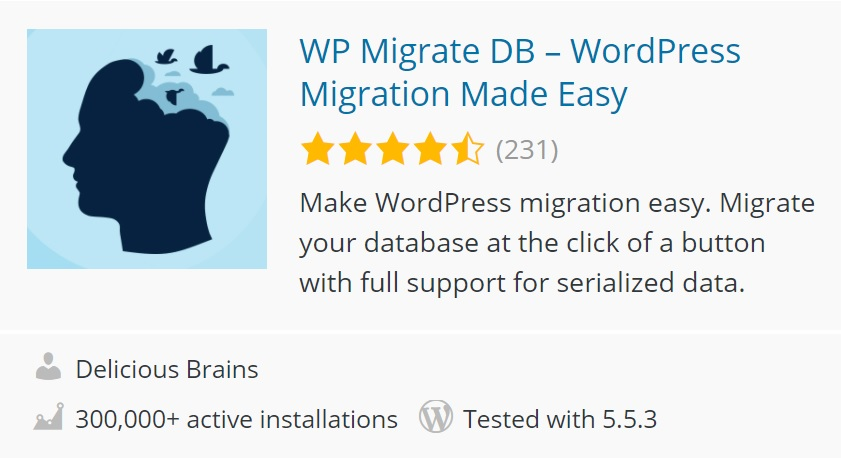 You will see that files are exported as SQL files on your computer and then these files are imported to the new domain or host with the help of the extension phpMyAdmin. The plugin is very well suited for developers as they can access the data for their project's local database from the live database.
This migration plugin will help you in migrating from multisite to a single site and also replace URLs during the migration process.
8 – WP staging
WP staging is an easy-to-use WordPress migration plugin which helps you create a copy of your entire website within seconds. The best part about this plugin is that the website is cloned in a way that its folders and the sub folders are well segregated at the local host while replacing all the URLs on the site.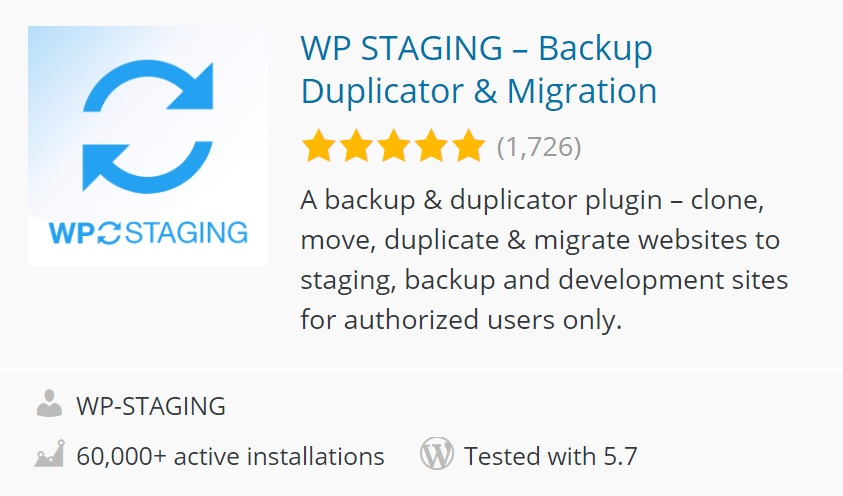 This plugin supports all the major severs and helps in moving sites very fast as compared to other plugins in the list (The time of migration depends on file type and size). Prefer this plugin if you want quick cloning of your website.
9 – VaultPress
VaultPress promises you topnotch backup and security for your sites and has over 60k active installations the plugin is on the bottom of our list due to its multi-step complicated process for moving your site. The migration feature will transfer every file type and data including the comments, media files, posts etc.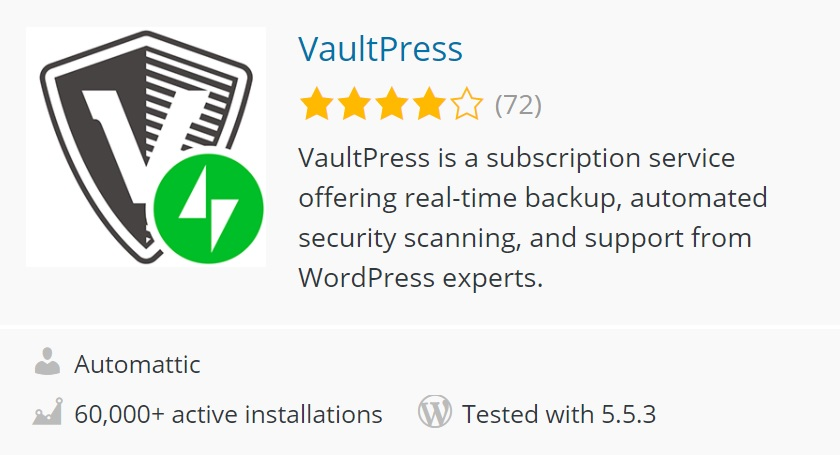 It's interesting to note that the parent company of VaultPress (Automattic) is the same as that of worpress.com.
VaultPress is an excellent choice if you are very concerned about your site's safety from hackers, accidental damage and malware.
10 – SiteGround Migrator
Though a very good migration plugin, the major con of SiteGround is that this extension can also be used by customers who are using web hosting services provided by the same company and is not suitable for full multisite installations.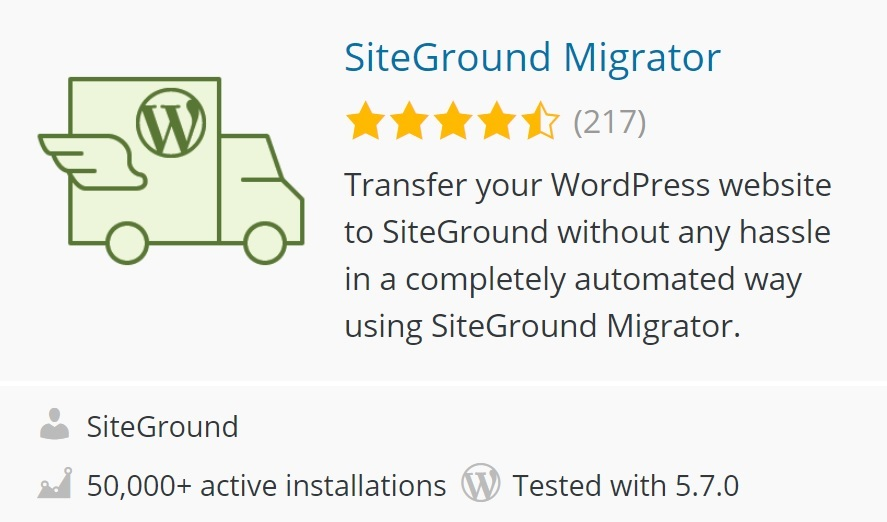 The interface is easy to use and the migration process is fast, this plugin also provides the option to back up your files safely. The customer support is excellent and will address all your troubles with the plugins.
Conclusion
We hope you found the ideal WordPress Migration Plugins from our list which will suit all your needs. A migration plugin becomes necessary as moving your site manually is a time-consuming process, can lead to a host of errors and can also cause unwanted technical issues.
The migration process does take time and the amount of time to move your sites from one domain/host to another depends on your plugin and majorly on the file's sizes of your site. Please do check if the plugin selected by you is supported by your current host and the host you are planning to shift to.
We recommend you to keep a backup of your site before starting the migration process so that your precious data isn't lost if the transfer crashes due to any reasons.