Web Development
Top Job Portal Website Features for Creating a Perfect Recruitment Experience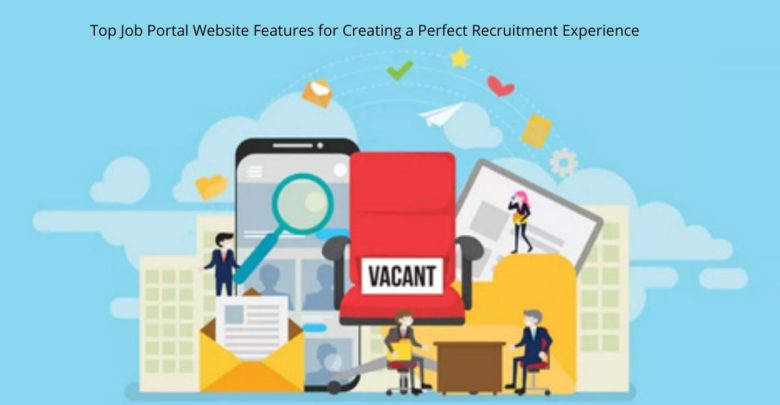 The fact is that unemployment is on its top in 2020. Covid-19 pandemic has forced many people to leave their jobs, and some of the companies have also laid off their employees. One of the biggest multinational companies, L&T, has laid off its 14,000 employees due to the Covid outbreak.
According to Statista.com, in the U.S., more than 20 million people have lost their job in April 2020. However, many companies have escaped the layoff, but that does not count in employment as the companies have retained their original staff. Now, both job-seekers and employers are looking for new jobs and recruitment respectively. To bridge the gap, the job portal website development companies should include top features in their portal. These features include:
Filters
People who want a job expect a quick response from the job portal. The web development companies offer the finder regular update regarding job vacancies, the filter for which he/she has applied. Some of the job portals also offer resume services. Here are the filters which are essential for job portal website development.
Age
Experience
Geographical locations
Companies
Full-time/part-time
Gender
Paid and Free portal
Not every job seeker needs to pay some money on the portal. They may invest some cash to increase the visibility of their CV. But, some of the job portal websites charge for registration. Some firms invest less in these job portal websites that help them to get the right aspirants.
Easy Integration
The job seeker and the employer want easy integration. If the registration process is too long and hectic, not many candidates and recruiters will register different subscriptions. That is why easy integration is an inevitable part of any web development process.
Mobile application
It is another most vital part that you should not miss. The number of smartphone users is increasing day by day, and most job portal websites offer an application that improves and provide the ease to use the portal anywhere and anytime. It will help job seekers to check the latest job information on these mobile apps quickly.
The job portal website development can create a portal that can offer attractive discounts for signing up via mobile applications
You can build a seamless experience for mobile and desktop applications
Inspire them to download mobile apps.
Suggestion page of recruiters
One of the essential pages for any job portal website is the advice page. This advice page offers multiple tips to job seekers by professionals. With the help of experience, these professionals can help the candidates to get the right job opportunity as per their field of interest.
Top recruitment companies
All the job seekers want to make their profile stronger by kick-starting their career with a reputable firm. Similarly, experienced job searchers look for a job that offers them reliable employment. Many top recruitment companies post job vacancies on several job portal websites to get the perfect candidate.
Home Page
The home page is inevitable. Thus, it needs to be user-specific. Here are some home page features that make it easy for job searchers to get their desired job.
Jobs tab
Services
Contact us tab
Sign up/Login Tab
Search bar
Recruiters page
Tools
User Interface
The user-interface for job portal website development should be simple and straightforward. The interface of a job portal is vital for usefulness and popularity. The web development companies should take care of the below-mentioned points to make an attractive user interface.
Smooth integration
Accessible to navigate
Instinctive buttons
Job Alerts
The job alerts will notify the job seekers and employers when a new job or a new candidate gets registered. It is impossible to create a job portal website without this feature. It would help if you encouraged the recruiters and job seekers to turn on post notifications while signing up for the job portal.
Keyword Implement
It is recommended to render keywords. It will make the job search more comfortable. Along with this, it will enable the users to search for particular field-specific, knowledge-specific, or skill-specific keywords and get outcomes as per the preference. You can also add more filters that may show a city or state-oriented job search results at the bottom.
Search Bar
For the perfect job search, an additional search is not to miss features. It gives job search results for a specific field. For instance, in Europe, or the U.K., or anywhere else across the world. This feature makes the job portal smarter than ever.
Valid H.R. Processes
There are many uses of job portals, such as collecting applications. It also helps recruiters to operate smooth H.R. processes. Here are some of the crucial factors where you need to take care of.
Virtual Interviews
Your job portal should allow the recruiters to conduct a virtual interview. The employer and the job seeker can participate in a virtual interview as per their suitable time. The job portal website development companies need to integrate a communication channel that inspires them to participate in the virtual interview without meeting them in person.
Analytical tools
It is essential to measure the ROI in quantitative metrics to decide whether your selected career portal website has added value to your organization or not.
Here is how a company can analyze the data using analytical tools,
Monitoring the performance of the recruitment agencies
Recruitment organization exercises along with their communication with job searchers.
Resources that have helped your firm reach out to the most suitable candidate
Quality, number, and number of candidates reached every stage of the recruitment
Extensive Talent sourcing
Recruiters typically use many medians to fill the correct positions like job sites, social media, referrals, partner sites, etc. Your job portal can provide your recruitment team with the strength to focus all your recruitment efforts on a centralized pool.
Bottom line
If you plan to create a seamless job portal with more features and functionality than your competitors, you need to choose a web development company wisely. A perfect job portal website development can help you create a high-performing, profitable recruitment site.