SEO
8 Ways to Master Shopify SEO & Enhance Your Store's Organic Traffic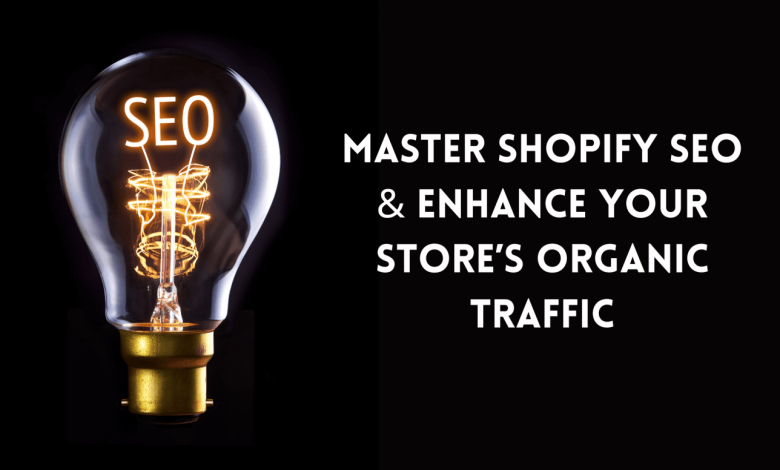 Shopify comes with a number of SEO-friendly features, but there is still more you can do to raise your site's search engine results. Although SEO heavily relies on keywords, improving your site's ranking involves more than merely sprinkling a few of them across the text.
A blog and the option to redirect are two SEO-friendly features that Shopify stores have, however occasionally these tools can also cause SEO problems like duplicate content. Thereby, it becomes important that you go through the entire SEO specifics to enhance your store's health and reach-ability. Ask Shopify experts and they will tell you why it is important to implement Shopify SEO to improve your brand's overall appeal and worthiness amongst the competition.
Ways to Improve Shopify SEO
Find your target keywords: The one word or phrase that best summarises your page is known as a targeted Keyword. You're hoping that visitors will use this to find the page in a search engine. The "Target Keywords" section of the SEO Manager will review your material to make sure the most crucial term or phrase is present.
Content Optimization & Marketing: The main goal of content optimization is to make sure your material reaches as many members of your target audience as possible. It supports all kinds of content marketing efforts and is a crucial part of any content marketing strategy.
Why is content optimization crucial, then? Because getting seen by the general public is one of the main objectives of most businesses when they produce content. Your content will rank higher on SERPs using content optimization.
Content Marketing: Content marketing is one of the most effective ways to increase website traffic. You may increase organic search traffic and enhance sales by producing high-quality content that is relevant to your target audience. You can do this by gathering your readers' contact information and persuading them to subscribe to your email blast.
Your blogs should be a part of a bigger content marketing strategy so that your marketing plan supports the overall marketing strategy with more social media content and email marketing activities rather than being just focused on blogs. Your content should cooperate to drive visitors from all platforms in order to be considered an authentic omnichannel marketing campaign.
Optimize the site structure of your Shopify store: Users will stay on your website longer and your Shopify store rank will increase dramatically if it has a decent navigation structure. People want to find goods quickly when they visit your online business. Your store should be organised and logically laid out. By categorising the information on your website into a few easy categories, you may make it more user-friendly.
Image Optimization: Images are crucial for your Shopify store since you should be able to show off the products that customers are interested in! However, because photos can take up a lot of storage space, it's critical to optimise them for speed by reducing their file sizes without compromising quality.
Product Page Optimization: After you have developed a straightforward (but organised) site layout and selected some useful keywords, it is time to optimise your shop's pages. Because they are the most lucrative, start with the pages that produce the most conversions.
They must be original and make use of precise keywords that speak to the demands of the audience. Avoid trying to overuse keywords in your writing. Your SEO may suffer if you choose the wrong keywords. Your language should sound natural and enhance the knowledge you offer.
Structured Data Mark-up: You can add structured data, sometimes referred to as schema mark-up, to your website's HTML to make it easier for search engines to understand the information on your pages. This code provides Google with information about your page's author, description, title, and other important details.
They provide you with the option to add further details about your goods, like star ratings, prices, and availability. When someone searches on Google, this may encourage them to go to your site rather than someone else's.
Link Building: The process of acquiring links from other websites to your own is known as link building. The higher quality of links you will use the higher will be the chances of your to appear on the search engine result page ( SERP).
Offer Shopify Collection: Another technique to enhance user experience and boost SEO results is by providing product groupings to your clients. A collection is an assortment of goods that are often housed in several categories on your website.
This makes your page more user-friendly and helps the search engine understand its semantics. Shopify has a function called manual collection to help you compile products. Additionally, you can create them automatically to emphasise newly released, well-liked, or timely goods (perfect for holidays and other gift-giving occasions). You may strengthen your internal linkages by using collections.
I think Shopify is the best platform to increase your business or sales if used properly. I hope this blog gave you a better direction of what Shopify SEO is and how it work and helps you in your business growth. There are many Shopify experts out there to help you with a better understanding.