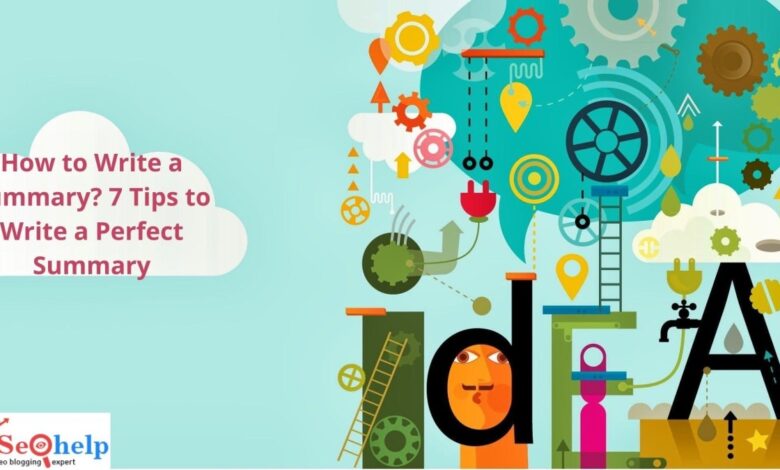 People do want to summarize each and every factor of their daily routine life.
From reading an article in a newspaper to writing an article for your website, you always want to get a summary of the text.
Instead of all of this, whenever you are presenting an incident in front of anybody, you always present it in short notes to explain the whole story which happened.
Summary always helps you in this manner. Because it saves your precious time.
The summary is a really effective way to get to know more about the long texts, lengthy essays, tough research papers, difficult presentations, etc…
A well-written summary always assists you to understand the exact meaning of that whole text. Even if it is an article, essay, blog, or any general content.
Definition of a summary is:
We can define summary as;
A summary is a short evaluation of the principal factors of a text which narrates the main theme of that text in just a few lines.
In other words, we use to say;
A summary is a brief description of a larger text in a very short note, which provides the clear understanding of that text to its reader.
What is the motive to write a summary?
The motive of a summary is to quickly supply the reader or listener with a concept of what that material is all about.
Most prominently, the summary iterates only the key features of a text without focusing on extra details.
You might summarize a lot of stuff through all the phases in your life for a number of reasons.
You may also discover it beneficial to write summaries of your very own work.
However, more often, you have to make summaries of the texts which are written by different authors.
And most of the time, anyone demands you to provide the summary of any play, different films, several articles, stories, an incident, or even presentations…
How to write a summary?
In this advanced practical world, there are many tasks that are not easy to do. Summary writing is one of them.
Writing a summary is actually a mind game because most people have no idea how to write a summary.
To do it in a proper way, you have to take a deep ride into the content.
You need to read each and every word of the article and have to pick out the key features or the central ideas from it. And then you can write it down in your own words.
There are multiple ways to write a summary. So, if you think you are capable enough, you can write a summary on your own.
As a writer, you probably have no time to write a summary by yourself, even though you know well about the article you have written or read.
But there is another way which is really helpful in this context. And that is, writing a summary by using an online tool.
So, then taking help from the article summarizer will be a better option. This online tool will provide you with great assistance to summarize any of the content or article.
This online tool does not change the real meaning of the content. Because it is generated by using the latest AI technology.
Furthermore, this tool does not require any sign-ups or registrations from its users and it is totally free to use. So, users do not need to worry about losing the real context of their texts or articles.
Tips to write a perfect summary:
Let's assume you have read an article once, or maybe twice or thrice, but still you are stuck with a very general question, "What was the article about?"
Therefore, there is a need to write a perfect summary to illustrate the main points of that article.
A good summary carries many vital features. Whenever you are summarizing anything, you need to keep these tips always in your mind:
Read your content or article thoroughly.
Use your own words.
Reduce the original text.
Give proper representation of the key ideas.
Build a connection between points and their supporting details.
Write in a modest and clear manner.
Do not give personal opinions.
Your Summary should carry:
Your summary should carry some essential elements in it. These are discussed as under;
Introduction:
Every time, you need to start writing a summary of any article by using the name of the author or title of that article.
Then try to write a statement that explains the main idea of the article.
Body paragraphs:
Now, here in the body section, the number of paragraphs in your summary depends on the size of your original text file.
Make sure, whenever you are writing a summary, make it short, relevant, and to the point.
In simple words, the summary is just about one-third, which is almost 10% to 15% of the whole length of the text.
If you are going to write a summary in just one paragraph, focus on the main title of the article and connect it with supporting details.
But keep in mind to explain each supporting detail in a single sentence.
Besides this, if you write a summary of a long-lengthy text, then you need to state each supporting point in a separate paragraph.
All the time, try to start each body paragraph with a clear topic sentence.
Each paragraph should be based on a different key idea and the really relevant supporting details from that article.
While taking the main concepts or ideas from the article, use them in your own words.
Try to use transitional words and different phrases to connect with thoughts properly.
Conclusion:
Conclusion of a summary is the best part to put the most important concepts of the whole text.
Check, your summary should carry a proper connection with all the main points you have discussed before in the paragraphs.
Final Words:
Reading the long-lengthy articles or any text is such a hectic task to do. And to reduce this issue, we can just read the summary of the text.
Summary directly allows us to get to know more about any article in a deeper manner.
A summary is always presented with the main theme of any article so users prefer to read it over long articles.
The above-mentioned tips can be valuable for the writers to generate a best summary of the articles.