SEO
How to Choose An HVAC SEO Marketing Company…To Help You Gain More Customers And Profits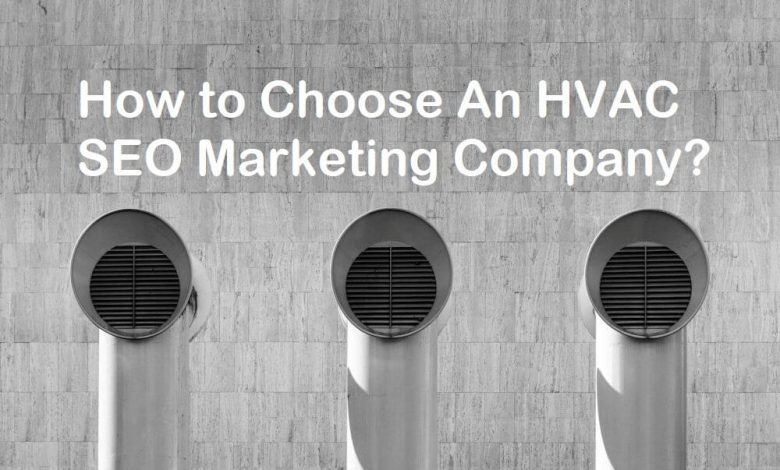 If you operate in a sector that requires on-site presence, you're likely exhausted by maintaining the peripheral aspects of your business yourself. However, such operations, like marketing, are crucial to ace in today's day and age.
As an HVAC business owner or contractor, the smartest choice is to outsource your marketing. If you've made that decision, let us help you choose the most optimal marketing company.
What Your HVAC Marketing Needs
Before outsourcing, you need to understand what an HVAC company needs for effective marketing:
1. HVAC (SEO) Search Engine Optimization
When someone's looking for services to fix up their heater, the first thing they'll do is make a Google search. You can get that customer if your website is among the top results. And you ensure this using Search Engine Optimization.
Consider this:
97% of search engine users have searched online to find a local business.
18% of local smartphone searches lead to a purchase within a day,
The first result on Google's search page is 10 times more likely to receive a click than the tenth result.
SEO for HVAC contractors often involves content marketing. In content marketing you create more pages, like response blogs, to target the most common consumer queries based on search patterns and search-engine preferences. Here when visitors find you answering their questions, your credibility in their minds will also grow. Additionally, blog visitors are quality leads as they visit your site looking for solutions. You can follow up with them.
Now, SEO requires competitor analyses, website optimization, keyword searches, and whatnot, and it uses expensive complicated software. Attempting to execute it yourself is simply not feasible, and progressing without it can be a waste of time and effort for you.
2. Heating, Ventilation And Air Conditioning Brand Building
It's 2022, and word-of-mouth marketing just doesn't cut it anymore. You need to establish yourself as an HVAC brand that local audiences think of before performing a Google search.
Building a brand involves choosing a logo, a color scheme, a brand tone, font, branding elements and assets, and whatnot. Every aspect of your digital presence, from your website to your social media, needs to be presented accordingly – a technique that can increase revenue by up to 23%. Remember that you need to cater to the online and offline worlds alike. Your work van, flyers, and worker uniforms will have to be redesigned to make you more recognizable.
Such cohesion is no simple or quick task. From putting workers in garish colors to having a website design that's better suited to an art store than an HVAC business, there are multiple pitfalls you can stumble into and waste your money and efforts. You'll need the help of experts that specialize in the area.
3. Brand Culture and HVAC Social Media Marketing
Marketing techniques go beyond running a few sales ads. The consumers of today prefer businesses that are transparent, friendly, relatable, and accessible businesses. The right marketing plan will highlight your brand's culture, so audiences know what goes on behind the scenes.
From having team photographs on your website to leveraging social media for behind-the-scenes videos, you need a comprehensive plan on how to engage and interest your audience. This requires posting organic content that is in line with social media trends and consumer preferences.
You can post your workers giving tutorials, working on-site, days in the office, process videos, etc., see which forms of content gain the most traction, and focus on working on them to ensure none of your efforts get wasted. This will require consistent assessment and content-creation plans.
Showcase the way you treat employees too. Whether it's work benefits, training programs, or a healthy way of team collaboration, use your digital presence intelligently to attract the right HVAC talent before your competitors.
Remember that being active on social media is not the same as acing it. Navigating the nuances of this channel will be time-consuming, and we'll advise against lengthy, costly, inefficient approaches.
4. Pay Per Click Ads For HVAC
We've established that your prospects are likely running a Google search for their HVAC needs right now. Even if you do not have your website beating its competitors yet in search engine rankings yet, you can take advantage of the fact that PPC ads appear before organic search results on Google.
Now, Google Ads are competitive too. The more common a keyword, the higher it costs to run an ad using it. What you need are optimized ads that use long, less sought-after keywords that are relevant to your services. For instance, the term 'HVAC companies near me' will have fierce competition, but the query 'HVAC company to fix broken heaters in Saint Paul' will be more precise and have fewer competitors bidding on it.
Remember that the visitor volume does not matter; the quality of visitors and your conversion rate does. Digital marketing specifically for HVAC companies will help you filter those long-tail, high-relevance keywords that will serve you the best and cost less to run.
Our Tips to Select the Best HVAC Marketing Company
If you're looking for an agency to market your HVAC business, consider the following:
1. Lay Out Your Aims and Seek Cooperation
Consider your short-term and long-term goals before you begin shortlisting your choices. For instance, if you are planning on writing blogs for your website, you'll need a content strategy and a firm that excels in it. Clarify whether:
Do you want help with establishing a social media presence and running ads?
Are you in need of email marketing services?
Do you want to generate more leads and sales?
Are you aiming to establish yourself as a well-known authority figure in the field?
Is your website lacking?
Are you planning to make videos?
Do you want to build a brand?
Do you require a comprehensive SEO package?
Are your landing pages in need of work?
Do you want optimized PPC services?
Such clear goals will also ensure you do not get upsold into buying packages you do not require. Start small and focused, see if you're getting help in generating leads, and then pursue larger packages like SEO as your brand grows.
Your agency should listen to your needs and offer you tailored packages with metrics to track the success rate. Going for HVAC marketing companies with comprehensive packages will eliminate the need to hire another agency in the long run as you expand,
2. Find An SEO Or Marketing Company Specialized In HVAC Companies
Marketing tactics vary per industry. While you'll find several agencies willing to offer you price-competitive packages, you need to look for HVAC-specific marketing companies.
A firm operating solely in your niche will have years of relevant research about competitors' and industry leaders' marketing practices and HVAC customers' behavior. In contrast, other marketing firms will likely opt for a trial-and-error approach. They may be effective, but in our opinion, nothing beats expertise honed for one particular task. Get the maximum bang for your buck and the fastest results by hiring expert HVAC marketers only.
3. Assess The Marketing Agencies Portfolio and Past Customer Stories
Going through a marketing company's past work is crucial to know what to expect. For instance, if you're looking for a social media strategy, ask for the social media profiles of their past HVAC clients. Similarly, go through website design, video marketing, blogs, etc., per your needs and ensure they meet your standards. Filter out companies with themes and techniques that don't align with your own vision for your brand.
It is also necessary to look for reviews; the company's words may not match their past consumers'! For instance, their past clients may have found them uncooperative or inaccessible even if they designed a good website.
Look through places that allow clients to post reviews directly, like Facebook or Google profiles, for hints about the company's professionalism, up-to-date techniques, friendliness, cooperation, and problem-solving abilities. Take note of the negative reviews and their dates; they'll help you lay out a holistic picture.
4. Ask for Success Rates but Be Wary
If your chosen HVAC marketing agency has success stories, it must have metrics to back it up. This can include ROI calculations, the percentage increase in the number of leads, the average cost per acquisition, email-opening rates, etc. And make sure not to just enquire about one client.
We advise you to remain wary here as the marketing company may also promise you the same success rate as a past client and pump up your expectations.
5. Prioritize Transparency
Your chosen HVAC marketing company should be transparent about how it will accomplish its goals. For instance, they should let you know about their in-house areas of expertise and their outsourced dealings.
Ask for the qualifications and specializations of their team members so that you know your work is in capable hands. They may be outsourcing your logo but have a strong website design expert, or they may outsource all your blogs. In any case, know how a company operates and which individuals will handle your project. We recommend choosing a company with a strong in-house team to minimize friction.
Transparency is also essential for pricing; ask for a breakdown of their prices to justify your investment. This will also help you compare quotes with other HVAC marketing agencies. If you believe a quote is unreasonable, enquire about the reason.
Endnote
We understand that outsourcing requires a leap of faith. However, enlisting the help of specialized third parties has become vital to enhancing a business's financial and operational efficiency. Just follow the criteria we mentioned above, and you'll find the perfect HVAC marketing company to partner up with in no time.
Author Bio:
Mark Buckingham is an internet marketing expert and founder of HVAC SEO Results Expert, a firm helping heating and cooling companies grow their company. He's on a mission to help HVAC contactors avoid internet marketing headaches, wasted marketing dollars and helping them reach their financial goals. His free HVAC contractor marketing blog is: https://skyrocketresultsseo.com/blog/