SEO
8 Exceptional Ways to Get a Top Rank for "Near Me" Searches
Local SEO stands on top of the digital marketing necessities for Small scale businesses. In addition to these, market giants profit from Local search engine optimization too.
It would not be wrong to say that you are wasting a good lot of marketing resources if you are not well prepared for a communal online presence. You are lagging behind in terms of local footfalls, to add.
When someone is searching on the Map for a business, you must show up!
As per one of Google's Marketing VPs, near me searches are for people willing to search for the perfect option in a particular place for a specific time. And that constitutes the largest part of all of the internet using population.
Based on a survey, some important statistics for local search are:
14% of people want to visit the location immediately after they carry out a "near me" search
Majority of these searches are done through a mobile device
Profile pictures, images by customers, client reviews and testimonials and search engine rank are affecting the business impress on the audience
Let's explore the toolkit to rank effectively higher in local queries on search engines
1. Create and Update your GMB Account
The majority of searches for businesses or products are made on Google. Which makes your presence on Google non-negotiable.
Start by making a profile on Google My Business. For this, make a search for your business on Google Maps. There can be two possibilities:
It shows in the result
It does not show in the result 
In the first case, if your business appears – claim it.
Do not worry if your business does not show up in the results. Just add your company as a place in Google Maps. This addition can be done without bearing any charges.
Once you have added your company. You have become available to people searching about your niche on Google. You will also be visible on Google Maps.
You can keep your Google presence active by following these steps:
Get your account verified
Add the latest updates
Upload your logo to the profile
Update the working days and hours
Post if there are any holidays
Mention the payment methods accepted by your company
List the services or products that you offer
Attach as many images as possible to your profile
Motivate consumers to give reviews on Google
If possible, revert back to all the reviews
Google is an ocean of information. And it wants to present maximum guidance to its users. So, if you want to win, you need to impress the search engine by providing all the details that you can. Your Google ranking is directly proportional to the accurate data you provide.
Now, you want to rank better for a local search. Inserting local keywords and information is essential here.
Make use of a Local phone number with a local dial code( eg. 079 for Ahmedabad).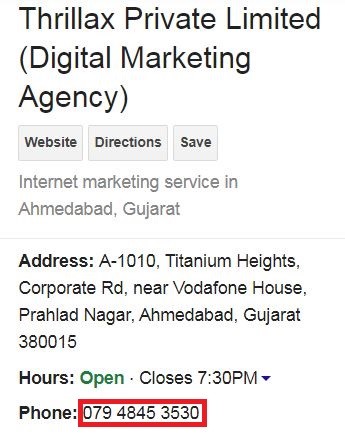 Google dislikes toll-free numbers (1800 800 866 etc.). These appear to be spammy. You must add an accurate address too. It is possible to manually enter the address as well as locate and pin yourself on the Google Map.
You should embed a Google Map to your site. By doing this, you are optimizing your webpages for "near me" searches. It also indicates to the search engine that your business is located where it says it is.
2. Welcome and appreciate Reviews
When shopping online what is the thing that gives you assurance? Company promises?
No. You always look for customer reviews from buyers. Be it images, comments or just ratings. You can be assured that these are reviews given by people who have definitely purchased as well as used the services.
Similarly, your clients also have faith in reviews, comments, and ratings given by other clients. According to a study, 82% out of all the consumers read the reviews. And it takes at least 10 reviews for a potential buyer to trust the company.
You can earn new buyers by encouraging your present customers to post feedback on Google. These tips will aid you in the process:
Personally ask for a review after the sale
Reconnect through an email or text message asking for rating and feedback from the buyer (but make sure that you are approaching only the happy customers)
Quickly send responses to existing reviews in a similar tone. Keep this branded tone consistent.
You can apologize or compensate for negative feedback and thank you for the positive ones.
Responding immediately to these conveys that you care about your customers. And that you value their opinions.
3. Optimize for voice search
Voice assistants like Alexa, Google and Siri are not very uncommon today. Youngsters often make use of these assistants when they have got their hands busy. Not only them but also children and senior citizens have started using these.
Making voice searches is very convenient. This is the main reason for its increasing popularity.
Thus, it would be a bonus to target ranking here. People usually take up long-tail keywords in this case. Also, it has a conversational tone.
Try to rank for words that you would use in a casual conversation locally. Local areas, phrases, dishes, language, and souvenirs can be aimed at and naturally inserted in your content. You can also insert local slang in the content. But make sure that it is not something offensive.
In a nutshell, you need to target words that you would use while talking to a local friend.
4. Create content related to Local news and events
"Near me" is a synonym for Local. So, it would be a wise decision to cover news relevant to the community. You can also create content based on upcoming events in the neighborhood.
Optimize each of your webpage for such searches. You can do this by logically placing geographically modified keywords. Insert them in titles, headings, meta-tags, alt-text of images, body or even URLs.
Content that connects with the regional population will give you the best results when you aim to get to the top of "near me" searches. You can easily get attention. While optimizing photos, make sure that you insert the location words not only in text but also in the file names, and tags of the images.
Moreover, you can put in "near me" to the tags of location pages. Stay away from keyword stuffing. Insert the "near me" tags only if they appear organic and not spammy. Google won't like it otherwise.
You can also craft blogs that revolve around locally popular topics.
5. Mobile-first website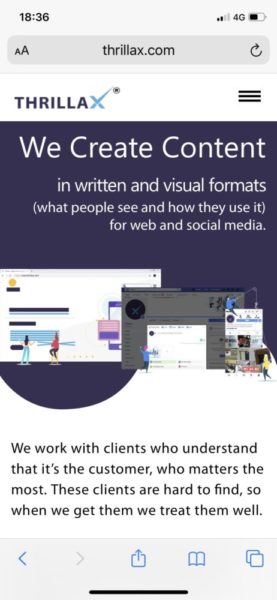 This is mobile-addicted world. Desktops, laptops and tablets have become less common now. More and more searches happen on mobile search engines everyday. And obviously people want to know what is near them.
Because obviously, you would not want to go all the way from New York to London to grab a cup of coffee.
Location searches, as well as addresses, are searched for when people are on the go. And only in rare cases would they be using a laptop while traveling. For making your website mobile-optimized:
Make sure it loads very quickly (less than 3 seconds) – impression decreases with higher loading time
Avoid very tiny fonts or fancy fonts that cannot be read easily
Filter out the images and use only the most relevant ones
6. Location pages for different offices
For already established brands, it is very possible that they have offices in different locations. And you can be one of them. In this scenario, your best move would be to create a different web page for each of your locations.
The information that you can insert in these pages would be:
Name of the store or office
Address (with the map)
Office phone number (local)
Working hours
Description of that particular office
Testimonials
Discounts and offers in the location
Parking availability
Nearby facilities
7. Get added to an online directory
One more effective way to get noticed by Google is by getting listed in an Online directory. Websites like Yelp, YellowPages, Clutch, GoodFirms are some of the prevalent web registers.
JustDial is famous in India. Along with getting visibility on search engines, this will also boost your SEO regionally.
Basic information that your listing must contain:
Business Name, exact location, contact number (that is relevant to all the offices)
A link back to your website
Brief description of what you do
8. Get high-quality backlinks
Backlinks are a very useful way to overwhelm search engines, especially Google.
This becomes even more powerful when you receive a link back from famous and authorized websites. As important as getting these links are, stay clear of irrelevancy. By this I mean get backlinks from relevant sites either belong to or connect with your niche.
Also, regularly check for broken links and try to replace them immediately.
Get backlinks for local keywords like city name, area name, local phrase, locally famous service, dish or souvenir. Whatever suits best?
Summing Up
Achieving a top rank in the local search is not as hard as Rocket Science. You just need to follow these steps and be consistently optimizing your web content by inputting locally relevant data.
Always remember that "Every detail matters" and "keep trying".
Whenever you need some help feel free to connect with a digital marketing expert.