SEO
Top 10 On Page SEO Factors for Better Performance in SERP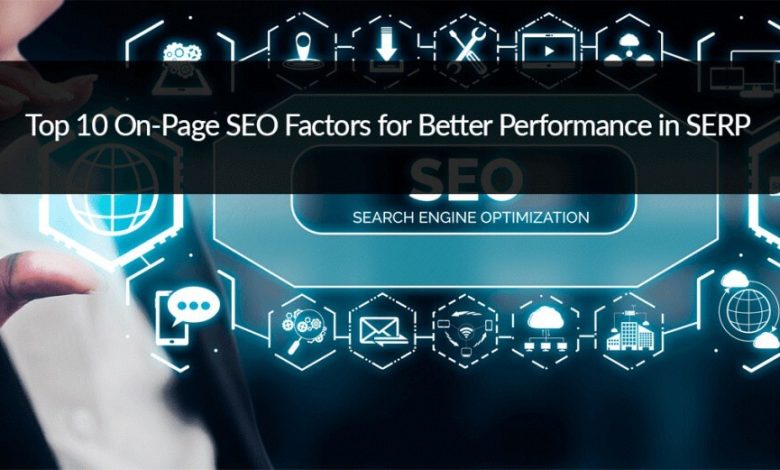 On-site SEO is optimizing web pages for improvements in the rankings of search engines and earning more organic traffic. To succeed in organic search, a combination of on-page SEO factors like technical aspects, headline optimization, high-quality content, images, and HTML tags. The users must also have a high level of trust in your website.
People focus more on technicalities such as link building. However, off-page SEO is insignificant without the fundamentals. Experts say that on-page optimization should be a constant priority. Updating your knowledge with time is essential because the search environment is ever-evolving.
Top 10 On-Page SEO Vitals
On-page SEO helps the search engines understand the content of your web pages and identify its relevance for the searchers' query. With the sophistication of search engines, the focus on search engine result pages (SERPs) has increased. Also, you can take the help of some SEO Company in Bangalore to optimize your website& improve its ranking. You can work on the following on-page SEO factors that have an impact on the Google SERP page rankings:
E-A-T
E-A-T stands for Expertise, Authoritativeness, and Trustworthiness. It is a framework used to rate content creators, web pages, and websites on Google. High-quality content is always a premium. Google always rewards sites with high-quality content with better rankings. Google aims to provide its users with authentic information, and so there is a direct relationship between your site's content and its rankings.
The Title Tag
It is an HTML tag that exists at the head section of each web page. It delivers the topical subject matter to the readers. You can use it as a clickable link and a prominent position in the search engine pages. Do not overlook this SEO on-page optimization factor as a duplicate, missing, or poorly written title tag can lower your rankings.
Meta Description
From the early stages of SEO, meta description has been important for on-page optimization. Meta tags display what a page is about and get displaced underneath the SERPs title tag. Paying attention to meta description helps to improve click-through rate (CTR), quality content, and offerings of your website perception.
Headlines
Write compelling headlines to make your content perform well on search engines. Giving a heading to an article may seem to be a basic step, but it is significant to build an impression of your blog post. Your headlines must drive interest among the readers.
Header Tags
Headers tags are HTML elements separating the headings and subheadings from other text types in your blog. These will make your content easy to read and enjoyable. Though the importance of header tags in site rankings has decreased, they serve a vital task for the users by offering keyword-rich context.
Keyword Density
Amongst the significant on-page SEO factors is the density of keywords. Writing more pages targeting a single keyword will not improve rankings. It will lead to keyword cannibalization, which is disastrous for your SEO strategy. Creating multiple pages on a single keyword means competing with yourself. Identify and resolve the issue of keyword cannibalization existing on your web pages.
SEO Writing
SEO writing is more than keyword research and filling your content with keywords. While writing a blog post, do not forget your readers' perspectives. Focus on delivering high-quality, relevant, and substantial content to your users rather than increasing the concentration of keywords.
Content Audit
Auditing your existing content is crucial for on-page optimization in digital marketing. Content creators often forget this in the race to deliver new content to their audience. Evaluation of existing material will help you know if it is achieving goals and gaining ROI or not. Eliminate the outdated and stale information from your content and replace it with accurate details. Do this regularly to know what type of content is working for you.
Optimizing Images
On-page SEO services focus on image optimization. Though adding images is considered best for web pages, some of them may slow down your website. If users find trouble while loading your website, they will never come back. It will negatively affect your rankings. Adding images may also rank your page on Google Image Search. Incorporate pictures following your content and add descriptive lines for them.
Engaging Users
Use on-page optimization for your website to increase visitor engagement. You have to make sure that people view your content and keep coming back for more relevant posts. Let the visitors interact with your content, and do not let them bounce back. Although retaining customers is a great challenge, it is doable. Focus on site speed, content optimization, regularity, and user experience for retaining your audience.
Final Thought
These are some on-page SEO factors vitals that need to be optimized for improving your website's search engine rankings in SERP. You need to work on them to get a better ranking and more traffic.