SEO
How to do Pinterest SEO?
How to Get Free Website Traffic from Pinterest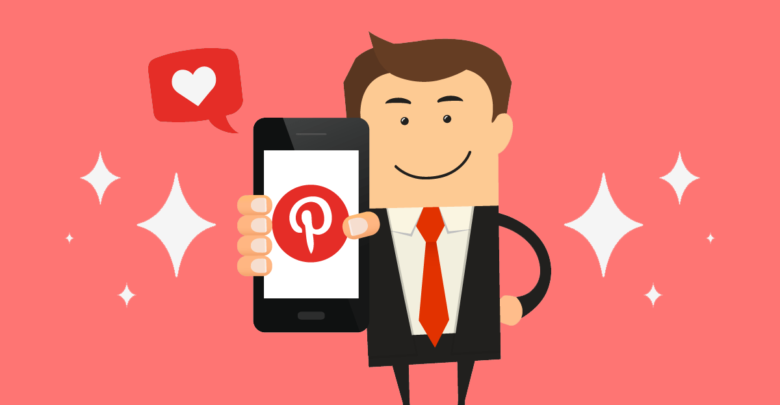 Three years ago, it seemed to be the year of Pinterest. Moz's Rand Fishkin himself included the emerging social network among his 2019 SEO forecasts, and in fact, according to the latest Shareaholic data, he got it right: Pinterest is, in fact, in second place in the Social Media Traffic Referral, only surpassed by Facebook.
Pew Research Center published the Demographics of Key Social Networking Platforms at the beginning of 2016, in which it is noted that (in the USA) 28% of adult users on the Internet (i.e., 22% of the entire adult population) use Pinterest.
Men, which in 2019 were only 8%, are now 13%. Women, from 33%, went up to 46%. There are over 335 million monthly active users on Pinterest. As of the first quarter of 2019, Pinterest reported 291 million monthly active users worldwide.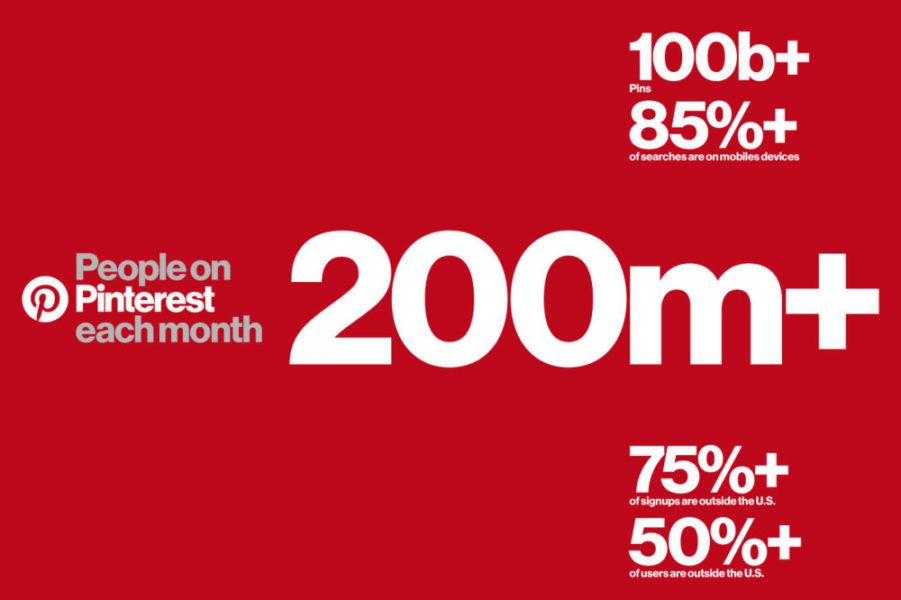 So there are over 200+ million users. But why I'm telling you this? As I mentioned, Pinterest is the #2 referral source for website traffic. It's mean you can get free website traffic from Pinterest without spending money. But there are some tips and techniques to follow to let's get started.
PINTEREST SEO TIPS
During the last Social Media Expo (SMX) East in New York, Anna Majkowski – software manager of the Pinterest search team – gave various useful suggestions to those who want to go into optimization on Pinterest, suggestions very similar to those taken up a few weeks ago by Chris Crum, and that find – adapted in Italian – within this post.
"Research is an important way for Pinners to find content about your business. If you use Rich Pins and if you have a verified account, your Pins will appear higher in the search results. Another fundamental way to improve your appearance in the search results is to improve the descriptions of your Pin ".
These (and other) valuable indications are found in the nine pages of the Pinterest for Business Best Practice Guide.
Still, on the subject of descriptions, the guide offers a small list of tips. For example:
For recipes, describe the ingredients of the dish and how to cook it

For fashion, including the characteristics of the garment, the designer or the season in which to wear it

For travel, describe the location and the things you can do in that place

For DIY, explain what it is, how to do it and what materials they need

For photography, put the name of the photographer, the year and the subject

For design, he talks about the designer, the media and publication
Basically, regardless of the type of content you are about to pin, it is important to be as descriptive as possible and insert all the relevant keywords, even if in the guide, it is not recommended to aim only at a long list of keywords or hashtags.
Another tip is to make the content easier to find within the Pinterest search engine. To do this, it is good to use high-quality images (at least 600 pixels wide), and to use the Pin It Button and the Rich Pin.
"The more people pin your content, the more relevant it becomes, " says Pinterest. Who also recommends promoting your account on social media, through advertising and other means.
Pinterest also suggests pinning fresh content every day, and not just pinning your own content: "You can tell a richer story by adding pins from others," they say. And they invite you to collaborate with bloggers and websites.
In short, engagement through the following, repins, likes, and comments are highly recommended, as is the creation of group boards to invite people who love your brand to contribute.
The bulletin board name should be a maximum of 20 characters long. Otherwise, you risk being truncated (a bit like for too long titles on Google ). Again it is good to put a description and use relevant keywords. It is also possible to choose a cover pin or an attractive cover image that pushes the user to "follow" on this board. The choice could fall on the image that has obtained the greatest number of repins over time.
Pinterest also recommends placing the most important boards at the top of the page: you can easily do this by dragging and dropping them where you want.
Another suggestion is to try to " organize a small group of pins together that are able to tell a story and capture the imagination. " An excellent example of boards organized by different themes, and which can, therefore, satisfy different audiences, is that of The Container Store: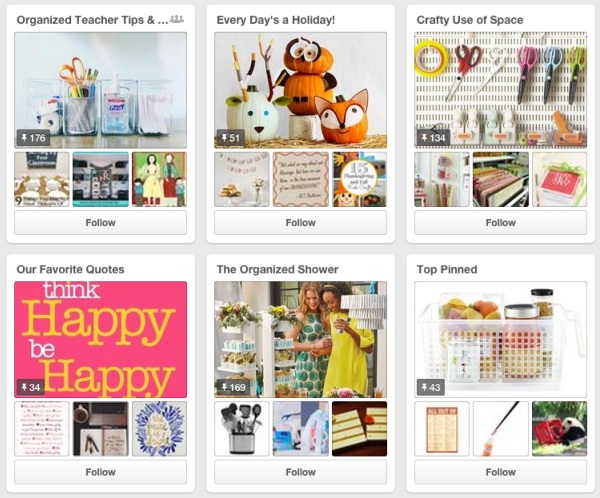 Finally, it is interesting to note that Pinterest recommends linking external sites. The guide reads in fact: "a pin related to a film should lead to a trailer or a review, and a pin related to a product should lead where it is possible to buy it."
PEOPLE ARE LOOKING ON PINTEREST WITH THE INTENTION TO BUY
According to a Vision Critical study, 47% of users who buy on Pinterest say that they "stumbled" on the object they finned and bought without having searched for it.
But 28% – and this is significant – instead say that they were looking for just that object (or something very similar), and this number rises up to 47% when it comes to purchases related to beauty products or for hair: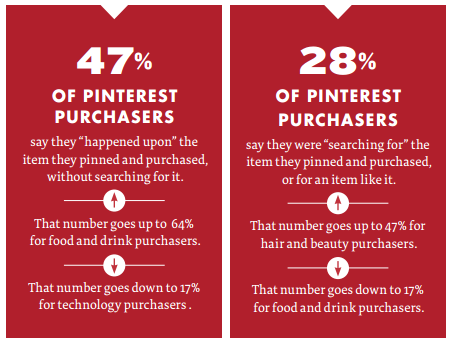 PINTEREST GUIDED SEARCH
Launched in April 2014, Pinterest's "guided search" is basically a system that allows you to refine the searches you do within the social network by inserting new terms related to the first, and consequently narrowing the range of action.
Based on a statement released by a Pinterest spokesperson to WebProNews a few weeks ago, Guided Search responds to the following signals:
Interest in driving

. The more interest the user shows in driving, the better it is classified. The clicks on the pins by the users are counted, and how often they are added to their boards.

Quality of the results of the "compound query."

The quality of the third party pages to which the point of the pin is taken into consideration.

User location

. Pinterest claims to use this signal recently; in practice, depending on the geographic location where the user is located, different related terms may be shown:

User gender

. Men and women have different interests and, therefore, can see different guides. Men click on guides on average to a greater extent, and do so on topics such as art, cars, fitness, health, fashion, and shopping; women tend to prefer food and drink, household items and technology.

Current trend

. If a large number of users show interest in a guide in a short period of time, it becomes popular, and can "position themselves" better for a certain number of days.

Spam detection

. Pinterest removes all pins considered spammy from its guides. Make sure you have read their privacy policy page to understand what type of content is illegible for Pinterest.
Guided Search seems to work much better on smartphones: clicks via iPhone are, in fact, 50% higher than those via the web, and the "propensity to click" is greater on weekends than on weekdays.
THE RESEARCH INTENT ON PINTEREST
The introduction of Guided Search has allowed Pinterest to understand users' search queries better, and therefore their intent. By analyzing the adjacent queries within the same session, and the pins clicked later, Pinterest manages to refine and improve the discovery experience of subsequent searches.
Put simply, and engineers can imagine that if a user writes "turkey" in the Pinterest search, he will likely write "recipes" then.
This function can also be exploited by marketers and by those who have a commercial activity: for example, if you sell wedding dresses, but you don't know which ones are more popular, using the Guided Search you can see that "wedding dresses" are related to " wedding dresses in princess style, "vintage wedding dresses, "lace, "etc. You no longer have to guess what people want; it is Guided Search that will tell you.
OTHER FACTORS TO CONSIDER
Vincent Ng, author of the ebook How to Search Optimize Your Pins and Boards For Pinterest and Search Engines, offers several other useful tips and tricks. Among these:
Better to have five pins for a specific term, rather than just one (or worse, none). It is too easy for a pin to get lost in an ocean of millions of pins.

Pinterest is starting to work on a visual image recognition engine, which can understand (for example) that certain colors or certain shapes are those of a coffee table. Therefore, even if you don't put that pin in the description of your coffee table photo, if a number of people in the past have used very similar images with that pin, that pin may be associated with your image.

More and more people search on Pinterest, instead of Google, for some types of queries (for example, those related to

lifestyle

). If you want to understand which terms are most searched, start typing them in the search box and see what appears: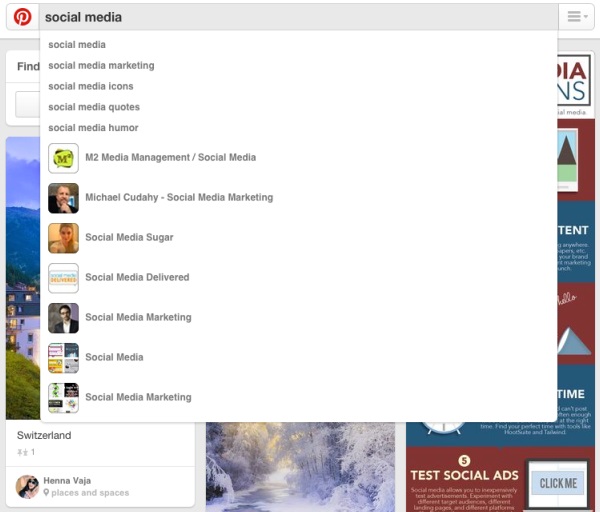 Putting keywords at the beginning of the description can help, but perhaps today is no longer an important factor as it was long ago.

The number of repins, on the other hand, seems to have a good weight still, but the "freshness factor" must also be considered ( a bit like what happens, in certain areas, on Google ).
CONCLUSION
As mentioned at the beginning, Pinterest is today among the social media capable of carrying more traffic than ever. Pinterest is also working as a search engine. Pinterest is enough for those who don't know how to do SEO. Make sure you have to learn how to google search algorithms works.
According to BuzzFeed, Pinterest is the second social referrer, and it has the longest "life cycle": it can bring traffic to posts even a long time after they are published. More than half of the traffic that BuzzFeed receives from Pinterest is, in fact, related to posts published more than two months earlier.
Maybe it won't work for all types of content, but if you have a very "visual" site, if you sell products that do very well in photos and are mainly addressed to a female audience, Pinterest is probably a social network that will give you great satisfaction.
So I hope you liked this content so please don't forget to share it with others and stay tuned for more amazing blog articles.