SEO
2-Phase Guest Posting; Renowned Outreach Approach That gets Links Indexed Faster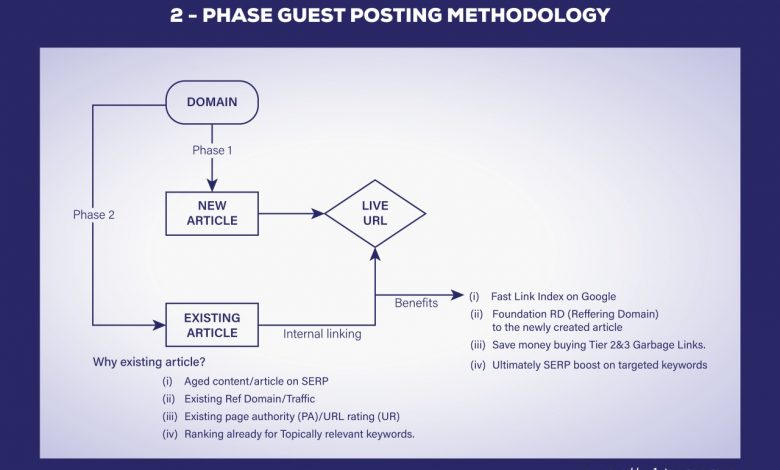 If you want to increase the number of visitors to your site, guest posting is a great way to do it. Guest posting can help you expand your blog's readership and reach a new audience. However, you're missing out on a lot of potential traffic if you don't index your guest post links.
2-Phase Guest Posting offers a unique guest posting approach that will quickly and effectively index your links.
Read on to learn more about the 2-phase guest posting strategy and how it can get your links indexed faster.
Why Is It Important For Google to Index Your Website?
Your website must be indexed if you want it to appear in search results at all.
You don't want your site to get indexed more than once, though. You want your site to be re-indexed by the search engines regularly.
Google, for example, does not alter its results on its own.
They rely on spiders, which are small pieces of computer code sent out by each search engine to "crawl" the internet (thus the name "spider").
You're looking for a crawl rate that's quick and efficient.
The spider's task is to search the internet for new information and update the version of your site that has previously been indexed. A new page on an existing site, an update to an existing page, or a whole new site or blog can all be considered "new content."
When the spider discovers a new site or page, it must determine what it is about.
Keyword and meta tag stuffing can get your site into trouble. On the other hand, meta keyword tags aren't truly considered part of the algorithm (though there are still good reasons to use them).
If you're not careful, your site could be removed from the index entirely, meaning you won't be able to rank for any keywords.
This is why website indexing is critical.
Simply explained, indexing is the spider's method of collecting and processing all of the data from pages and sites as it crawls the web.
Your search results will be better if your links are indexed frequently.
2-Phase Guest Posting Strategy For Getting Indexed Fast
It can be challenging to establish links outside of social media and other locations where you have the power and freedom to post them.
It requires a combination of reputation, content, and editorial linkages, as well as the ability to follow and ignore such links. Obtaining links that are related to excellent content can be a very effective means of obtaining links.
You need to locate relevant and top-quality websites on which you want to publish your guest posts. You also need to write for them and get the following links. 2-Phase Guest Posting can help you with all these.
2-Phase Guest Posting employs a guest posting approach that entails securing links from pages on the website domain that have previously been indexed. This is a tried and true approach for getting your links indexed rapidly.
Professional SEO help is crucial when it comes to getting your links indexed faster. Not every business owner has the time to stay on top of marketing, especially given how quickly it evolves. 2-Phase Guest Posting can help you get results far more quickly – and save you money in the long term.
Contact 2-Phase Guest Posting today to have your links indexed faster at the same time rank high in organic search results.