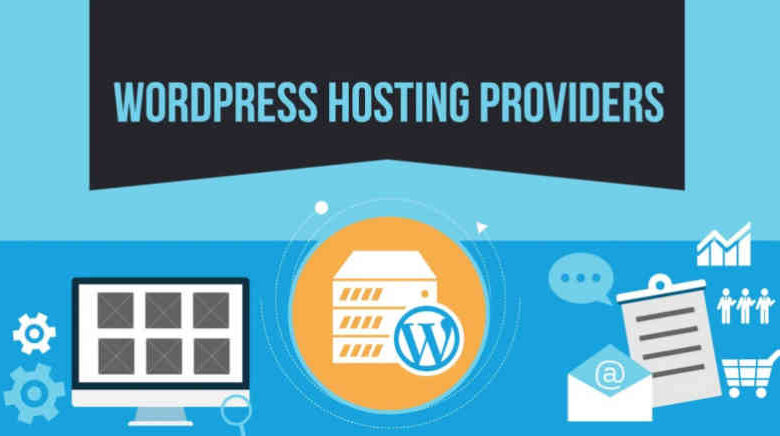 WordPress hosting is an essential service to consider when it comes to website building using WordPress. Hosting is one of the basic needs that require fulfilling to establish the site. But people often do not give the right attention that ultimately does not go well. Overlooking the essentials causes multiple problems like security gaps, higher loading time, susceptibility to hacking, etc. An efficient hosting provider solves all these problems at once.
Know the need first
First, clear the basics. WordPress is free and can run on a Linux server, supporting PHP/MySQL. In simple words, WordPress needs a host that can allow it to run correctly. The host has got pre-configured features that ease the process. There are many types of hosting environments that the service host-providers offer. The most common types to notice are shared and managed. The three primary reasons for which you need a reliable host are:
To simplify the process
To secure the site
To speed it up
Website hosting vs. website design: What's the difference?
Website building and hosting are two vital parts of creating your website. If it's your first time building your website, you'll come across these two terms when either creating your website from scratch or hiring website creation services.
Essentially, website hosting is responsible for ensuring that your website is up and running. A website hosting service will secure your physical servers and keep them accessible to all users around the world. Website hosting is a must-have for every website as it provides the Internet Protocol (IP) address and the domain name of your site. Keep reading this article to discover the best website hosting providers and guide you on which one to choose for your own project.
Meanwhile, website building, as its name implies, assists you in bringing your website to life. Website builders offer a collection of tools to design and organize your website elements in a functional way, even without a business owner's experience in website design. Most website builders today offer pre-designed website templates to provide convenience to website owners.
The visual appeal of your website is one thing, but compelling navigation and optimized content are another. If you want to take your website to the next level, a WordPress website designer can help you design a website with user experience, interaction, navigation, and layout in mind, which are more likely to convert your visitors into loyal customers.
Sorting the best
Now coming to the service providers. There are distinct options present in the market from where you can choose a host-providing company. However, not all firms have equal capabilities to fulfill the requirements. The following are the ten best ones to watch out for in 2021 if you are looking for a reliable source.
1. AccuWeb Hosting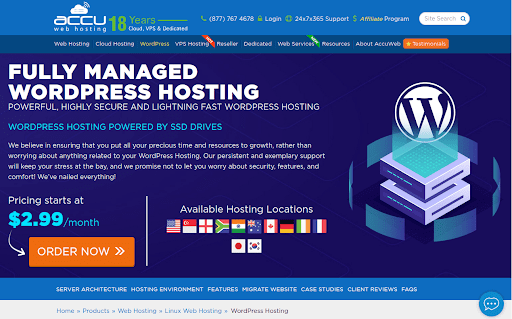 When it comes to a WordPress hosting provider who can do everything well, there's no better choice than AccuWeb Hosting! AccuWeb Hosting is the best WordPress Hosting provider. They were established in 2003, based in Old Tappan, New Jersey (USA).
With AccuWeb Hosting, Everything is easy to set up, even if it's your first time getting hosting or using WordPress.In just $2.99 USD, you can host unlimited WordPress websites which are not only faster but fully optimized.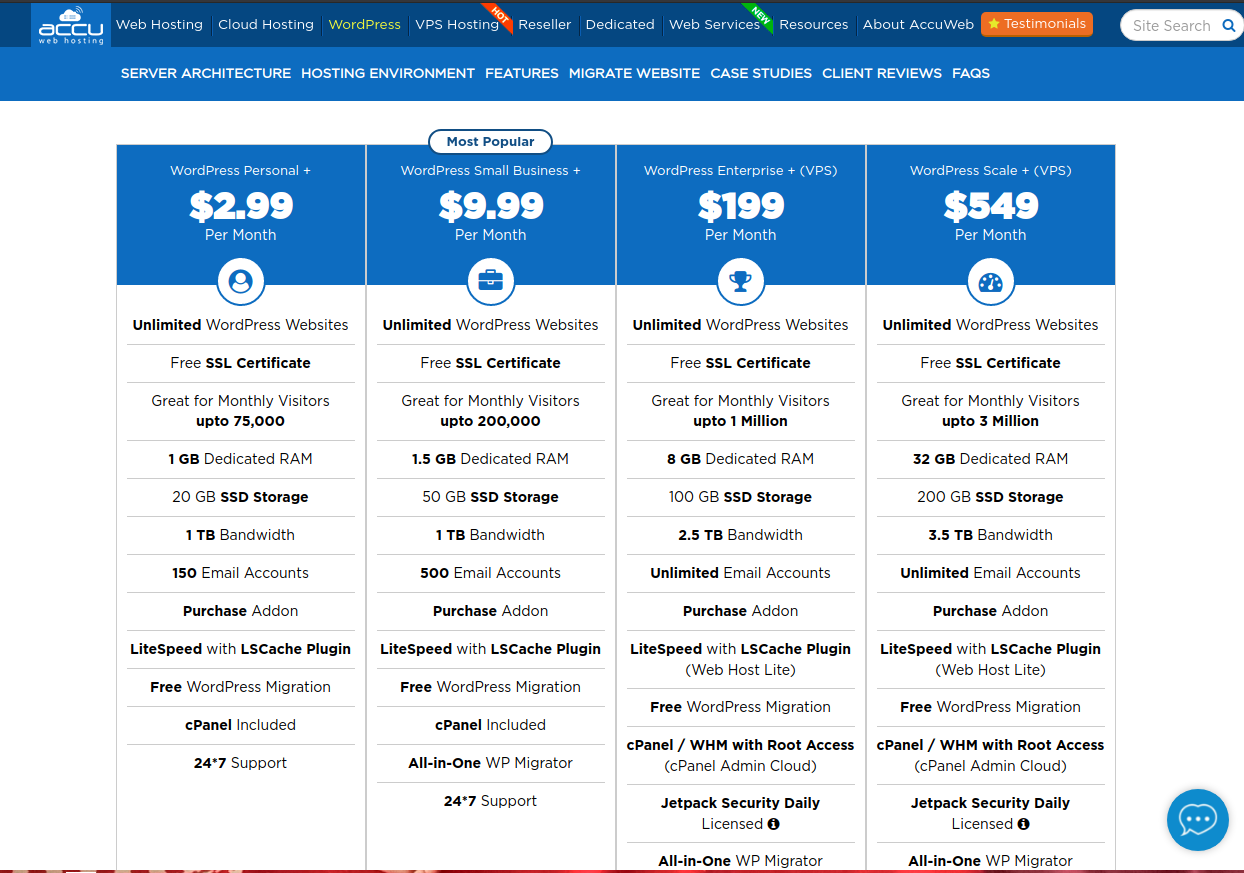 Features offered by AccuWeb Hosting.
Pre-installed WordPress
Unlimited WordPress site hosting
The main benefit of their WordPress plan is that they allow you to select the server's location.
Optimized WordPress Hosting, where the host manages all technical aspects of running WordPress.
Full Access
WordPress for Beginners
Isolated WordPress Accounts
DDoS Protection
Scalable WordPress Hosting
Complimentary Backup
WordPress Themes
WordPress Plugins
WordPress E-commerce
24/7 Technical Support
30 days money-back guarantee
2. GoDaddy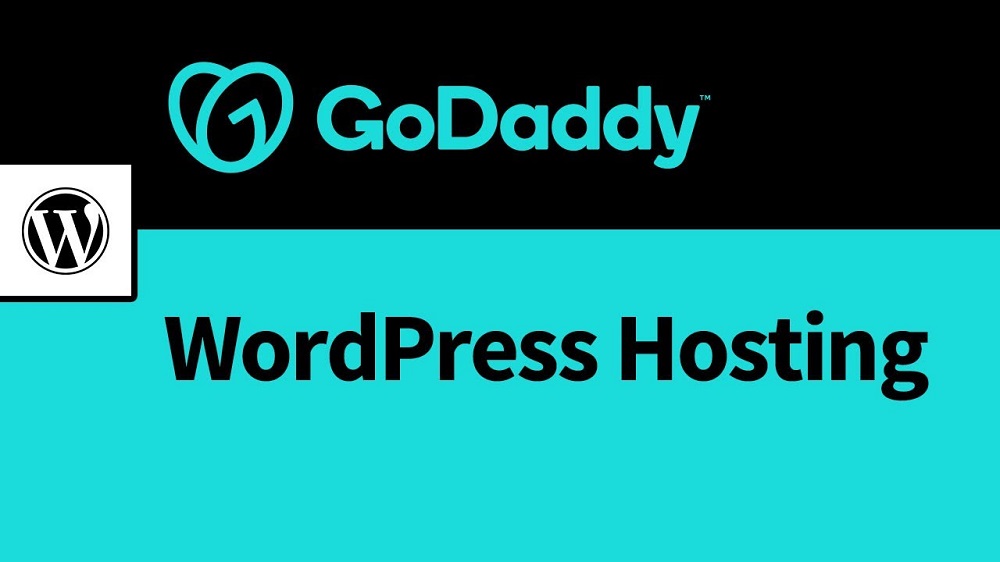 GoDaddy is one of the leading names in the hosting business. There are different packages that you can find with their service. The price range varies with the multiple attributes of the package. The ease of functioning and the great interface makes it a hit among the users. The support from the service end is very good, and the navigating aspects are very easy to comprehend. You can check out their website to know more about the multiple options to explore.
3. SiteGround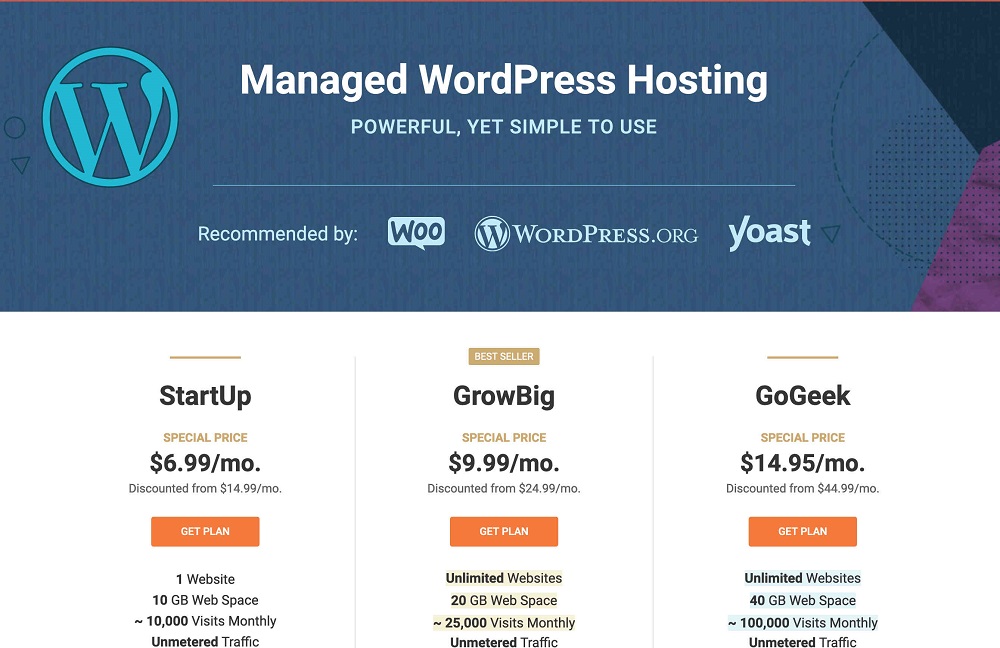 The top ten list is incomplete without the mention of SiteGround. It is a known name to all and has a strong hosting setup that vouches for its reputation. The optimized server and excellent management make it one of the best to consider. You can get the package you need from the available offerings. The installation is apt and quick with the perfect support team assistance. Visit the website and know more about their exclusive offerings.
4. Flywheel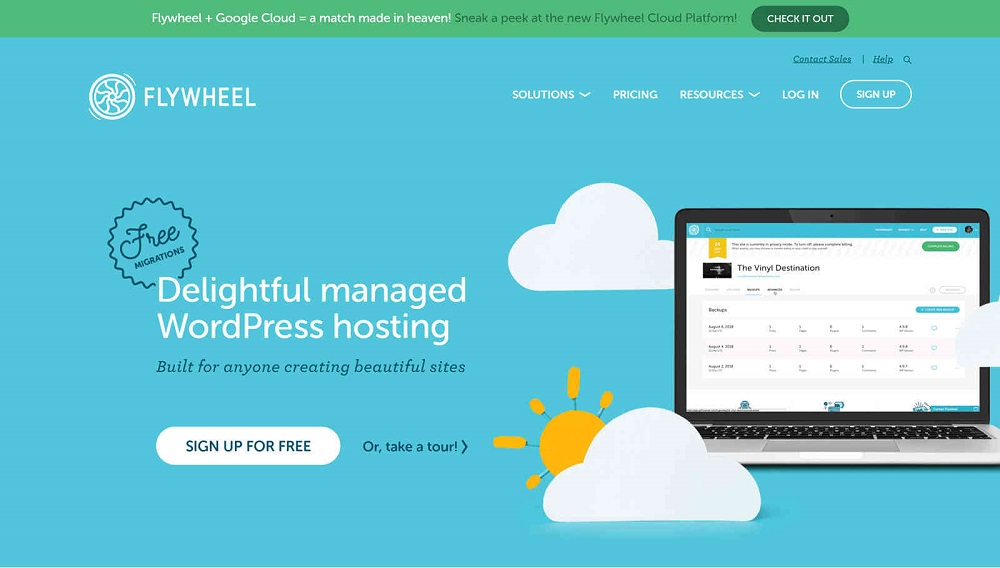 Flywheel is what you have been looking for, for those who want a more economical option. It is affordable and features excellent performance. You cannot complain about anything missing from such compact-priced packages. With facilities like regular backup, multisite support, staging for those wanting to try something new, etc., it is a great choice. The easy installing process is just like a cherry on the top with the amazing backup of dedicated service management. Check their site to know more.
5. Bluehost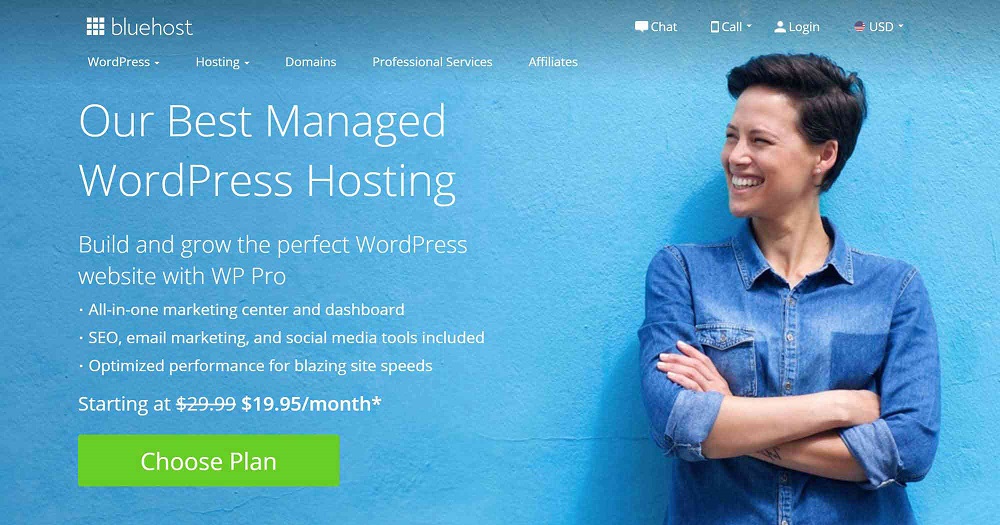 Bluehost is the only service host provider in the list that features annual plans. You do not get a monthly package with their offerings. But there is nothing to worry about as they have a trustworthy money-back guarantee policy for those wanting to disconnect. Here you get the one-click WordPress installation from the MojoMarketplace alongside standard cPanel options. The support team is extremely well operating, and you will get zero chances to complain! Visit their link and get a better idea about the packs.
Click here 
6. Hostinger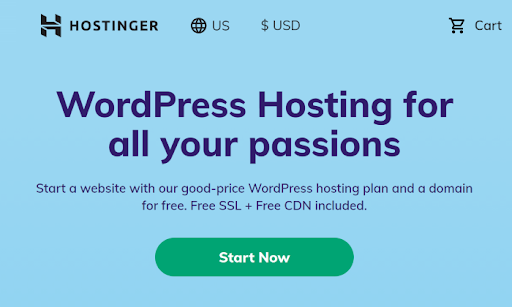 For those looking for an entry-level hosting provider at an affordable price, Hostinger suits the best. It is undoubtedly the cheapest in the market. With their low-priced package, you can build the site and allow up to 10,000 visitors. Additionally, you get an email account and a free SSL. The features are speedy and provide guided installation to ease the process. Do not worry about maintenance or support concerns with their offerings. Check the official site to know more.
Visit here for best offers – https://www.hostg.xyz/SH82b
7. Kinsta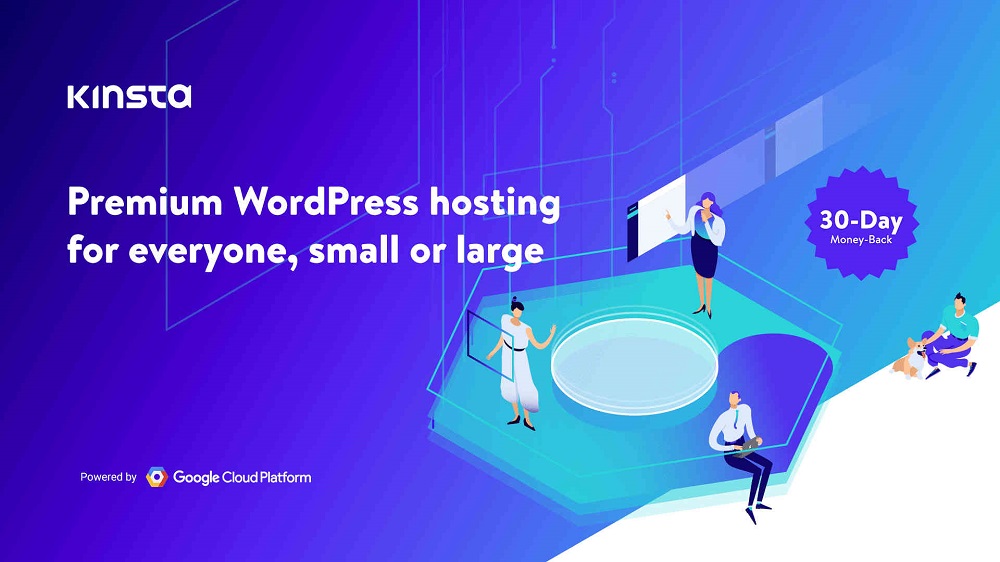 Kinsta is great for those looking for an optimized hosting setup. With the full power of the Google platform, Kinsta is highly accessible and can handle the load. You get a customized panel with them that is an attractive feature for most. Installation is too simple as you only have to tick a box to get it done! Expect no waiting issues with the 24/7 chat support of qualified representatives to care for the needs.
8. WP Engine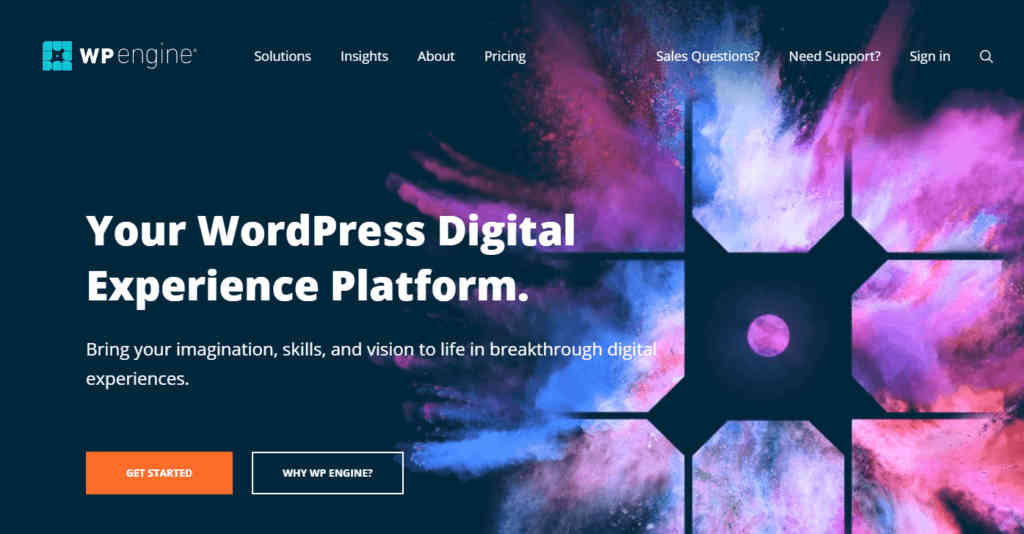 WP Engine is among the popular ones with the available options. You get a very basic and easy sign-up process with no complexities. You do not need to install WordPress by yourself as the professional team does that for you. The process is simple as you get a mail containing all the essential information after completion. You get the option of chat support and helpdesk as a part of their dedicated service.
9. DreamHost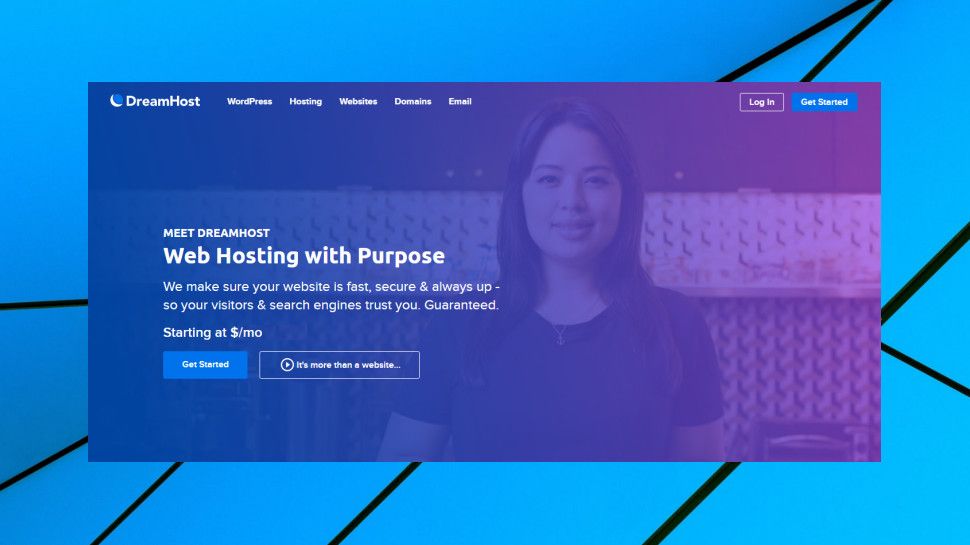 A bit expensive but highly popular in the market with the users. Like the rest of the said options, installation is quick and easy. You do not need to put much effort into completing the initial processing. The straightforward interface makes it easy to comprehend and smooth for functioning. There is nothing much to say about the dedicated support system as they feature a great one! Check their official website and learn more about the featured packages.
10. A2 Hosting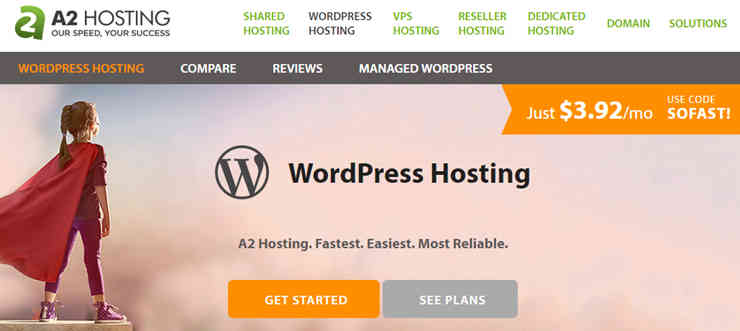 A2 hosting has a rich experience of 10 years in the field. However, it is a newer one compared to the other listings. Their affordable price packs and service benefits have accelerated the growth. The developer-friendly host is highly secured, for which it has managed to earn a good reputation in such a short period. Great performance, optimized WordPress environment, and one-click installing are the key features to consider. You can access their 24hour support line via chat or call.
Visit here for the best offer – https://www.a2hosting.com/
11. InMotion Hosting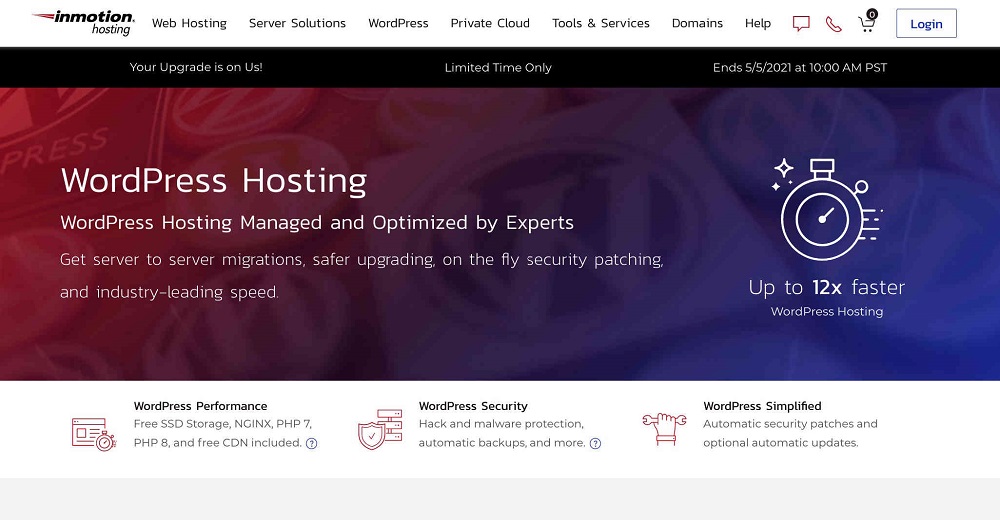 The last one to name but certainly not the least! With InMotion Hosting, you get multiple options that are ready with distinct packages. Here, you get SSD disk space without extra charges! Sounds great, right? Also, you get a pre-installed WordPress as a packaged part! It is very simple to follow as you only have to tick the boxes. You get a clear picture of the details on the dashboard, which makes it convenient. The qualified service representatives work amazingly to resolve your queries. Visit their website to know more.
12- ResellerClub hosting
What makes them superior
Each of the mentioned hosting firms has unique service elements that make them superior. Above all the features and attributes, the crucial judging factor lies in performance. The performing ability of the service providers makes them apt for use. Other than performance-related data, the speed test experiments and practical reviews also play a part. These are important to shape up the list and provide valuable information to you.
Five things to look for
It is essential to know what are the qualities that you should look for in such cases. Having knowledge in general about the defining elements certainly keeps you ahead of others. Making it into a gist, you need a service provider who can meet the following needs rightly:
Server resources
Dedicated support team
Unique configurations
Specifics of memory allocation
Bonuses, including themes, plugins, SSL certificate, etc.
Closing note
Add: It is easier to acquire an idea with the mentioned features of the concerned hosting firms. But there is still room for research. You can always dive deeper to know more aspects about their working resources. Evaluate every aspect that you feel is important before connecting to a specific provider. Go through their website portals to know more in detail. You can dive down more to see Cpanel alternatives and how they are performing.