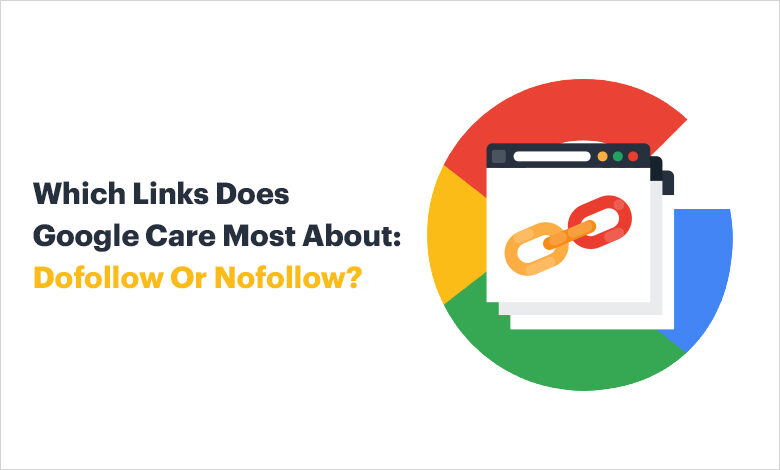 Links are one of the most important parts of Google's search engine's algorithm. Links are the most common way to connect blog posts, pages on your site, and other web pages on the internet. Links are a type of 'vote' for a site's importance or relevance, depending on how and in what form they're used. When you build links, you can either use a 'dofollow' link or a 'nofollow' link. Both have a different impact on search engine page rankings. It is a common SEO understanding that dofollow links are more powerful as they pass authority (Link Juice) from one website to another. However, no-follow links are also crucial for an advanced linking strategy and diversification of your link profile. Therefore, Webmasters and SEO experts use SEO software to plan, balance, and strengthen their link profiles.
Which type of link has a more significant impact on SERPs is a debatable matter. However, one thing is sure that search engines are always looking for quality content to display to their users. Today's super-sophisticated Google crawlers and intelligent algorithms leave no room for content spinning, keyword stuffing, or link spamming. This article dwells deep to create an understanding of how Google, the most prominent search engine, perceives do-follow links and no-follow links. We will try to find which links Google cares most about do-follow or no-follow? Such understanding is critical to creating a highly effective and healthy link profile.
What is a Nofollow Link?
With new updates in 2020 nofollow links are now more complicated. Google treats nofollow as a hint, rather than ignore – where it can choose to crawl and pass value through them, or not depending upon the content and the value of the link. Owners can classify the links better with this 2020 nofollow update from Google.
Low SEO value: This doesn't mean those links are broken or won't work. Nofollow link does not prevent a user from clicking the link and navigating to the destination website, but it prevents any SEO value from passing on to that website.
Non-creditable: Nofollow links are non-creditable links, meaning they cannot pass PageRank. Sites that don't want to be penalized by Google for having too many external links pointing to their site usually prefer nofollow links from low authority domains.
What is a Dofollow link?
A "Dofollow" link will cause search engines to count the page as a backlink for your website. If someone sees my blog and visits my homepage because they clicked on a Dofollow link I created, I will get credit for them going there.
Such links specify search engine crawlers to follow the link from one page to the other and use Google's PageRank algorithm to pass link weight to the webpage.
Google's algorithm determines which websites rank at the top of your search engine results. It takes into account a number of elements, including the number and quality of links from other pages to the site. A link on a website that search engines will follow is called a "dofollow" link. They are valuable for building awareness of your content and website online.
SEO boosters: Dofollow links are explicitly created for SEO purposes. As a result, they are more valuable because they provide link juice that can boost your rankings in search engines. A dofollow link does affect a website's ranking by passing SEO value from one page to another based on the quality of the incoming link.
Offer Credit: A dofollow link is one that is followed by the search engine spider. Dofollow links send your site's credibility by showing that other sites trust you. They notify search engines that a site is relevant to a given topic, and they tell readers about other sources about a particular topic.
Dofollow vs. Nofollow— a Comparison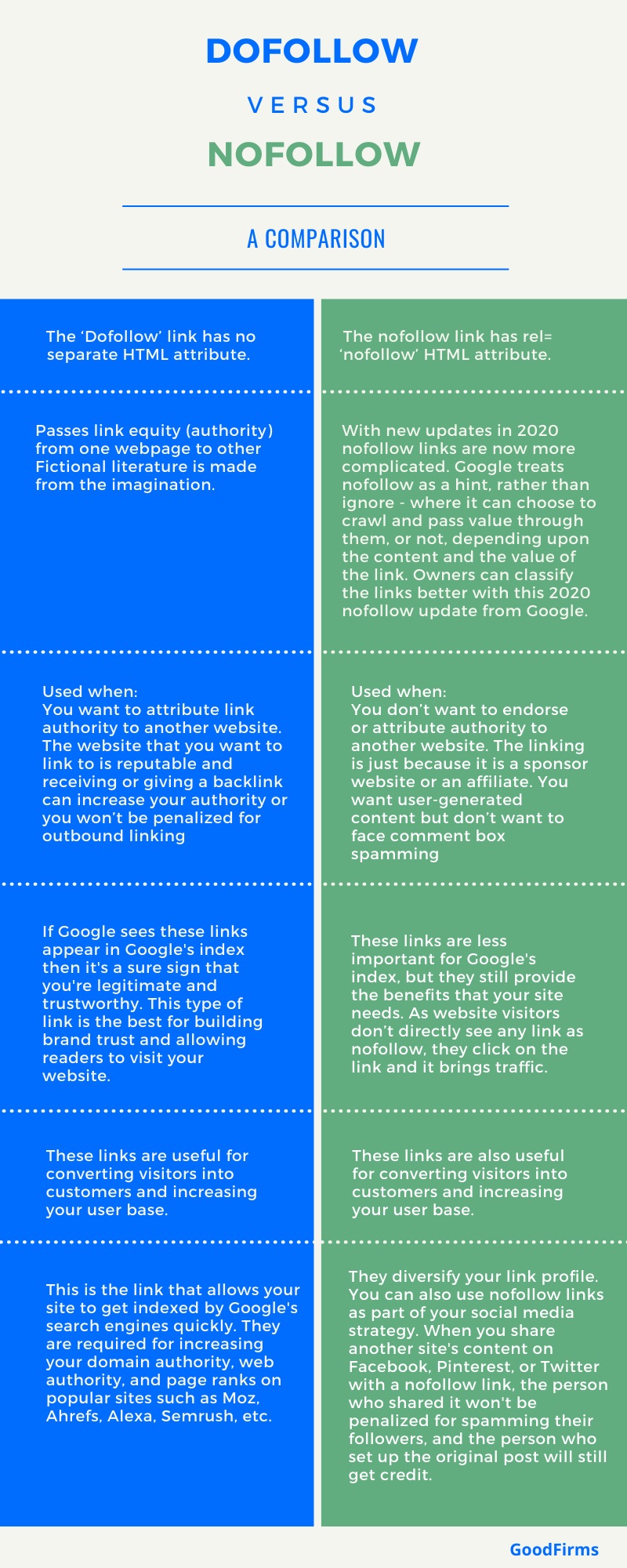 How Google Perceives Follow and Nofollow Links?
If you strive to rank high on search engines, it's important that you know which links Google cares about the most. When you're contemplating whether or not to use "follow" or "no-follow" links, you should know how Google perceives them.
The way Google sees links has changed drastically over the years. With various amendments and new algorithm roll-outs, Google has over the years strengthened its ability to detect the authority, relevance, and intrinsic value of links. While Dofollow still remains the most important type of link that Google considers while deciding page rankings, a lot of other factors have come into play now.
Earlier, web admins believed that nofollow links have no role in SEO. However, Google's new update in 2020 changed some elements of the nofollow notion. Google clarified that nofollow tags would be considered 'hints' and not as a 'directive.' What does this mean? Google is still giving the option to webmasters to give nofollow tags if they don't want to pass the link authority. However, Google might not necessarily honor it. Google can choose to follow and pass some authority even for nofollow links.
Also, Google has become stricter with paid links. Paid links should always be nofollow because they distort the credibility of your website by telling Google that you endorse other sites and products through paid links. Paid links can also hurt your site's reputation with other sites and your visitors.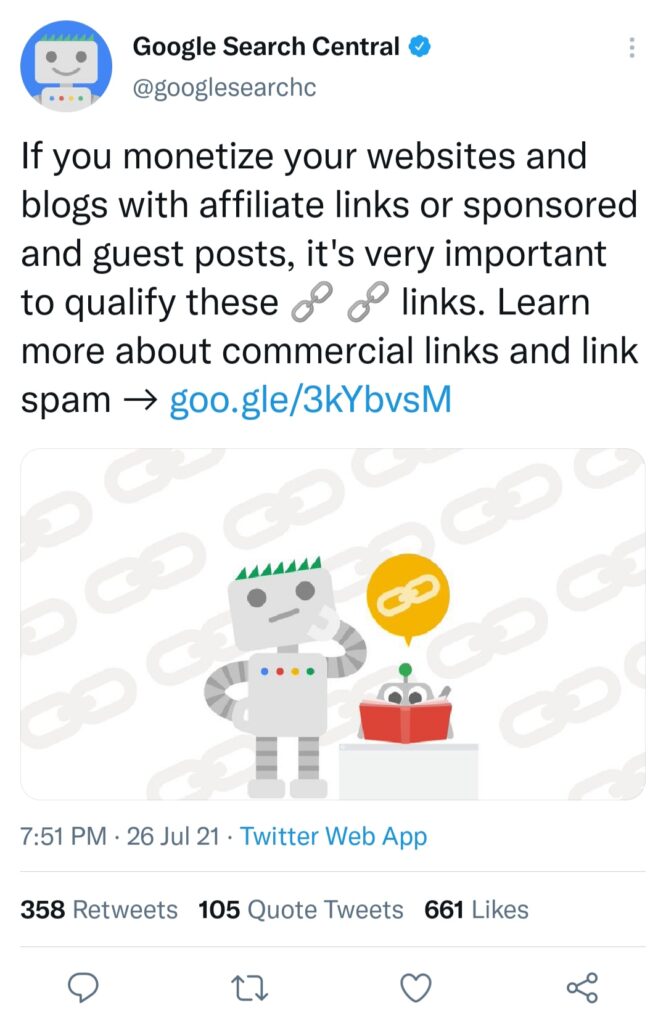 In 2020, Google rolled out its link spam update that was completed on 24th August 2021. It added two more attributes commercial link tag and UGC (user-generated content) tag. For example, if you pay an online magazine to write an article for your product and provide a backlink to your website, then the magazine website should add a nofollow link with a rel=sponsored tag in it. Similarly, if you have a forum where users come and add content along with links to another website, then you should nofollow the links with the rel=UGC tag.
The below table compares the change of notion with respect to nofollow links by Google: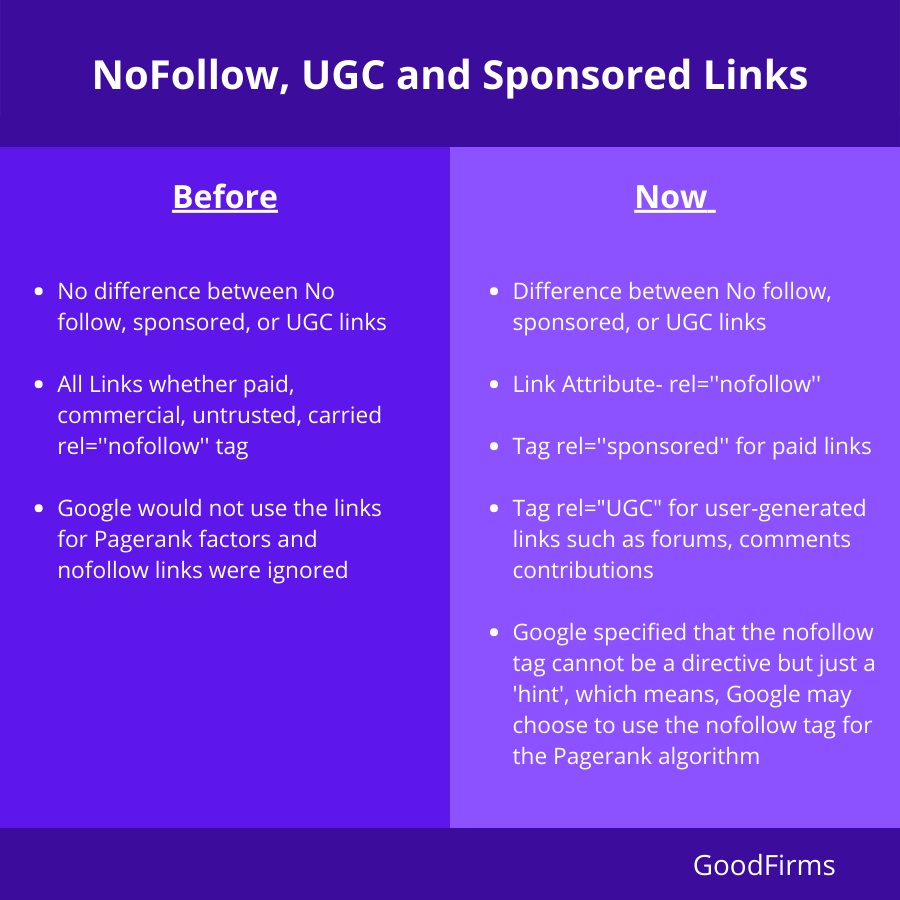 Google's Ranking Algorithm is Weighted Differently for Different Types of Links, But Content Quality and Relevance Matters Equally.
Google has a profound impact on your business. It is the number one search engine in the world, and it is responsible for a large percentage of traffic to many websites. However, how does Google rank websites? What are the factors that influence its ranking algorithm? Most SEO experts will round it off to three things:
High-quality content
Link Authority
Relevance
Google cares about the quality and value of your content and authority, which is why it should be a priority to create high-quality content that will help you rank better in search results.
Links are the source of authority. In addition to the different types of links that Google will give you, it will give preference to the links that it thinks are the most relevant to the topics that you want to rank for. Google will be more likely to give priority to a link  (regardless of the type of link) with a higher quality score and the one that provides well-written and quality content. For example, a nofollow link from Forbes, Harvard Business Review, or Mashable will definitely have more weightage than a dofollow link from a low authority website.
The quality of a link is calculated by taking into account link structure, anchor text, formatting, the types of content included, and other factors. There are many website analytics tools for conducting link analysis. Webmasters must use these tools to understand their link profiles better.
Conclusion:
In its mission to provide the most relevant and high-quality results to users, Google has continuously waged war against spammy links, paid manipulation, and unethical monetization with link trading. To conclude, it is not that Google cares more about dofollow and less about nofollow; it cares about keeping the web free from unethical practices. Google cares about the user experience and high-quality content.
Therefore, a relevant nofollow link from a high-quality, authoritative website can bring better results than an irrelevant dofollow link from a low-quality web page. Similarly, a relevant dofollow link from a low authority domain can also be more impactful than an irrelevant link from a high-authority website.
Also, a good link profile should be a mix of dofollow and nofollow links, with multiple types of anchor texts. It is advisable to use technology and software solutions such as SEO software to create, manage and strengthen link profiles for your website.
________________________________________________________________________
James Mordy is a Senior Content Writer at GoodFirms. GoodFirms is a software research and listing company that reviews IT products and services. A voracious reader, an avid researcher, a logophile, and a tech geek, James loves to write about the latest technologies shaping the world. He often articulates the very nuances of the software world in his blogs. In his free time, he loves to watch movies and analyze global stock markets.