Other
Where Can You Find Free Business Card Design Resources?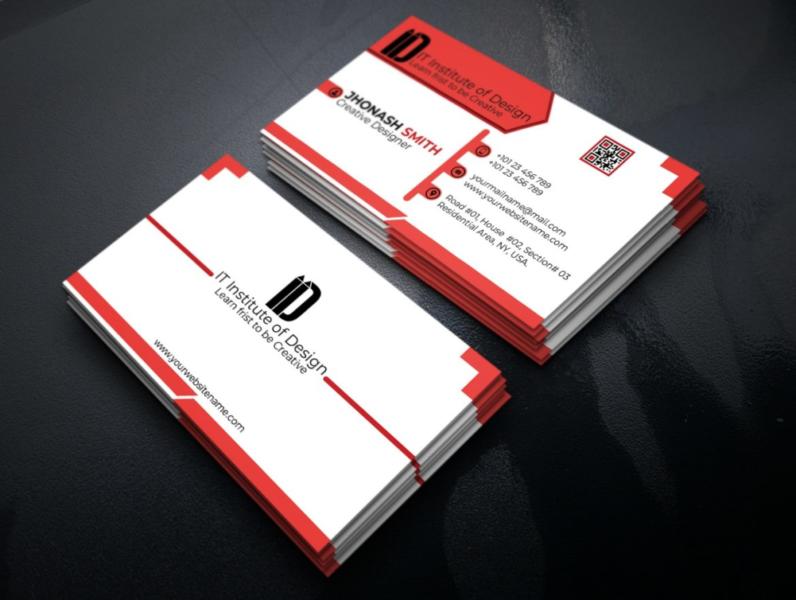 The business world is getting digitized very rapidly, and its power can be felt strongly in marketing. From social media to emails to videos, nobody is overlooking this ever going revolution. Although these brand new techniques have transformed the companies; the great old business cards can't be substituted.
For years, business cards have been a vital tool for professionals and businesses. But there has been a growing misconception regarding its usage. People have started feeling that if they have new digital techniques, why to use the same old method for marketing and generating leads? But this is not the truth. As per the latest statistics, every day 27 billion cards get printed in the U.S alone. It shows that even in today's digital world, business card hold its importance.
The design is of utmost importance when it comes to a business card. While the design of business cards used to be very simple in the past, modern-day cards are creative. Earlier, graphic designers used to put only basic information such as name, contact number, email address, fax numbers, office address, etc. on business cards. But today, they prefer to add extra information creatively.
Creating professional business cards do not require you to have a big budget. Luckily, there are plenty of free online design resources that let you design business cards on your own. Let's take a quick look at the top 10 websites where you can find free business card design resources:
Canva – Canva, one of the most popular graphic design websites, lets you design business cards. It offers thousands of free templates. If you have your own layout, you can even upload it and edit it as per your requirement. The main advantage of the tool is that it also allows users to design the back side of the card. When you browse through the templates, you will find that most of them are free of cost. But if you want to make use of premium images, you have to spend a little extra for those images. The design you generate gets automatically saved in your Canva account. You can alter those images anytime you want. The business cards are usually produced in their standard size, i.e. 2*3.5 inches. The simplicity and richness of the tool make you visit the website again and again.
Designhill – It is one of the leading platforms that offer freelance graphic design services to the professionals as well as business owners. Although the platform provides several free tools, Business Card Maker is one of its well-known tools. Powered by artificial intelligence, the tool permits you to design professional looking business cards for all sort of industry. By making use of its easy-t-use editing panel, you can make a selection of fonts, icons, colors, graphics, and much more from its in-built library. To use this tool, you don't require any technical know-how. The user-friendly tool creates high-quality business cards in just five minutes. Once the design gets created, users receive the final files, as per the package is chosen.
Jukebox – If you are looking for some exclusive card designs like textured pulp, wood, recycled paper, etc., then Jukebox is the right place for you. The company offers various card options like pearl or foil coated, matte or gloss finish. Another great option for printing that it provides is bleeding borders, double-sided printing, and full color—all with superior color and print quality. You can either choose the in-built templates or customize it from scratch. The main drawback of the site is that it is complicated and confusing to navigate.
Shopify Free Business Card Template Maker – Although the platform is renowned for online sales, it also offers various tools to help owners and professionals sell and develop their businesses. One of its great tools is "Free Business Card Template Maker." This user-friendly tool makes your creative process easy and quick by adding only a few details. All you have to do is upload your company logo, enter your name, email address, website URL, etc. And after filling all the details, you'll get business card design in just a few minutes. Then, you can download the file and get it printed from your vendor.
Vistaprint – You all have probably heard about the company named "Vistaprint." The brand is famous for creating customized marketing materials. It also features a creative selection of pre-designed templates and images. Another great feature of the tool comprises double-side printing, matte finish, matching envelopes, and letterheads, etc. The only drawback of using this tool is that it does not allow users to edit the designs.
Crello – Just like Canva, it is another great tool to create a business card design. Just in case you don't like the user-interface of Canva, then Crello can be your alternate option. The tool offers the option of customization to give your card more professional look according to your tastes and preferences. You can make changes in everything including the background of the card, logo, text, etc. If you are short on time, you can make your selection from its in-built design templates. It will help you in saving your time and efforts. Once you are done with your design, you can download the image in various file formats like PDF, PNG, JPEG, etc.
PicMonkey – It is another great resource for your business card design needs. During its initial stage, the company was into online editing services, but as it grew, it started offering designing services too. The brand has come up with a fantastic tool named "Custom Card Maker Tool". The tool lets its users with the blank canvas by choosing the design from the in-built library. You can customize the design by making a selection of various colors, graphics, and fonts. You can also add your company logo within the design template. The great thing about the tool is that it allows its users to use the back side of the card as well. Once you have created your design, you can share it via mail, email, snail or Pony Express revival.
DesignMantic – Design Mantic provides you with a platform for the professional creation of business cards. Its business card maker tool lets you create cards in accordance with industry and profession. Just select the design, add your details and download the card. You can also upload your personal logo and make use of the back of the card too. Users get to see all the possible styles and designs that can be customized according to your specifications.
Biz Card Maker – It is another great platform to create the best business cards with customized graphics. The tool comes with great color and design options. Both the text and design can easily be modified. All you have to do is by using the dotted borders, drag the elements and place it according to your requirement. Once you have created your design, you can download your files in JPEG and PDF format.
Moo – If you are looking to create special finished business cards, then Moo is an ideal choice for you. There are three ways to create business cards using this platform: starting with a blank template, using the in-built library, or by uploading your own design. Whatever choice you make, Moo offers high-quality cards with detailed modification features.
Conclusion:
Small companies are investing thousands of dollars in their direct marketing efforts. They don't know that business cards are the most cost-efficient and power direct marketing tool. Now that you know where you can find free business card design resources. Make your selection and create a solid first impression.