Blogging Tips
10 Blogging Lessons I Learned from My 3 Years of Blogging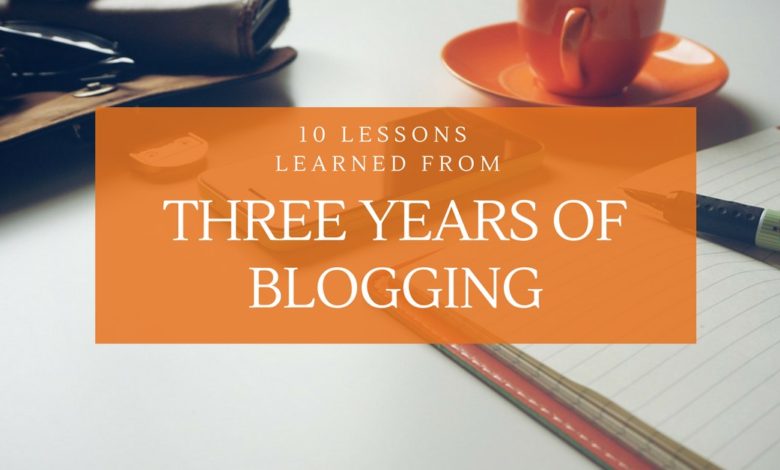 There are people who think blogging is the easiest job amongst all. You only need to write regularly and you can grow a massive following out of it.
But that's not true.
You get to know blogging when you step into this field and join the journey with other bloggers. It's a tough battle. You need to make your words win in the growing competition. According to the Internet Live Stats, 2 billion blog posts are being published every year. Considering this ratio, it's not easy to win blogging unless you give your heart and soul to it.
So, if you're the one who wants to start their blog or have already started, here are the 10 most important lessons you should never miss to follow.
1. Start with a WordPress Website
There are many social platforms on which you can start blogging such as Facebook, Instagram, Medium, and LinkedIn but the best advice is to start with a WordPress website. It's because a website gives you control over a number of features which you can customize the way you want. Whereas on Instagram and Facebook there are less options, they don't even have formatting options.
So, if you want to be your own boss, start with a WP site and gain control over the comprehensive features for your blog. Plus, having a website is also good for search engines as Google always prefers to rank blogs with a website. The reason why I'm recommending WordPress is because it's easy to use and offer more user-friendliness than other content management systems.
2. Don't Try to be Everywhere
The biggest mistake you do with your blog is that you start focusing on the social platforms in the beginning of your website. When you're new to blogging, your aim should be to build your website first. If you choose to be on Facebook, Instagram, Twitter, Pinterest, and everywhere, your attention will be divided into growing your followers more than working on your website.
The tip is to choose only two social networks where you can promote your blog and grow your target audience better. Prioritize your website content and then the social channels.
3. Know your Audience
I have seen a lot of bloggers who quit their blogging when they don't receive the response from their audience. It happens when you fail to understand your audience and write blogs that don't relate to them. So, in the first year of your blogging you should write to understand your audience. Once you know their choices, you can better target your content around it. It might require you to write 50+ blog posts in the start but by experimenting different blogging ideas will help you to reach your audience preferences.
When you know your audience, delve deep into their likes and dislikes, gender and age group. After having a strong idea of your target audience, it will be easy to find the topic for your blogs.
4. Do Guest Blogging
Guest blogging is the best way to grow your blogging audience. It opens endless opportunities for you. Follow the 80-20 rule for guest blogging which means you should give your 80 percent time in writing for others and 20 percent time in writing for yourself. It's because when you write for others you grow more exposure to your brand and you successfully attract a different and wide audience to your website.
In addition, guest blogging also adds to your credibility. When you'll have a number of blogs published under your name, your portfolio will speak for you.
5. Don't Miss SEO
SEO fuels your website traffic. With a website, you have the options to optimize your blog according to the latest Google algorithm. So, you should always put Best SEO practices forward to optimize your blog.
Title, headlines, and meta description are the three elements which counts the most in On-Page SEO. These factors also help Google to identify your blog and rank it. Plus, the external and internal links are also important to boost your blog credibility. So, always link the sources to increase the search intent of your blog.
6. Passion and Patience are the Key
You can't continue your blogging journey unless you're passionate about it. Writing regularly on your website and other blogs requires courage and willingness to do so. So, always choose to be a writer/blogger when you have the passion inside because even if you fail a hundred times, your passion will always lift you up.
Secondly, you don't win the blogging results right after you start it. So, don't get disappointed if people won't share your blogs, keep your efforts going and one day you'll reap the results.
7. Be Yourself
One thing I have learned over three years of blogging is that honesty is the most important trait a blogger can possess. When you are ready to be yourself, provide the innermost value to your audience and the original thoughts behind the topic, you'll see the weight of your words. People will gradually start believing you and your honesty will become your identity.
There are over a million bloggers in the world, if all of them start copying each other then the authenticity of blogging will be ruined. So, with your blog always choose to be yourself and never hesitate to raise your inner voice. Your followers might discourage you for being honest but later they will realize that you were right about the matter.
8. After You Publish, Promote Your Blog
Do you think your job is done when you have published your blog?
No!
It has just started. When you have successfully written the blog, do your best to promote it. Join the Facebook groups where bloggers share their blog links and gain recognition. You can also use Quora and Reddit to promote your blogs. Use social media channels like Pinterest and Instagram to grow your blog traffic. You have to do your part in promoting your blogs because without promotion it's impossible to grow your voice in the competitive world of bloggers.
9. Be Consistent
Whether you write a blog weekly or twice in a week, always show up. You might not know but your audience waits for your blog. If you don't come with new content, they might stop looking over you. So, consistency is the key in growing your blog.
Consistency is also good for search engines. When you show up with a blog regularly, there are high chances for Google to consider your blog. Plus, search engine crawlers like the websites which are being updated on a regular basis. It shows Google that you follow the latest happenings and keep your audience posted.
10. Email List Should be Top Priority
It's not right to start working on your email list after years of blogging. You should start collecting your subscriber's email when you launch your website. An email list will help you to build a reader's community and will also let your market your blog. If you later turn your blog into a small business or a product, you'll already have subscribers to believe your words. That's the power of having an email list.
When you start making money through your blogs then your email list will still be helpful to sell affiliate products. So, start getting the subscribers from the start of your blogging.
Over to You
After learning all these mighty lessons, I still considered myself a novice blogger as there's a lot to learn. And that's the biggest takeaway of blogging, you should never quit learning. It opens your mind to different ideas, experience and perspective of life.
I hope you find these lessons useful to follow. It's always wise to learn from other mistakes rather than repeating the mistakes. So, keep learning and keep growing. Your blogs will reap plentiful results one day.