Instagram has exponential growth boasting over 500 million users globally, and it is one of the top social media platforms in recent times. About 50% and more of Instagram users follow various brands on the platform. Instagram is renowned for having a great engagement rate when compared to other social networks. Thereby, it is evident that there is broad scope for business-to-business and business-to-customer communications.
Instagram, when handled correctly, could be an excellent platform to establish your brand and build your business. Anyway, to build your brand successfully on Instagram requires something other than compelling photos. You have to frame a strategy that lines up with the identity of the brand. The seven steps below lets you get started,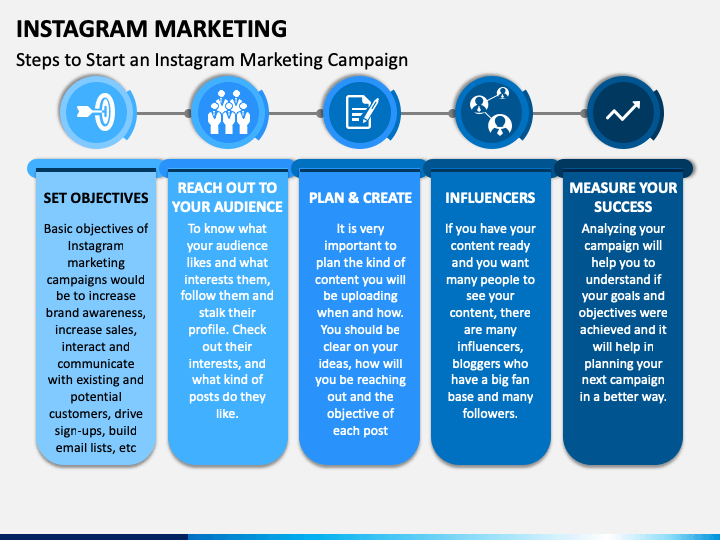 1. Work On your Objectives
Before getting started with marketing campaigns, the first and foremost thing to do set goals for the brand you want to target. Setting up goals ensures you can scale the campaign's success and lets you check if the business provides returns on investment. That said, these goals let you adjust the strategy if you know that it is not working for you.
The essential goals on Instagram are building brand awareness, communicating with existing and prospective customers, and gaining a loyal following. You can have different plans, that is, post product photos while sharing UGC; it is vital to know why you share it. When you "why," then you will be able to measure post-performance and use analytics tools. The platform is excellent as it lets you exhibit the aesthetically pleasing products and services you offer to drive massive sales.
2. Identify the Target Audience
Marketers failing to determine and comprehend their target audience is one of the most common blunders they could make. Most of the successful Instagram brands have created vital insights into their core audience. These brands are very familiar with the kind of content that fascinates their followers and gets them engaged.
While designing a marketing strategy for your business, you will have to find your potential audience to establish a good bond with your followers. To retain your customers, you have to understand their requirements and how frequently they need them. Understanding the desires and wants of the audience helps you craft the content.
You could make use of Instagram demographics to know about your audience's interests. Move on to Insights on the app and tap Audience. That will show three fundamental statistics about your followers like gender, age, and location. This data helps understand when you will have to run Instagram ads in the future as it brings your content to the eyes of the potential audience.
3. Implement a Content Strategy
Your objectives and target audience must be the backbone of your strategy for content. Deciding on displaying the components of your brand relies on the kind of business you run and the goals you set forward. Apart from showcasing your products or services, you could also post content about staff members and business culture. The platform lets you share pictures, videos, and GIFs, brainstorm ideas, and determine the type of content that attracts an audience and is excellent for attaining goals.
Also, bear in mind to garner content from your audience. Keep an eye on relevant mentions and tags for your brand's hashtags to discover people that share experiences about using the product. By posting curated content, you might inspire other followers, get automatic likes on Instagram, increase engagement rate, encourage people to interact and share information.
Make Use of Right Hashtags
Hashtags are a mix-up of characters, numbers, and emoji prefixed with the # symbol. It is used to organize content and makes it more discoverable. Hashtags on Instagram operate as keywords enabling followers to discover brands and content they search. It lets your posts visible to more eyes, encouraging you to fetch new and prospective customers. You could join a conversation by making use of trending hashtags that will help build engagement.
Although Instagram allows you to include up to thirty hashtags on every post and comments section, you must not overuse it to avoid spamming. Create branded hashtags such that they are appropriate to your content and to build awareness of your brand.
Suppose your audience uses specific hashtags that even other people use too. Identifying these existing groups is an excellent way to grow your audience and connect with the people interested in your product or services.
Bear in mind to look at hashtags used by your top followers. The search tool on Instagram helps you find out those hashtags used by people you care about the most. While searching for a hashtag, the search tool shows you the names of your followers that follow the same hashtag.
Creating your hashtag for your brand could be the best way to promote your business or campaign. Do follow your branded hashtags to know how people use them; this lets you find opportunities to repost good content or link with your audience's influential people.
5. Run Contests
Instagram contests are a great way to grab audience attention, increase engagement with your audience and acquire new ones. For instance, running a contest needs you to tag a friend, which helps to connect with a new audience.
Before starting any contest, it's good to plan it out. Running a successful contest relies on a purpose that matches the interests of the target audience. Whatever the purpose, set a goal, analyze the efforts, create entry procedures, discover perfect hashtags, define clear themes, figure out how the winners will be selected, choose a contest prize, etc.
You could conduct different kinds of contests wherein they get fantastic prizes for participating. One of the perfect chances is to create a peculiar branded hashtag that motivates the audience to secure prizes.
Running contests lets you stay engaged & active on Instagram, leading to new followers, building visibility, and generating sales. Make sure to adhere to the guidelines and rules of Instagram before running any promotional contest.
6. Examine your Results
Assessing your marketing strategy often helps you understand what works the best for you and what doesn't, who the followers are, their most active times, and what content makes them engaged. Also, examine the content you post, the kind of posts and responses you receive on different posts, and those hashtags that brought the most active audience.
When you get a better picture of these, you will determine the type of content you have to continue to post in the future that attracts the audience's attention. Analyze Instagram marketing efforts using followers counts, hashtag mentions, and location tags. The insights on these factors are essential to creating content strategies that grab positive results for your business.
Conclusion
Instagram is the best tool to take your business to the next level without a doubt. A powerful strategy is necessary to engage the potential audience on the platform. To achieve great success in your business and build brand awareness, you have to set the right goals, post engaging content, understand the audience, use proper hashtags and run contests.
I hope these ideas help you to establish a successful business on the Instagram platform!