PPC
Amazon PPC: Step By Step Beginners Guide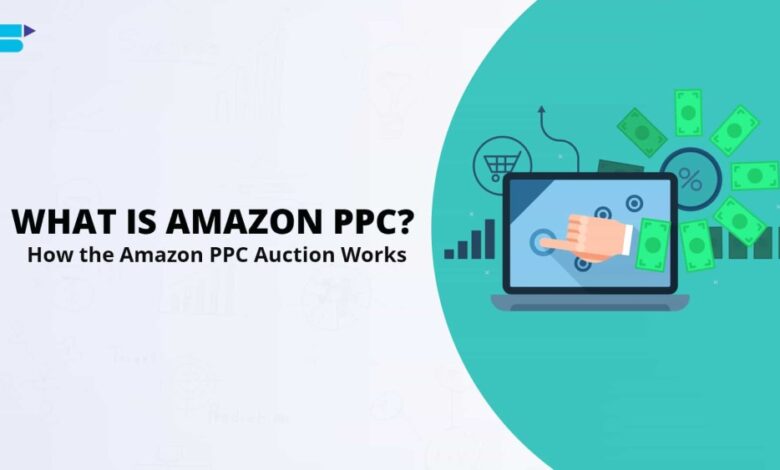 You might have come across Amazon ads every now and then, but did you ever wonder the science behind those ads? Like how Amazon PPC (Pay Per Click) advertising works, and most importantly, what is it?
As someone who's entirely new to Amazon advertising stuff, it's necessary to know the critical aspects before you venture out selling your product. Without knowing what you're getting into, one wrong move can simple topple down the entire budget of your business.
To help you out, we have done our research regarding Amazon and its PPC campaigns, gathering every related bit of information into one single guide that could benefit you. So, without further ado, let's get started!
Understanding Amazon PPC – How It Works.
Amazon PPC calls for a renowned advertising platform for sellers wanting to boost their product sales online. The PPC or Pay Per Click is one of many marketing methods where sellers pay for only those advertisements that potential buyers click and view.
While creating an Amazon PPC, it must be managed and executed correctly. This allows amplification of sales, moreover, improves organic rankings. If you have a new listing, be quick in activating your Amazon PPC campaign, as it helps to pinpoint the right set of keywords and identify the competition. Also, it aids in comprehending the ideal budget required to run the Pay Per Click campaign. Based on this information, you can adjust the cost to ensure that the sale is profitable and revenue accumulates just as you imagined.
What's Amazon Paid Search?
Apparently, millions of searches are made on the Amazon marketplace, from short to long-term phrases/keywords. These searches are done by people who are looking forward to shopping for required products. On Amazon, there's no such thing as window shopping or discovering ideas. It's like every visitor knows what he or she wants and they are there till the checkout. So, when a customer types the product they are willing to purchase, Amazon displays a list of relevant products, also known as organic results.
However, when an advertiser pays for search results, the organic ones get displayed in front. This explains the concept of Amazon's sponsored ad program. Amazon follows their augmented auction-based approach for every paid search marketing, where vendors denote a daily budget for advertisements. The more a vendor is willing to put in for their ad, the greater the chances are of getting displayed within the top results.
Types of Amazon PPC Ads
Sponsored Product Ads
Advertisement done on the basis of keywords call for Sponsored Product Ads. These product ads perform great when it comes to heightened sales conversions and click-through rates. They prove to be highly advantageous due to their ability to impersonate organic results.
Setting up sponsored product ads requires selecting the right product, relevant keyword, and assigning a budget. Following this, Amazon shows your product's ads to the potential audience.
Compared to Google AdWords, Amazon Sponsored Product ads promise many affluent sales at a price that's three times cheaper than Google's CPCs.
Product Display Ads
The second category of PPC ads comes under the product section, known as the Product Display Ads. When combined with ASINs, these ads permit advertisers to have a much greater focus on consumer behavior. Each ad comes with its own screen placement section, costing, and variation in influencing conversions and click-through rates.
Being a seller, targeting detailed product pages, corresponding categories, interests, and listings becomes feasible with product display ads. So, when choosing ads for your product, be sure to consider:
Product type
Target audience
Objectives
 Headline Search Ads
Similar to the sponsored ones, the headline search ads are to be used for specific product categories. These ads are just like the ones appearing on the top of search results alongside the brand logo, which also provides us the explanation, as to why they are called banner ads.
Using headline ads, you can multiply the visibility chances of your product, as they are placed within the top section. Moreover, you can put up multiple products for display simultaneously, modify landing destinations and the ad copy.
The option of customization in headline search ads allows for choosing the brand, product, search result pages. Additionally, you can select between text and images that get displayed on the ad.  
Requirements To Run A PPC Ad
Prior to running an Amazon PPC Campaign, make sure that you're following these steps:
Seller Account: Advertisers must have an idle seller account.
Shipping: Every advertiser must be able to ship their products within the United States of America and overseas.
Buy Box: As an advertiser, if you're looking forward to market your product, you must meet the Buy Box Criterions, which include the holding of a professional seller account, metrics pertaining to cancellations, defects, deliveries that were late, and how much stock is available.
Amazon Brand Registry: This is required in case of a headline search ad. The idea of the Amazon brand registry caters to safeguarding intellectual properties while offering a competent user experience. To make use of these ads, you need to be enrolled in the Amazon Brand Registry first. 
Factors Affecting The PPC Placements
Often, a particular search term might have one or more products showing at the same time. It becomes evident that the placement of ads is what you will be competing for. In such circumstances, you need to consider the following factors:
Amazon CPC: Advertiser with the highest bid takes the run since they are willing to invest in higher CPC in opposition to others.
Quality Factor: The quality of every ad on Amazon is assessed by checking the buyer's clicking potential on it. This brings every ad's click history into focus.
Acknowledging the fact, Amazon CPC needs to be higher in order to place your ad above rivals selling the same product as yours. Over here, the "ad quality" plays a vital role. The better the quality of your ad is, the lower you have to bid for your ad to appear within the top rankings. 
Fundamental terms used in PPC
There are two terms that hold critical importance when it comes to Amazon PPC:
Search Terms are words that relate accurately to what potential buyers type in the search box on Amazon. What comes after pressing search is your product Ad. These terms can be a combination of two, misspelt, jumbled up, etc. depending upon the audience's behavior.
Amazon keywords allow buyers to select the right search terms for which they want their ads to pop up in front of the viewer's screen. If the advertiser's keyword comes up the same as the buyer's, the ad shows up as planned.
Search queries are a broader set than the keywords, and by looking at them, you can identify new keywords to target in your PPC Campaigns. Search Term querying can also be an excellent way to determine negative phrases, which could eat up your PPC money. Amazon decides whether to display your product depending on the keyword and the opted keyword match type. 
5 reasons to opt for Amazon PPC
If you have a product that can accumulate sales, try considering PPC campaigns for marketing. To make up your mind, here are a couple of critical aspects that can help you in coming up with a decision.
PPC Campaigns in the initial run provide trouble-free sales; however, they cater to long-term motives such as increasing sales.
Improve organic rankings of significantly competitive keywords
Often, specific keywords come up that are quite challenging to rank within the organic search. Running PPC campaigns deliver first-page visibility for these keywords, moreover increase overall ranking in time.
Brand Awareness for fresh product launches
While products that already come under the top-selling category, give a hard time to the new ones. By running PPC campaigns, fresh products that need to be launched can be marketed effectively, with positive sales potential.
Maintaining Top Positions and Sales
In time, the best-selling products tend to see saturation within the number of purchasing customers. Even though the organic product rankings show high numbers with good deals, they still get outrun by rival PPC campaigns. Subsequently, top-tier brands use PPC campaigns to retain their market compared to those who don't.
Amplifying product visibility for seasonal runs
Seasonal festivities like Christmas, Father's Day, 4th of July, etc., observe maximum sales over Amazon. Choosing the right product, Amazon ads can help generate sales by increasing the curiosity of potential customers on the basis of seasonality. 
Conclusion
Amazon PPC Management is considered as one of the most staple services provided by numerous digital marketing companies. To advertise your product, look for reputable companies like Out Origin, Blue Corona, AMZ One Step, etc., discuss your concerns, and get a tailored strategy for marketing on Amazon.