SEO
Processing and Analysis of Your Referring Sites in Your SEO Strategy (+ Free Access to Our Internal Process)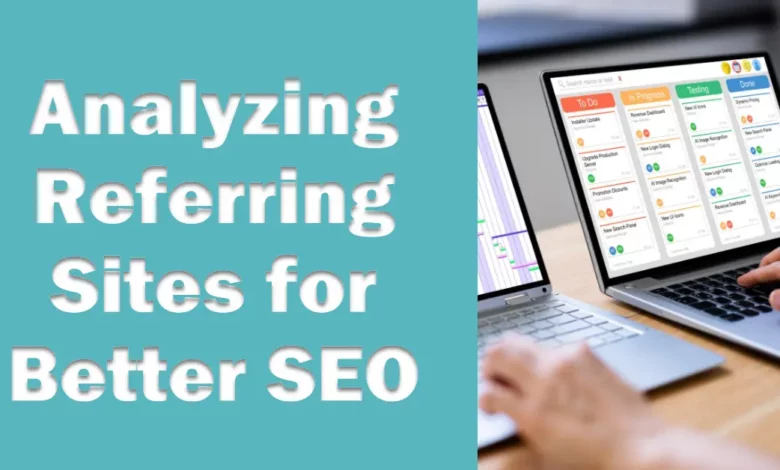 When we think "SEO" and we are not a specialist in the field, we often think of "keywords", "content", "technical optimizations", etc. Clearly, we think first of all of the actions to be carried out within the site concerned and that's good. The SXO approach, which is at the center of tomorrow's SEO, goes in this direction. However, natural referencing is traditionally based on another pillar, which mobilizes optimizations external to the site. We then speak of "off-site SEO".
This is surely the most problematic aspect of the discipline, because it constantly flirts with official Google rules. It thus exposes site owners to strong variations in their positions, for better or for worse. It is not uncommon for an off-site action analyzed by Google to change the entire referencing of a site overnight.
The responsible? Outgoing links from referring sites, more commonly referred to as backlinks.
Ultimately, without solid on-site optimization, off-site SEO cannot be enough to constitute a sustainable SEO strategy. On the other hand, in addition to the creation of relevant content and work on the technical criteria, quality referral sites can make a big difference compared to the competition.
In this article, we review the main questions related to this issue. But above all, we give you access to our own internal process for analyzing and processing referral sites.
Summary
What is off-site SEO?
How to build a relevant net linking strategy today?
What are the criteria for evaluating the quality of referring sites?
What SEO problems can poor quality backlinks cause?
Why remove referring sites that pollute your backlink analyses?
Our in-house backlink analysis and processing solution

Frequently Asked Questions
What is backlink analysis and disavowal?
Why is it important to perform backlink analysis and disavowal?
Can you describe the internal backlink analysis and disavowal process?
What is off-site SEO?
In a way, off-site SEO is the blind spot of official Google recommendations. On the one hand, the search engine leader asks site owners to focus on their site and not try to influence the algorithm by obtaining backlinks in an unnatural way. On the other hand, the backlinks are, still today, an essential criterion of this algorithm.
The reason is simple: to provide users with the most relevant search results, Google Bots need to be able to assess the authority level of websites. However, what could be better for a robot than to index the level of authority of a site on the number and quality of its referring sites?
Certainly, the analysis of content by Google's AI is progressing from year to year, but it has not yet acquired in its eyes the weight of backlinks, which concretely like letters of recommendation given in the form of a link.
"Off-site SEO", also called "Off Page SEO Services", is therefore all link building actions aimed at improving the natural referencing of a site. The goal? Optimize the extent and quality of the net linking of the site concerned.
How to build a relevant net linking strategy today?
As you have understood, a somewhat ambitious SEO cannot ignore a net linking strategy, especially in the most competitive areas. To climb in positions and stay on top, you have to go hunting for backlinks. But, to avoid the risk of being penalized by Google, this link building must be based on intelligent and natural actions.
Among the most effective approaches, we advise you, for example, to:
Contact the sites that already mention you to add a link to this mention
Identify, using a tool, broken links on important sites in your universe, in order to offer them one of your contents to replace a broken link
Approach the referring sites of your competitors to try to obtain an outgoing link to your site too
Create quality content with high citation potential (infographics, reference summaries, collection of statistics, etc.)
Getting into the habit of working like this means giving yourself every chance of not (or no longer) needing to buy backlinks on networks of sites designed for this. In other words, it means giving yourself every chance of developing a network of natural referral sites, which will therefore appeal to Google.
What are the criteria for evaluating the quality of referring sites?
A question is then at the heart of any link-building strategy: how to assess the quality of a backlink?
Previously, Google officially provided the "PageRank" of each indexed page. It was a score between 1 and 10, which was produced by an algorithm ranking sites according to their level of authority. However, the updating of this indicator began to be less regular, until it was abandoned in 2016.
Today, in the absence of a PageRank published by Google, the evaluation of the level of authority of web pages (and therefore of the quality of a backlink published on these pages) involves putting into perspective several other indicators, including:
The actual traffic received by the page
The "Domain Authority" (rating from 0 to 100 given by moz.com)
The "Citation Flow" (quantitative indicator measured by Milicic)
The "Trust Flow" (qualitative indicator measured by Majestic)
The number of referring "Root domains"
Each SEO agency has its own method for evaluating a referring site, but the more indicators you take into account, the more likely you are to get closer to the evaluation made by the Google algorithm and therefore to the quality. of an outgoing link from this site.
What SEO problems can poor-quality backlinks cause?
The presence of poor-quality backlinks in your list of referring sites can seriously damage the natural referencing of your site. In concrete terms, the problems likely to arise are essentially of two types:
A degradation of the backlinks profile of your site, which can be measured in particular by a Citation Flow (number of backlinks) much higher than the Trust Flow (quality of backlinks). Such degradation decreases the authority of your site in the eyes of Google and therefore its ability to access the best PPC For Plastic Surgeons.
Manual penalties imposed by Google if it believes that certain backlinks have been acquired in an unnatural way.
To stay away from these two risks, there is only one solution: constantly monitor the referring sites in Google Analytics and carry out a systematic analysis.
Why remove referring sites that pollute your backlink analyses?
As you will have understood, the quality of your referring sites is essential in the performance of your SEO. However, on an active site, the list of referring sites identified by Google Analytics tends to grow rapidly, in particular because of many insignificant sites that interfere with the readability of your backlinks profile. To be able to produce relevant analyzes of your backlinks, it can therefore quickly become useful to remove from this list certain sites that "pollute" it.
The good news is that a specific feature has been implemented for this in Google Analytics. It consists of a "referrer exclusion list", accessible from the "Property" ("Tracking information") menu in the administration of the platform.
The bad news is that, on large backlink profiles, this process of removing unwanted referrals from Analytics can quickly become very time-consuming.
Our in-house backlink analysis and processing solution
As an SEO partner of various players in the digital economy, we are regularly confronted with this time-consuming problem of backlink analysis. So, to optimize our interventions, we ended up developing an in-house process, partly manual and partly automated.