PPC
5 Amazing AdWords Features You Didn't Know Existed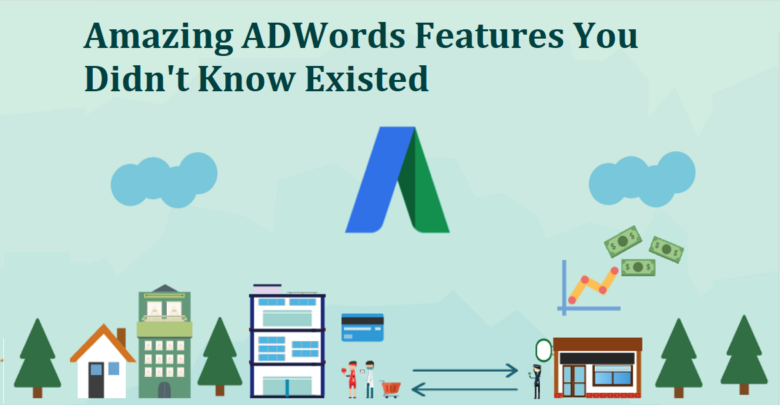 Google AdWords has become one of the essential marketing tools. But are you sure that you are taking full advantage of all the features the platform has to offer? Below, we've have written five such features of AdWords that you may not have known about.
Ad Extensions Can Help you Generate more Leads
Ad Extensions supplement your ad with additional information such as your phone number, address, more page links, etc. Ad extensions increase CTR by 30%. Also, a top position ad with ad extensions gives you a prime spot in Google search results, which is a great thing to drive traffic. Some ads have the option for users to send an email or call. And if that's not enough, there is an option for newsletter subscription as well, which means a user can directly subscribe to newsletter from the ad unit. Like Pay Per Click (PPC), you have to pay when a user engages with these options. It is a great option for those who are in inbound marketing.
If your keyword land on the first page of search results and you haven't included ad extensions, you will miss out on potential conversions, you don't want to do that, right? If the second place keyword has added these extensions, nobody will look at your first place keyword. It's a great opportunity to put everything in front of the user. Use it to your advantage.
RLSA – Remarketing Lists for Search Ads
RLSA Remarketing Lists for Search Ads gives you the opportunity to retarget or "re-show" your search ad to the user who has visited your site before. Depending on your paid search strategy, you can adjust your bid, less or more for that particular user. For instance, if a user has already visited your site, this would be a good time to bid less since he may get back to your ad, so why not get him a lower cost? If that user is searching for a product that is offered by you and your competitor, it would be a good idea to bid more for that user as the user is still in the discovery phase. If you want to enable the RLSA option, you need to go to a specific PPC Campaign Management Services where you want to utilize the feature and click on the audience section. Once you are done with that, you have to click on the green remarketing button and add audiences to the ad groups you wish to target. 
Auction Insights
It's always a good idea to keep an eye on what's going on in the market. You should know who is bidding on your keyword; are they performing better than you, or are you performing better. All this information can be accessed with the "auction insights" feature. It is located in the keywords tab. You can select one or more keywords by checking the checkbox next to the selected keywords. After that, click on "details," and in the drop-down menu, select "auction insights."
·       Radius Targeting
Do you know that you can also target by radius? Businesses that have local audiences can greatly benefit from this feature. Hair salons, local restaurants, flower shops, etc. that deliver locally can target the local audience with this feature. Not many advertising platforms provide this feature. Hence it's something unique.
·       Search Terms Report
Typically, you should use search term reports daily. If not daily, then make it a habit to use them weekly.
What is the search term report? With the search term the report, you can know what people actually typed to make your search ad appear. You can find the search report right where you found the auction insights.  You can select the keywords or check all to get insights about keywords.
·       Ad Schedule (Time of Day)
When you want to maximize Return on Investment (ROI), you can set the time of day when you want your ads to run. A B2B business can assume that the staff members of other businesses are working from 9 to 5; during this time, they will be making searches relevant to your businesses.
However, don't forget to take into account time zones while setting time for your ads. But, it's also seen that office workers make their searches between 8 am-8 pm, Monday to Friday.
It's difficult to predict for B2Cs, but there are very fewer searches between 2 am, and 6 am
·       Quality Scores
Don't make the mistake of overlooking Quality Scores when it comes to writing Ads. Everybody loves their ads; they think it is going to get your bid low and your placements high. It is crucial to write Ads based on your campaign keywords, and not just rely on what you already know.
Keywords give direction to your whole campaign and what you pay.
It's the keywords that dictate your entire campaign and what you pay, so your keywords need to be present in your Ads. Ensure that keywords are in headlines, descriptions, and on your landing page (landing page is the one where people "land" when they click on the ad). When you don't care for these things, you get a low-Quality Score meaning higher bid cost and lower overall placement. To check the quality score of every Ad, go to the Ads and Extensions tab. If you see your quality score is less than 7, you need to pay attention to your keywords, ad copy, and landing page to ensure that they're connected.
·       Dynamic Keyword Insertion
Want to be a great match to a user's query cut down on creating ad headlines? Try dynamic keyword insertion. Since the ad is going to be more relevant to the user, there are high chances that he will click the ad. Dynamic keyword insertion is very easy to use. You are required to type the necessary code and the keywords into the ad headline area and then rest of the work is done by Google. Google will automatically fill it with the queries of users that match your keyword.
·       Customer matching
AdWords is not only about attracting new customers to your website; you can use the Adword platform for remarketing your products and services to existing customers. All you have to do is upload the email addresses of customers to the AdWords Dashboard, and those customers will be able to see the advertisement when they are accessing Search, YouTube or Gmail.
·       Labels
In AdWords, Labels help you organize campaigns, keywords, ad groups, and ads. It allows you to organize and track your AdWords activity. Another great advantage of AdWords is that it provides you with the ability to accommodate multiple administrators within a single AdWords account. The feature is a great thing if your AdWords account is managed by more than one person. To increase accountability, testing, efficiency, and reporting, you can create a label for each user and track any changes that the user has made in the account. For example, who best manages bids and placements and who provides the best performing copy? When you know about your team fully well, it helps you to optimize your campaign. Use Labels to have better organization around multiple admins within an AdWords account.
Final Words
AdWords is a great tool to optimize your campaign and to take it to new heights. Make use of these advanced tools to further optimize your AdWords campaign. Learn to use them properly to effectively reach the right audience and ultimately increase your ROI.