SEO
SpyFu & Its Complete Review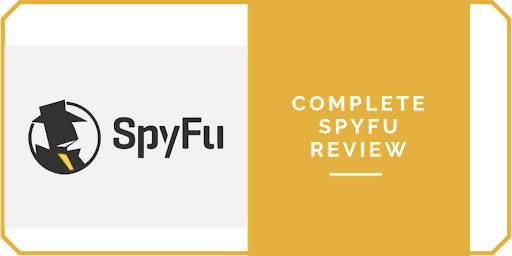 SpyFu is the best competitive analysis tool among the ultimate SEO tools that are already present in the market. After looking at its name & logo, if you are wondering that this tool will let you spy on something then you are absolutely correct.
This tool helps you to spy on a competitor's business by giving a quick summary of their top organic keywords, estimated SEO and PPC clicks, top pages, backlinks, and other useful data.
And the most important thing is that you can easily collect most of the data without signing in to this tool and that will not cost you anything.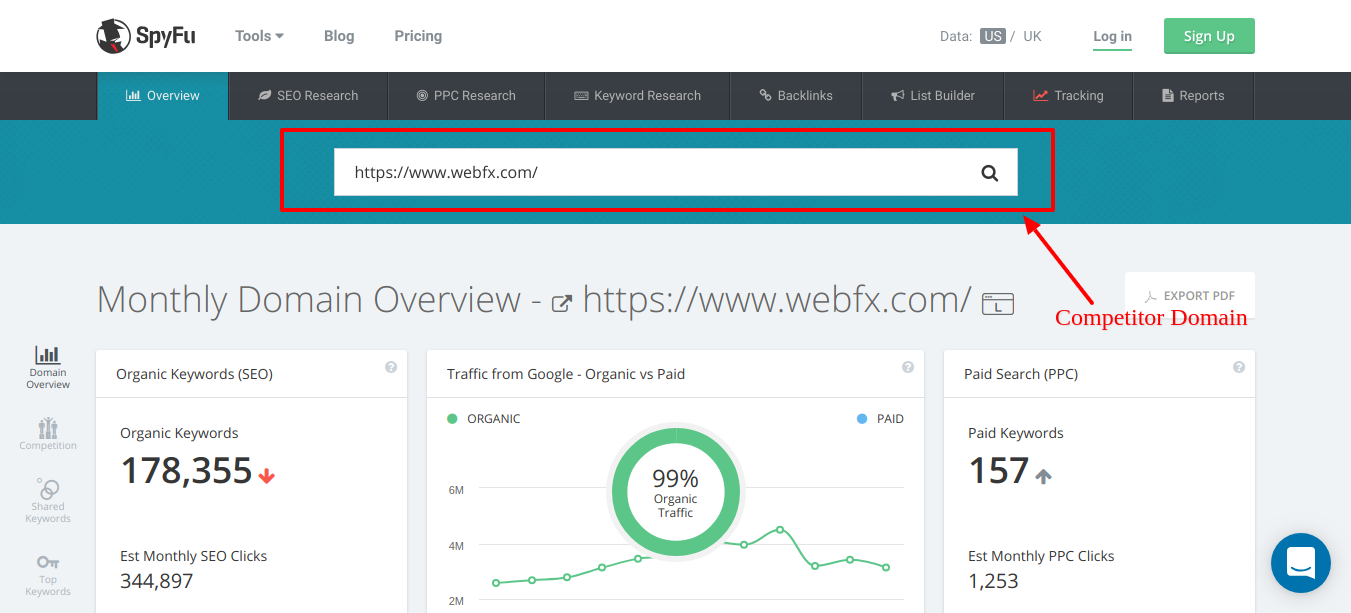 Also, by Visiting the "AdWords History" section you can easily browse your competitor's complete Google Ads campaign history, including their most trusted keywords, estimated clicks/month for those keywords, and their cost/click.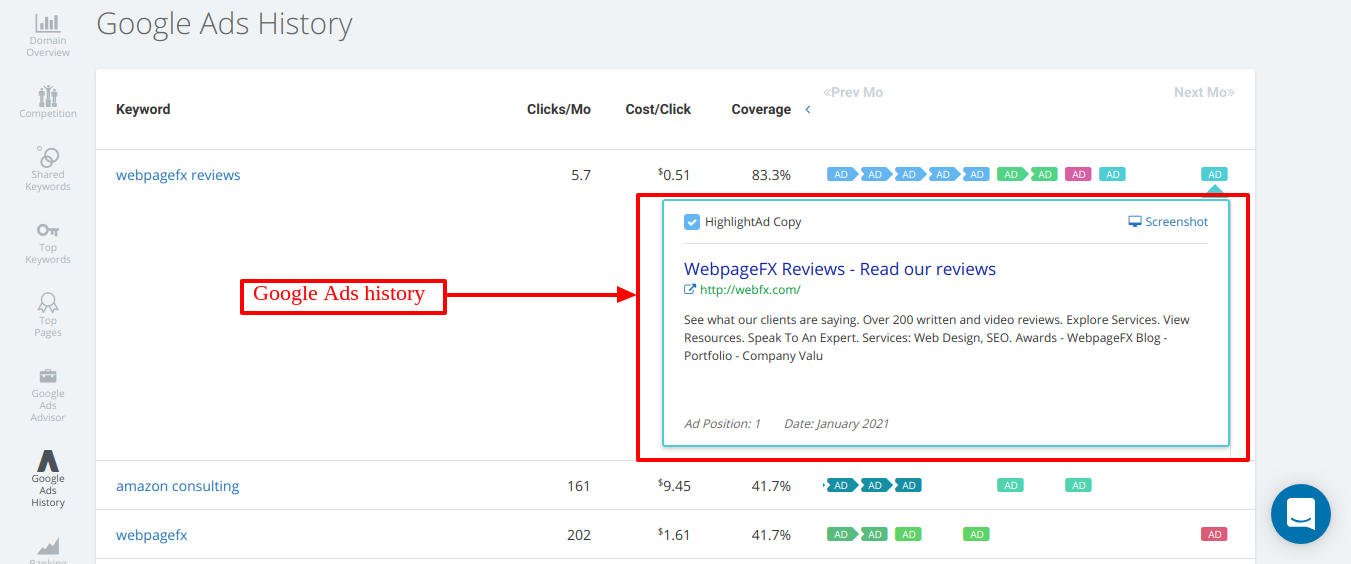 This will be super helpful data if you're planning on recreating your competitor's ad strategies. Now you are well aware of this tool & its features, remaining doubts and explanations will be cleared in this article, so without wasting our precious time let's jump on the "Review of SpyFu".
1. Pricing and Plans
Basically, SpyFu is a Freemium kind of tool. It means you can easily access some features free of cost but if you want to explore every feature of SpyFu then you have to spend some money.
At $39 per month, you can access 5,000 tracked keywords and 10,000 top lists & there are no restrictions on the number of search results or data exports at this price.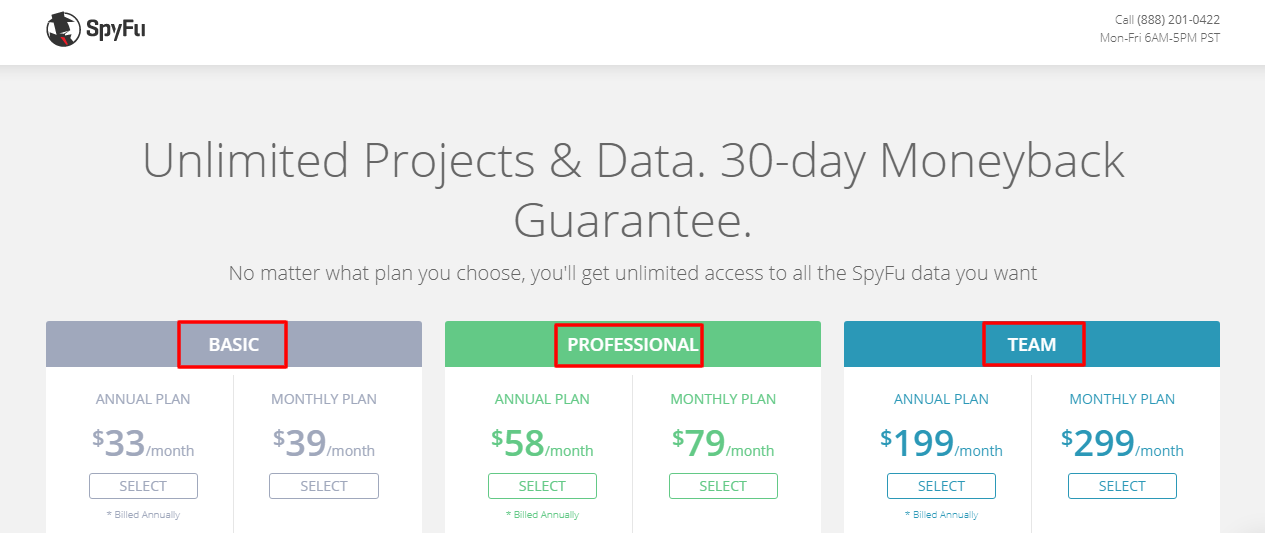 And the price will be $33 per month if you choose a basic annual plan. Further, if you are working for a large business or if you want access to multiple users then you can switch yourself to Professional Plan or Team Plan according to your requirement.
If by any chance you paid for any plan but you didn't like it then you also have an option to get your guaranteed money back within 30-days.
2. Competitors Overview
It is very obvious that you probably have more than one competitor. So in SpyFu when you enter the domain of your competitor, it will not only show the information of that particular website but you will also get the knowledge of their competitors. So, indirectly they are also your competitors.
To compete with so many competitors SpyFu includes a feature called Kombat in the SEO research option that will help you in delivering the right keywords to your target audience.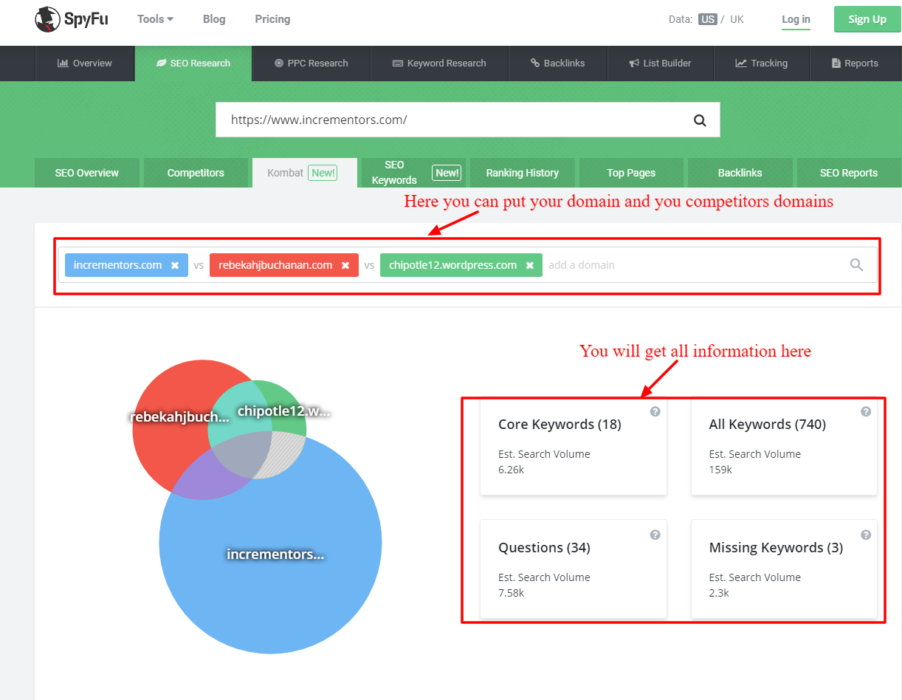 If you select two other competing domains then Kombat will show a report that compares your keywords with theirs. Through this data, you can know about the keywords any competitor ranks for but you are not.
3. Keyword Overview
As we have already discussed earlier in this article, it's very easy to get your competitor's data just by entering the name of the domain. But it is not necessary that you only have to enter the domain, you can also enter a keyword.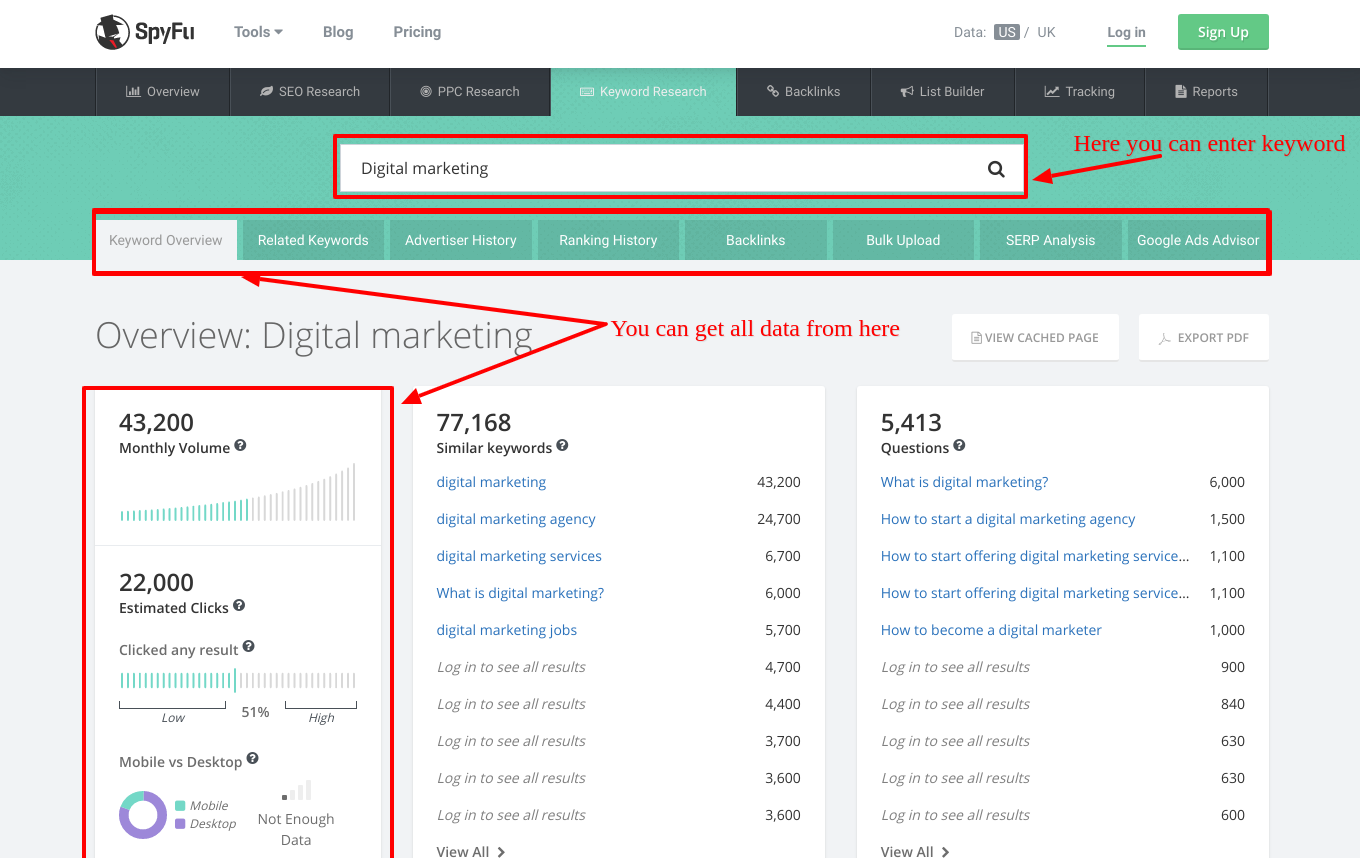 So, if you want to learn about keywords related to your niche then learn about competitors just by entering keywords instead of a domain.
SpyFu Keyword Overview report will give you a lot of information about the keywords like Search volume, value, and daily clicks & top domains that rank on the selected keyword, etc and this data will be enough to get a high ranking in SERP.
4. PPC Overview
As the competition is increasing day by day, it's very natural that some of your competitors might have a paid strategy. But no need to worry, you can easily know about how they're getting traffic with search ads with the help of the SpyFu PPC Overview report.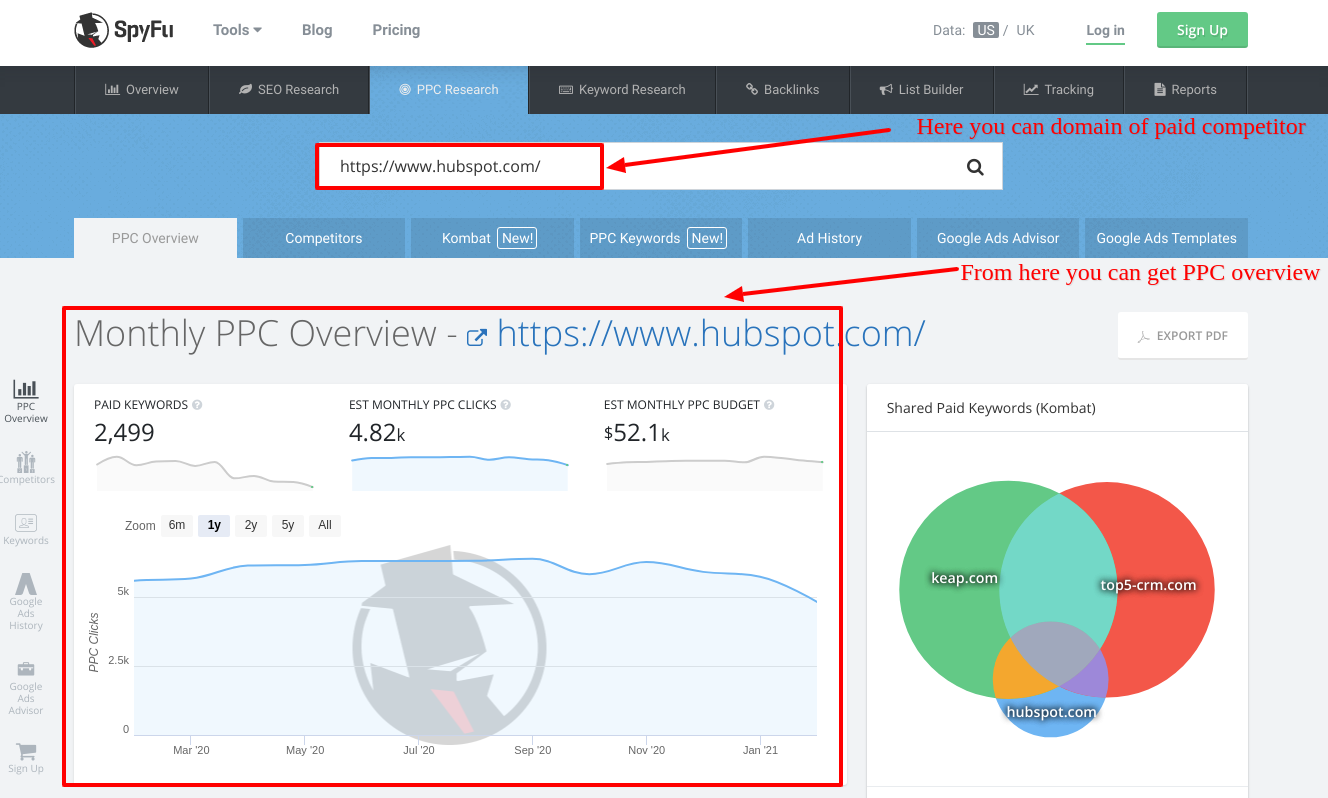 As you can easily notice PPC Overview reports deliver very knowledgeable information like
Site's Paid keywords
Site's ad spend history
Ad copy competitors are using to attract visitors
Keyword weaknesses and strengths
Threats emerging to your keyword strategy
5. Ranking History
As the ranking doesn't remain the same forever it varies with time. So with the help of SpyFu, you can see how well your competitors have ranked over time. And this will also help you to get knowledge about their SEO strategy.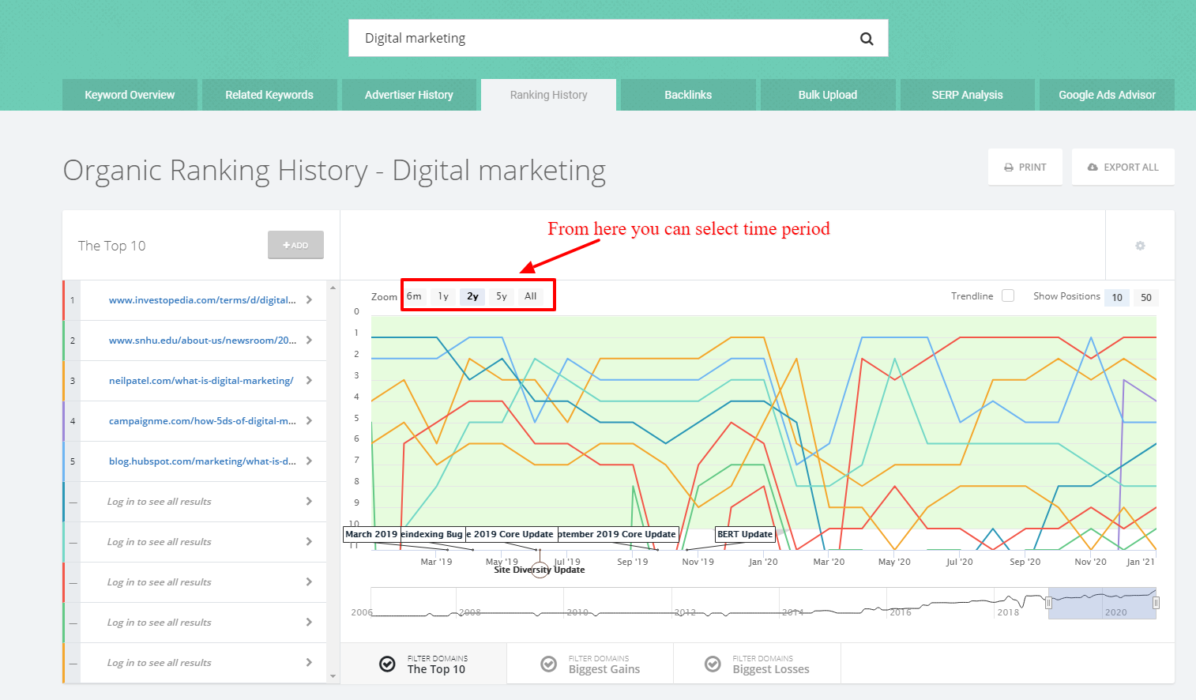 SpyFu's Ranking History report will give you data about how major algorithm updates like Panda affected competitor rankings & the line graph chart will show exactly where a website's ranking took a shift.
Right now SpyFu provides you the data of several years. So, you can easily track the rank of a specific web page over time as well or you can also use the filter option to get the present year data.
6. AdWords Advisor
If you want to bid on the best keywords for your niche immediately, then you are going to love SpyFu's AdWords Advisor feature. AdWords Adviser also displays buy ratings & this will tell you how much traffic will you get when you run an ad with a specific keyword.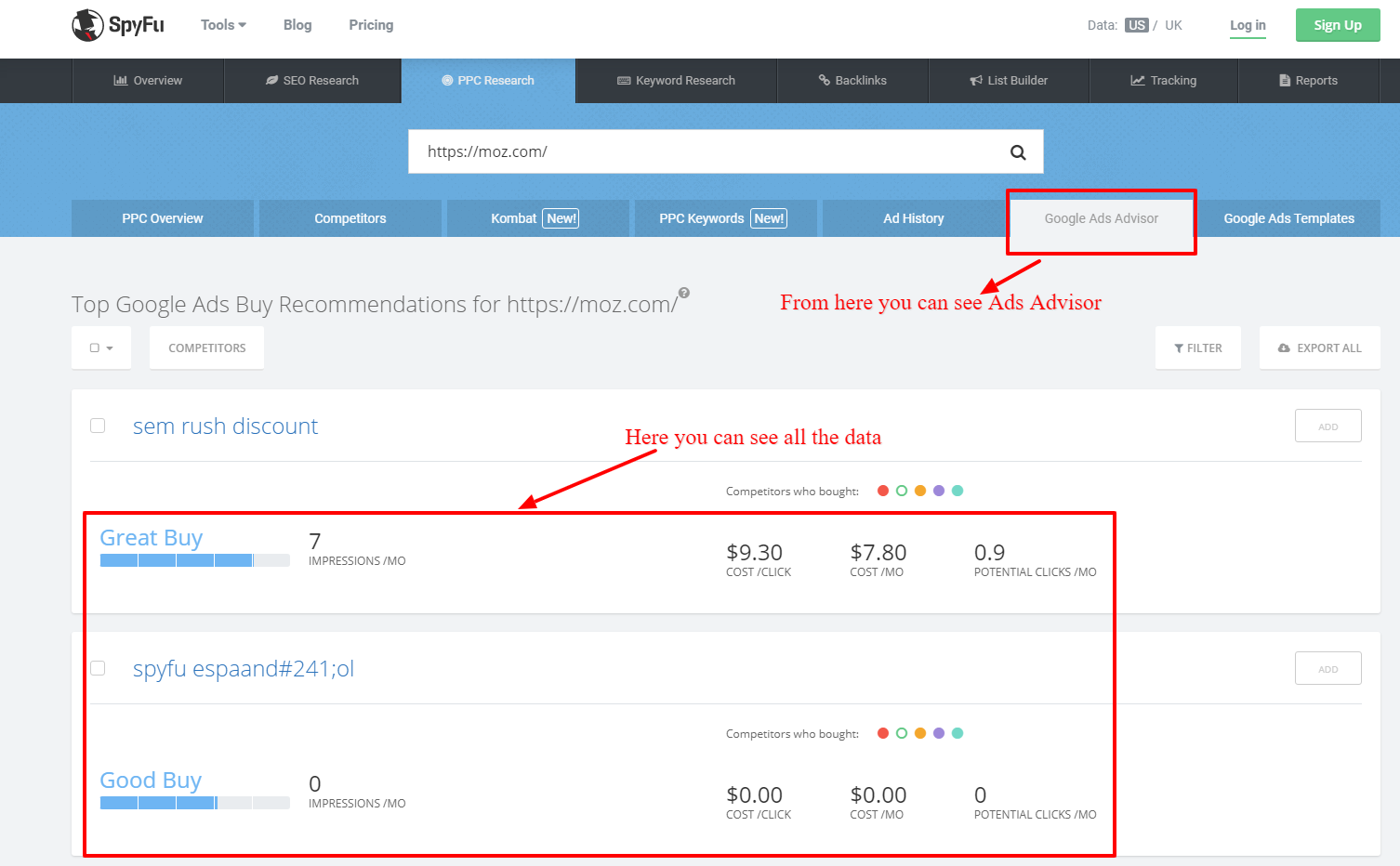 7. SpyFu Pros
Every tool has its advantages and some disadvantages which are generally given by users of that tool. First, we will talk about SpyFu pros :
The price of this tool plans is affordable
It can reveal competitor information you might not know about
By identifying the best keywords it saves time on research
It also shows the ROI(Return on Investment) of competitor's
Provides excellent support with helpful tutorials
It also provides lots of keyword data to form a content strategy
8. SpyFu Cons
As we have already discussed the pros of this tool now you should also be well aware of the cons that this tool must improve to get more support from the users. Here is the list of cons:
The interface of the user is a little bit overwhelming
SpyFu provides limited data for some industries like life science or sports
In this tool, it is very difficult to know from which geolocations the rankings are coming from
Sometimes it takes so much time to gather the information of competitors
It gives the estimated data of the Ad spend
And the given data is only based on US and UK analysis.
Conclusion
Finally, let's wrap up the SpyFu review. In these last words, my thought is that SpyFu offers competitive insights through which you can easily develop your own organic and paid search strategies. You don't have anything to lose by trying it out for a month and still after this you don't like the features of SpyFu.
Then it also offers a 30-day, money-back guarantee. So it's an opportunity where you will not lose anything, instead, you will acquire some knowledge.