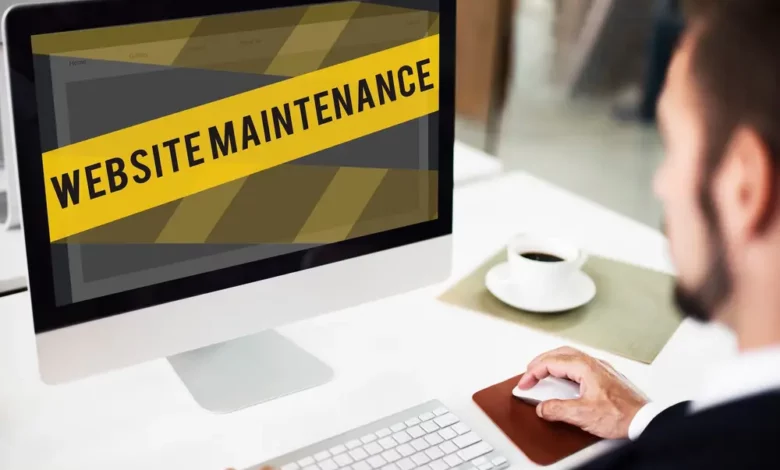 Maintaining a website is like taking care of a living entity. It requires constant care, attention, and expertise. As someone who recognizes the value of a strong online presence but may not have the technical know-how or time to handle it all, outsourcing website maintenance can be a game-changer. Let's dive into the compelling reasons why entrusting this task to the right and expert Website maintenance company can be a vital move for your business.
Time Savings
Time, they say, is money. When you're juggling various aspects of your business, from customer interactions to product development, finding the hours to meticulously manage your website can be a challenge. That's where outsourcing steps in. By delegating the maintenance tasks to a specialized team, you free up your schedule to focus on your core competencies. Imagine the peace of mind in knowing that your website is in capable hands, leaving you with more time for strategic business decisions.
Improved Security
Cybersecurity is a hot topic in today's digital landscape. With threats evolving at an alarming rate, safeguarding sensitive data is paramount. Outsourcing your website maintenance to experts ensures that you have a dedicated team continuously monitoring and fortifying your digital fortress. They keep a vigilant eye on security updates, patch vulnerabilities, and implement the latest encryption protocols. This proactive approach significantly reduces the risk of a data breach, giving you and your customers a safer online experience.
Access to the Latest Technologies
In the ever-changing world of web development, staying up-to-date with the latest technologies and trends is no small feat. Outsourced teams are immersed in this dynamic environment, making it their business to be at the forefront of advancements. By partnering with them, you gain access to a wealth of knowledge and cutting-edge tools that can elevate your website's performance. From optimizing for search engines to integrating new features, you'll always be one step ahead of the curve.
Cost Savings
Running an in-house team for website maintenance can be a significant financial investment. From salaries to training and infrastructure, the costs can quickly add up. Outsourcing provides a cost-effective alternative. You only pay for the services you need, without the overhead of full-time employees. This allows you to allocate resources where they're needed most, whether it's for marketing initiatives or product development.
Increased Efficiency
When you entrust your website's care to a dedicated team, you're tapping into a pool of specialized professionals. These experts bring years of experience and a deep understanding of the intricacies of web maintenance. This means tasks are completed efficiently and to a high standard. Whether it's performing routine updates or troubleshooting technical issues, you can expect a level of proficiency that might be hard to achieve with an in-house team wearing multiple hats.
What Should You Look For in a Website Maintenance Provider?
Now that you understand the significant advantages of outsourcing website maintenance, it's crucial to know what to consider when selecting the right provider. Here are some key factors to keep in mind:
Availability
A website is your 24/7 storefront in the digital world. Therefore, you need a maintenance provider who is available round-the-clock. Emergencies don't stick to a 9-to-5 schedule, and neither should your support team. Look for a provider with a reliable system in place for immediate response and resolution, ensuring your site remains accessible at all times.
Experience
Experience is a cornerstone of reliable website maintenance. An established provider brings a wealth of knowledge garnered from years of tackling a diverse range of issues. They understand the nuances of different platforms, plugins, and software, allowing them to navigate complex challenges with ease. This depth of experience translates to quicker, more effective solutions for your website.
Security
In an era of ever-looming cyber threats, security should be a non-negotiable aspect of any website maintenance service. Your chosen provider should have a proven track record in implementing robust security measures. This includes regular security audits, malware scans, and proactive measures to shield your site from potential breaches. Prioritize a provider that takes your website's security as seriously as you do.
Quality
The devil, as they say, is in the details. A reputable website maintenance provider pays meticulous attention to every facet of your site. This encompasses everything from content updates to performance optimization. They should also have a structured process for backups, ensuring that your data is safeguarded against any unforeseen events. Additionally, look for a team that provides detailed reports on the work they've performed, giving you transparency and peace of mind.
What Can you Expect from a Website Maintenance Provider?
When you choose to outsource your website maintenance, you're not just gaining a service; you're gaining a partner dedicated to the success of your online presence. Here's what you can expect from a top-tier maintenance provider:
Regular Updates: Your website will receive timely updates to ensure it remains compatible with the latest technologies and standards.
Performance Optimization: The provider will continuously fine-tune your site for optimal speed and responsiveness, enhancing the user experience.
Content Management: From adding new features to updating existing content, the team will keep your website fresh and engaging.
Security Vigilance: They'll be on the lookout for any potential security threats, implementing measures to keep your data safe.
Technical Support: Should any issues arise, you'll have a dedicated support team ready to provide swift solutions.
Data Backups: Your critical data will be regularly backed up, offering an additional layer of protection.
In essence, a website maintenance provider becomes an extension of your team, working tirelessly behind the scenes to ensure your online presence thrives.
Final Words
Outsourcing website maintenance is a strategic move that can transform the way you manage your online presence. By partnering with a team of experts, you not only save time and resources but also gain access to a wealth of knowledge and cutting-edge technologies. Remember, the right provider is one that aligns with your business goals and shares your commitment to excellence. So, take the plunge and watch your website flourish under the care of dedicated professionals.