SEO
Top 10 Free SEO Audit & Analysis Tools of 2023 (Free & Paid)
You have to agree upon this, that with the growing search engine optimization around the world, the need for SEO Audit tools has become inevitable. In addition, Google's algorithm is also getting increasingly complex. Every year Google changes its algorithm over 3000 times. In such a scenario, an SEO audit tool can prove to be a highly reliable helping hand. Even the top SEO companies in Canada employ these tools for their clients.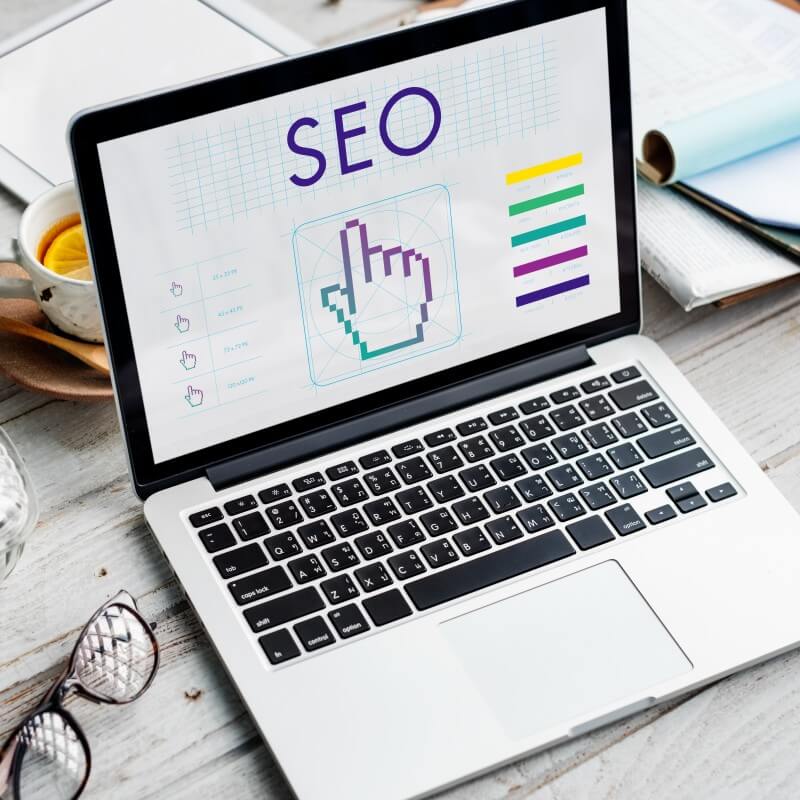 However, since there are a number of SEO Analysis tools available today, both free & paid, it becomes difficult to choose the best. So to help you out, we have made a list of the top 10 free SEO audit tools. These tools are the most renowned and used among businesses across the world. Each tool listed below tells elaborately about its significant features and price (free or paid) so that you make the right decision for your business.
SEMrush
Google Search Console
SEO Site Checkup
Ahrefs
Screaming Frog
WordCounter
SERPsim
SpyFU
SE Ranking
Google Structured Data Testing
Top 10 Free SEO Audit & Analysis Tools of 2023  (Free & Paid)
SEMrush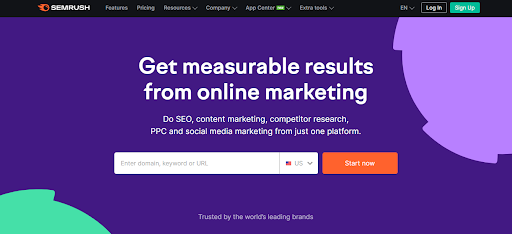 SEMrush is the top-rated search engine marketing platform with an all-in-one marketing package of over 40 intel tools. The only site audit tool of SEMrush crawl through the web pages to find issues. These issues are associated with meta tags, webpage loading speed, internal linking, AMP, SEO content, JavaScript, CSS, and HTTPS security protocols.
Features
It analyzes over 130 technical and on-page SEO issues through just one site audit tool. SEO issues are categorized into warnings, errors, and notices.
Presents thematic and custom reports
Use advanced filters to sort pages and audit results
Use intuitive graphs to show audit results.
Analyzes the results of different audits.
Works together with Google Analytics.
Gives details of the actionable resolution.
Price
With SEMrush you can audit the first 100 web pages for free. Post that you have to pay $99.95 per month. In the free subscription, you get all the main reports and features.
Google Search Console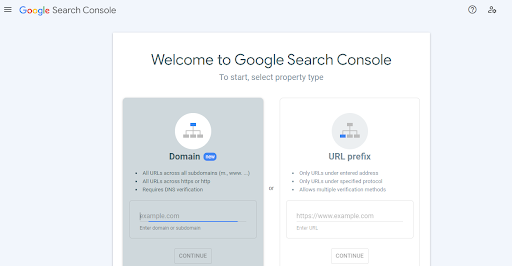 Google Search Console by Google, lets you monitor a website's performance in search results. It describes the indexation and accessibility issues. And also provide insights about AMP, HTML, content quality, structured data, and broken links.
Features
Search console inspects AMP pages
Gives details about pages with 404 and 500 errors and failed indexing attempts.
Provides a content keyword tool to understand keywords and analyze their performance.
Shows pages that Google has indexed.
Creates personalized audit reports using advanced filters.
Notifies via email whenever Google finds a site issue.
Give details about queries bringing site traffic.
Tells about user experience issues.
Price
Google Search Console is a free audit tool.
SEO Site Checkup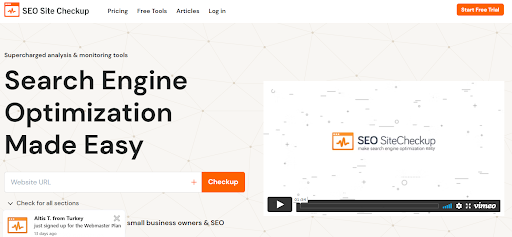 SEO Site Checkup is another popular SEO audit tool package that monitors your keywords, backlinks, regional performance, competitors, common SEO issues, and also creates sitemaps. It also describes issues related to structured data, page loading speed, AMP, meta titles, meta descriptions, keywords, SPF records, Javascript, CSS, etc.
Features
Monitors keywords
Check backlinks for quantity and quantity
Creates sitemaps
Displays issues related to structured data.
Gives web page loading speed
Monitors regional performance
Gives details about AMP
Shows issues related to meta title, meta description, and robots.txt.
Provides tutorials for resolving common SEO issues.
Keeps track of weekly changes across over 30 SEO variables.
Price
The SEO Site Checkup is a paid tool. Its subscription starts at a monthly price of $22.45 for up to 3 websites.
Ahrefs

Ahrefs is also rated among the most trusted technical SEO Audit tool. Being an all-in-one package, it consists of an audit tool, keyword explorer, rank tracker, site explorer, and content explorer.
Features
Gives insights about page performances.
Identifies issues related to JavaScript and CSS
Checks for broken pages, orphan pages, no-follow links, and redirects.
Checks HTML tags that are not property optimized
Covers over 100 SEO issues.
Provides actionable resolutions.
Checks the desktop and mobile versions of the website
Plans site crawls, daily, weekly, and monthly purposes.
Price
Ahrefs is a paid tool. Its subscription starts at $99. However, you can also get a weekly trial plan that comes at just $7 and gives you complete features.
Screaming Frog

Screaming frog is not a cloud-based software but a tool that is first installed so that it can crawl through websites to analyze SEO issues.
It extracts on-site data, analyses SEO issues, and gives results in real-time.
Features
It extracts data from the webpage.
Keeps track of SEO issues.
Analyze meta descriptions and titles
Find blocked URLs and redirects (both permanent and temporary)
Works with Google Analytics, Google Search Console, and PageSpeed Insights APIs.
Recognizes duplicate content on websites.
Create XMLsitemaps and image XML sitemaps.
Find broken links and server errors.
Price
You can crawl 500 URLs by accessing the free version of Screaming Frog. To get unlimited access, get a yearly paid subscription of $201.54
WordCounter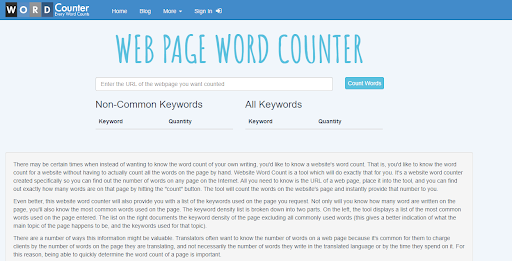 WordCounter primarily evaluates the word count and keyword density on web pages. You just need to enter the URL of the web page and it will display the information about various aspects. This way you can easily compare your website with top-ranked pages and improve the quality of your content.
Features
It provides the number of words on your page.
Gives the list of the most common words
Provide keyword density of a page.
Price
WordCounter is a free tool.
SERPsim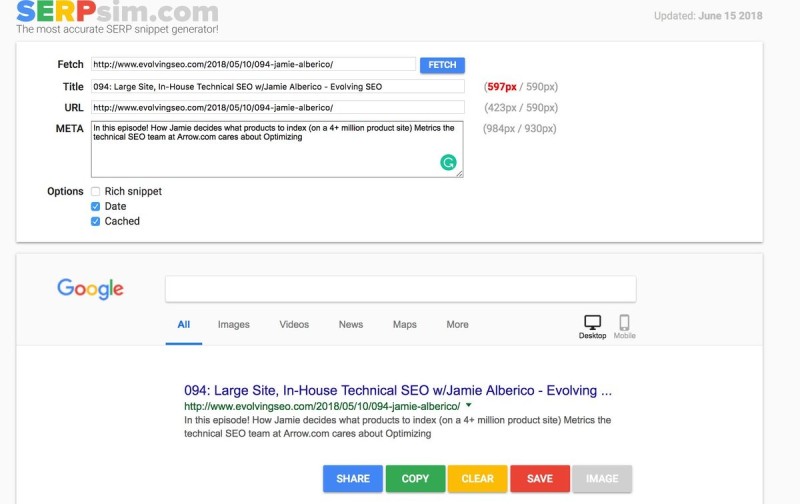 SERPsim gives you snippets of the ranking and appearance of your page on the search engine results pages. These snippets help in optimizing the metadata and titles of your page.
Features
It gives you snippets of your page rank and appearance on SERPs.
Allows you to save the snippets as images and snippet data on the clipboard as well.
Allows you to share SERPsim projects with your peer and clients.
Downloads page titles and descriptions.
Extract title and meta description from URLs.
Price
SERPsim is a free tool.
SpyFU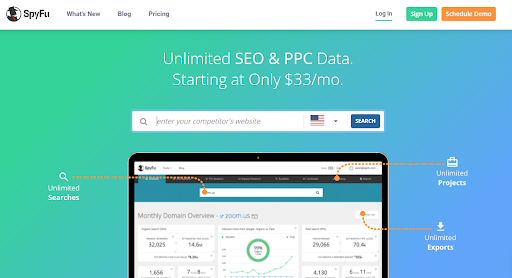 SpyFU is another popular package of digital marketing tools. It combines a number of tools to provide SEO results.
Features
It researches keywords.
Highlights the poor keywords that are needless.
Tracks backlinks and removes duplicate or bad links.
Tracks page ranks and identifies opportunities for better ranking.
Research about competitors
Performs PPC research.
Compare your content with that of competitors.
Finds possible issues in other similar websites.
Gives insights about your SEO performance over the last 10-15 years.
Price
SpyFU is a paid tool that offers monthly subscriptions ranging between $33 and $299.
SE Ranking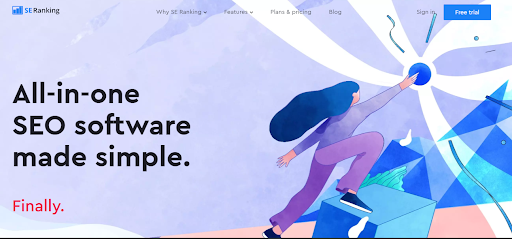 SE Ranking is another highly competitive SEO Analysing Platform. Its audit tools assess the website performance by crawling link-by-link.
Features
It audits all the web pages.
Researches keywords
Provides the most common words and phrases on your page.
Checks website's health and user experience problems.
Analyzes meta tags and headers and gives details about duplicate meta tags.
Tracks backlinking
Analyzes on-page performance
Checks domain and sub-domains.
Performs PPC research
Manages social media
Gives detailed reports of SEO issues and suggests actionable resolutions.
Price
SE Ranking is a paid tool, and its monthly subscription ranges between $31 and $719.
Google Structured Data Testing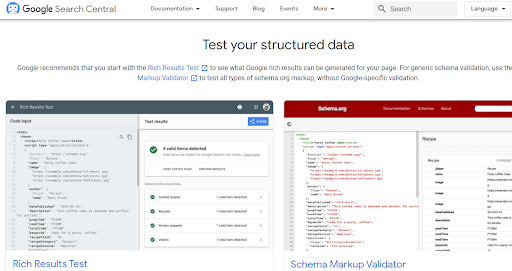 Google Structured Data Testing tool identifies and examines the schema markup errors of your website. These errors might make it difficult for Google to crawl, organize, and index your content. Hence the insights help you work upon the errors and improve the site performance.
Features
It displays your website's schema markup (structured data or code).
Provides the number of schema on each page.
Gives details about schema errors.
Price
Google Structured Data Testing tool is a free audit tool.
Final Thoughts
Every SEO tool mentioned above is useful and unique in its own way. And each of them is highly specialized in the function they are supposed to accomplish. Also, since many of them are free, it will be a great idea to try the free ones at the start. Run your website through these free tools. See what results they provide you with. You may even run multiple websites on different free tools for comparative analysis. Now check the results. If these tools efficiently serve your entire SEO objective, continue using them. Else, you may need to switch to the paid versions. Remember that the paid ones are undoubtedly highly effective and will offer you much efficient audit assistance. When in doubt, refer to the features of each tool for a quick guide.
You can also combine multiple SEO Audit tools to get more accurate results. For instance, you may use one free and one paid tool or both the free tools together. However, understanding the SEO results may be difficult, especially if you are a new business and lack apt knowledge. In this case, you must choose to hire the best SEO company in Canada. Such a company will perform the entire SEO auditing for you with or without using these tools. They can serve you everything that an SEO tool will give to you, be it researching, analyzing, or reporting. The choice is yours as it's your business. Think smartly and choose wisely.