SEO
5 Podcast SEO Tips for Growing Your Podcast Audience Organically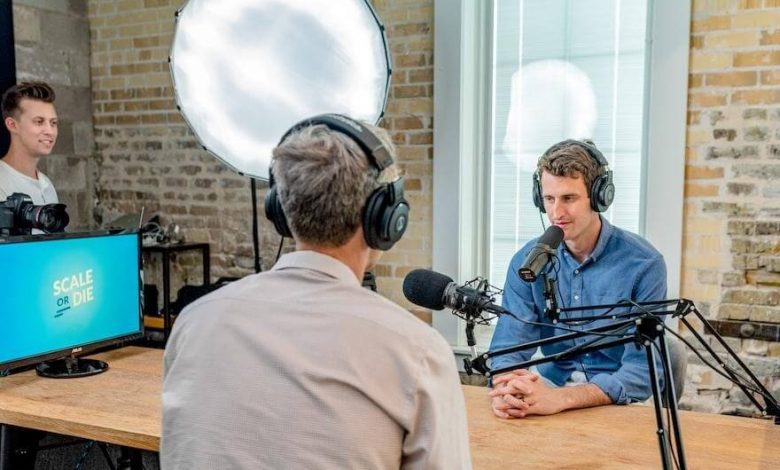 Every podcaster wants an audience that is engaged and grows continuously. Therefore, your podcast marketing strategy is imperative for growing your podcast audience, and search engine optimization (SEO) is an excellent marketing method to drive organic growth.
SEO is a digital marketing method that involves creating quality content with keywords relevant to your podcast, optimizing your website, and building internal and external links to improve your ranking on search engine results pages (SERPs). You can use audio SEO to help audio-specific content rank higher in search results and the subcategory podcast SEO to boost your podcast ranking. When you optimize your podcast SEO, your show will be one of the first things to pop up when people search for terms relevant to your podcast information.
So how can you effectively use podcast SEO to grow your audience organically? In this article, we'll give you some tips and tricks that you can immediately implement into your marketing strategy.
5 Podcast SEO Tips for Growing Your Podcast Audience
Organic growth through podcast SEO doesn't have to be complicated. You can easily incorporate it into your existing marketing strategy with five simple tips.
1. Make a Podcast Page or Website
Having a dedicated podcast website or page is the top tip for boosting your podcast SEO. Of course, you have a service you host your podcast on that has a page for your show. However, that doesn't optimize your SEO.
You'll want to either dedicate an existing website page to your podcast or create an entirely new website. Building it allows you more opportunities to optimize your page or website for search engines. It also improves user experience when searching for your show, specific episodes, or podcast players.
If you're a new podcaster, using your current website allows you to optimize SEO without developing anything brand new. Your page should include the following:
Show name
Show description
Cover art
Social follow buttons
Email subscribe buttons
Featured episodes (optional)
Building a website is the best option for building SEO since the unique URL boosts organic traffic, especially if you named the show after your target audience. You also have more areas to include relevant keywords.
2. Optimize Your Titles
Your podcast title and episode titles are essential parts of podcast SEO. After all, they are how your current audience and potential listeners find you.
Your podcast name and titles are often all potential listeners have to go on to decide if they're going to stream or download your content. Therefore, your podcast name and episode titles should be searchable and easy to spell and find.
You can do some keyword research to find out what keywords your target audience uses to find content like yours online. Then work those keywords into your podcast name and episode titles as naturally as possible.
Keyword research also helps you plan future episodes surrounding the most frequently searched terms, making growing your podcasting audience much more manageable.
3. Optimize Your Show's Description
You don't only want to focus on your podcast name and episode title; you also need to optimize your show's description. The description pops up in many places in search results, including:
Your host's page
Your show's dedicated page or website
Spotify
Apple Podcasts
Sticher
Google Podcasts
Your podcast's search results
Your show's social media profiles
How To Write an Optimized Description
There are five easy steps to write an optimized podcast show description:
Identify your target audience.
Create a list of relevant short and long-tail keywords for which you want to be found.
Find out what makes you unique from your competitors.
Decide how frequently you'll publish new episodes.
Write a 600- to 900-character description and work the keywords in naturally.
4. Create Complementary Written Content
Ranking in search engines is all about proving that your site has a good level of authority, expertise, and trustworthiness. So you need to do everything you can to prove that you meet these requirements to continue growing your podcasting audience.
Complementary content, such as a blog, can help show Google you know what you're talking about.
A blog not only demonstrates that you help your audience. It also allows more opportunities to work in relevant keywords, boosting your ranking and enabling you to link to authoritative websites and for other websites to link to your website or feature it as a source. Doing so provides "social proof" that your website is trustworthy, high-quality, and authoritative.
Other complementary content that you can include on each episode page includes:
An episode recap or description
A short, keyword-rich transcript
Worksheets/checklists
Key takeaways
Episode art to pin on Pinterest
Show notes with timestamps, links to each piece of supporting content, and your contact email and call-in number
5. Add the YouTube Search Engine To Your SEO Strategy
Since YouTube is the second most trafficked website on the internet and serves over a billion users, it should be part of your podcast SEO strategy. You can use video editing software and a file converter to translate your audio files into video. You may choose to record actual video footage of your participants or use the editing software to overlay supporting charts, images, branded slides, and your contact information.
Just like your podcast episode pages, your YouTube video should have the following:
An optimized title (See screenshot below)
An SEO-friendly description with a link to the episode page and show notes
A transcription of the podcast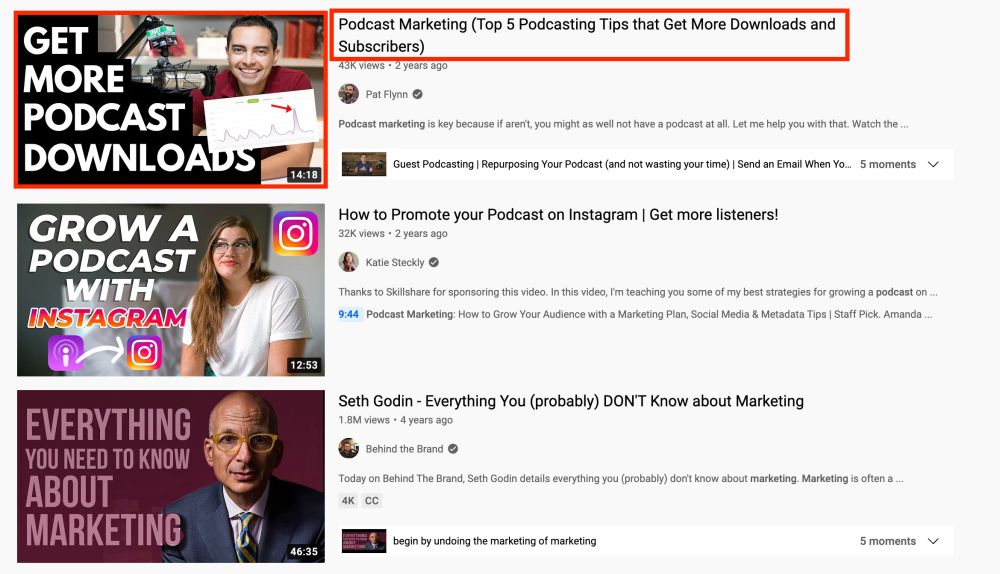 Get Help Optimizing Your Podcast SEO
Successful podcast search engine optimization improves organic traffic by increasing your authority, trustworthiness, and expertise. Utilizing relevant keywords in your podcast name, titles, metadata, and page or website will help your podcast pull up first in the search results. The resulting benefits of growing your podcasting audience organically can be substantial, especially as you begin to draw various types of listeners.
SEO marketing is a long-term strategy requiring constant tweaking and new content. Utilizing these tips will help you incorporate SEO into your marketing strategy and increase your podcast visibility.