Instagram has been around for over ten years. Since its inception, it has introduced many algorithm updates and new features, implying that businesses need to keep up with the trends for notable and sustainable growth. They must try and test new strategies and identify the one that works best and delivers the expected results. Brands, in particular, must have a keen eye towards devising the appropriate organic growth strategies.  
Growing on Instagram refers to the difference in the number of followers you had when you just created your account to the number of followers you have right now. If you are looking to gain new followers for your Instagram account, you need to boost engagement rates, increase brand exposure, and post engaging content. These are the main factors that influence people to tap the follow button. Supposing you feel that your Instagram growth is devastating or not improving, you might not be missing out somewhere. Here are some of the top six organic strategies that help you grow your Instagram account with more fresh followers. 
Instagram Growth Strategies For Brands
1. Consistency is important
The first thing to do is to get your basics right. Publishing a bulk of content all at once and waiting for them to go viral is an entirely wrong approach. Such an approach will never help you out in your Instagram growth. You need to take a different approach to make your posts reach a whole lot of your target audience. Look into your current posting schedules, frequency of posting, and last but not least, the quality of content. According to recent research, mid-morning in the central time zones is the peak hours when most audiences are active on Instagram, and your content is likely to go more viral while you post during this time. Best posting times vary for different locations and time zones. All you need to do is identify the timezone of your audience demographics and the best posting times before you begin posting to your Instagram feed. There is a wide range of tools available in the market to do this legwork for you to devote more time to plan what to post for achieving organic growth.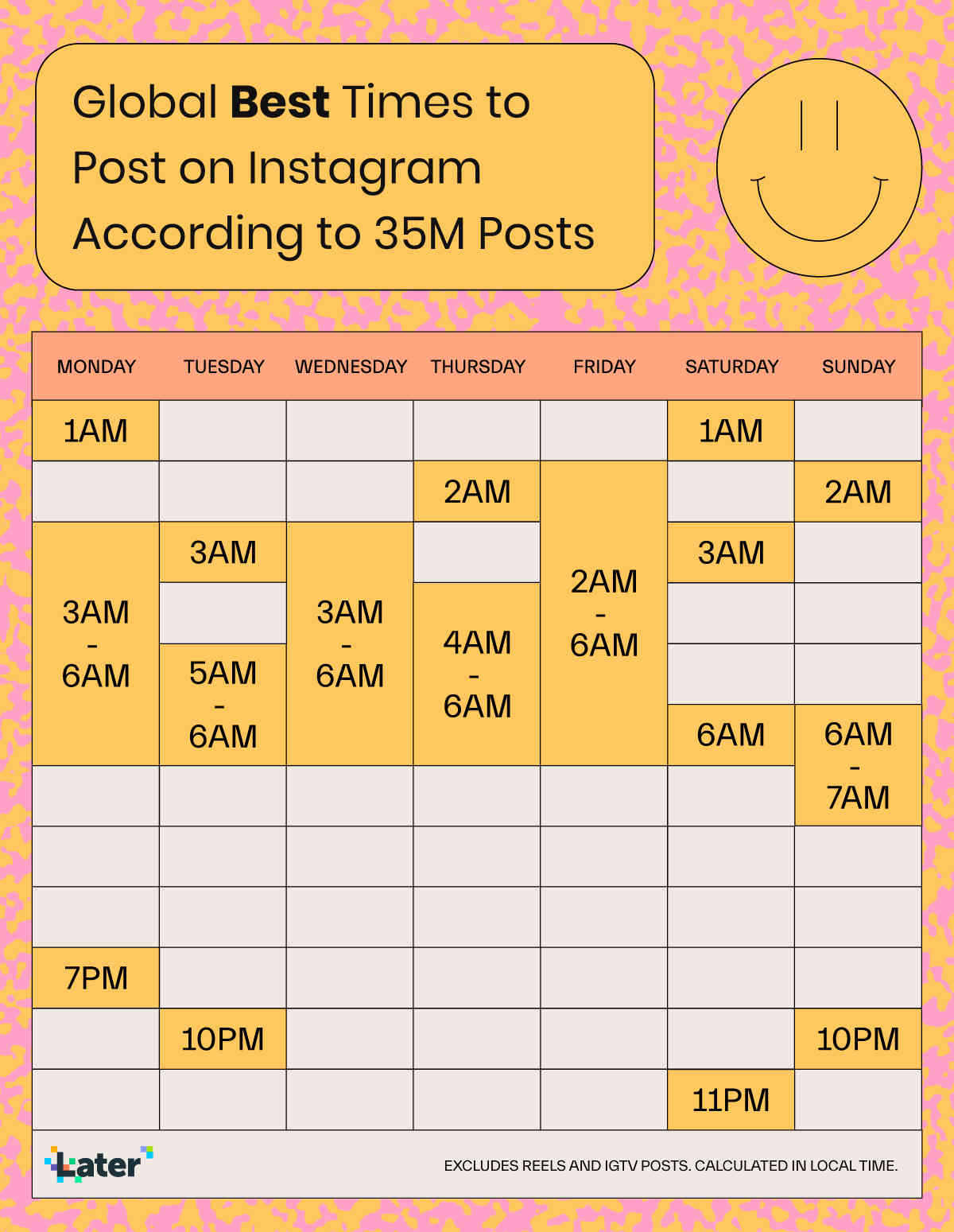 Despite posting at best times, you also need to post consistently, i.e., at regular time gaps, since your followers will get accustomed to your posting times and expect awesome content from you in your next post. Small businesses post only a few times a week, whereas large brands post several times in a single day. Above all, you must maintain the quality of content because that makes your content stand out from others in the huge visual social platform. Posting stock photos will never help you increase your Instagram followers. Instead, you need to create captivating content if you're serious about Instagram growth. The more engagement your content gets, the higher your chances are to gain new followers. While you have fewer engagement rates, it is optimal to get automatic Instagram likes for your recent posts to increase people's intention to stop scrolling and watch your content.
2. Spend Time In Content Creation
Instagram keeps adding new features frequently, and so gone are the days when you shared content in just in-feed posts. Today Instagram provides its users to track metrics for new types of content, such as IGTV views for episodes, story replies, and mentions. The ever-extending list of content types opens many doors to maximize engagement rate and foster organic growth on Instagram. 
Assuming you have shared content only on in-feed posts at irregular intervals, we suggest you limit posting on in-feed posts and shift your focus towards posting a few stories per week to ensure consistency and content diversity. Of course, you need to plan what you are about to post in your stories. Undoubtedly, publishing stories that align with your audience is a guaranteed method to get more followers. Along with content quality and posting consistency, incorporating creative elements to your copy also plays a vital role in growing your Instagram account. Taking time to dig out the creative you is that you should never ignore while aiming for Instagram growth.
3. Run contests & giveaways
One thing that never changes despite the new developments on social media is audiences' love for discounts, giveaways, and freebies. Still, there is a discrepancy in what marketers post and what consumers expect, which results in zero opportunities out of the social content. Recent research reports convey that over 73% of consumers expect only posts related to sales and discounts from brand accounts on Instagram. The main reason they follow brands is to know about offers and promotional discounts announced by their favorite brands. In contrast, only 20% of marketers thought sharing discount-related posts on social media is not that important. Such a difference in opinion alerts marketers to start analyzing consumer preferences and understand them much better.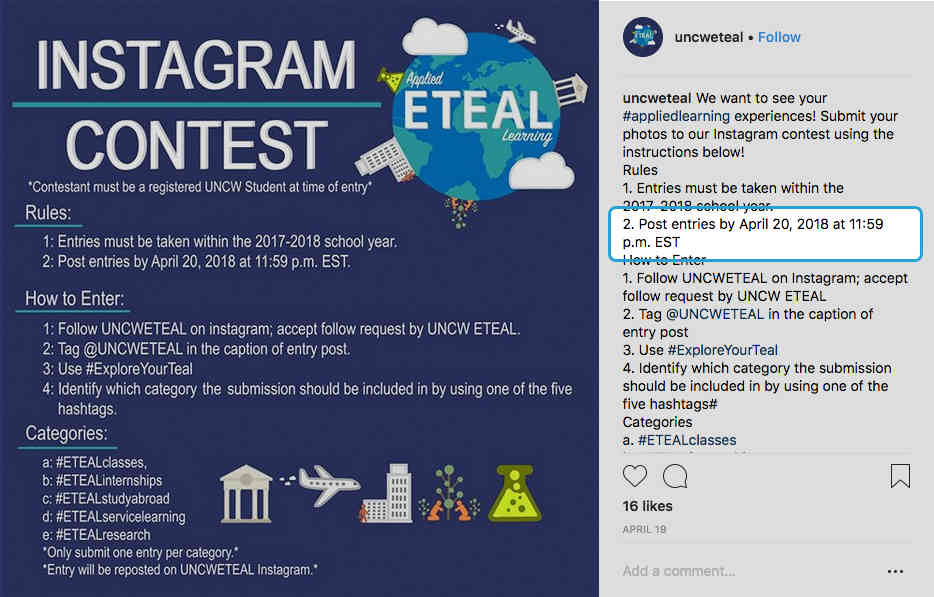 Conducting contests and promotions is an effective method to make a strong presence on Instagram and increase followers' count. Making it mandatory to follow your brand and tag their friends to participate in the contest is a surefire strategy that brings in a fresh bunch of followers for you. By sticking to a consistent schedule in conducting quarterly or monthly contests, your followers will keep buzzing around you, waiting to watch the next one, which means constant engagement.
4.Cross-promote in other social platforms
Don't stop posting content on just Instagram. Remember, people have accounts on two or more social media platforms, all of which have their strengths and uniqueness and diverse audiences. Try taking people to your Instagram profile from other social accounts. Adding appropriate social media buttons and widgets in your marketing copies like digital advertisements, email newsletters, and website footers are damn good examples for cross-platform promotion. 
5. Make Influencers stakeholders
Though the budget for Influencer marketing has risen significantly, there are ways to plan and implement one within your budget. Influencers are niche specialists and show more interest in working with brands that match their industry. Micro-influencers, Macro Influencers, and Nano influencers are different kinds of influencers. Micro-influencers are the ones who have smaller followers but a more engaged audience. When you hand over your Instagram to Influencers, and they start talking with their followers about your brand and posting content for you, you will notice your Instagram account grow incredibly. 
6. Engage often
To grow your Instagram account with a massive number of followers, you must actively engage on your account. Active engagement refers to the time spent to write comments beneath followers' content, answering to followers' queries and comments, and resharing user-generated content (UGC). Initiating conversations by creating followers' groups is a great way that enables connecting followers to each other. This subsequently leads to building a larger community. In fact, establishing a stronger bond with your followers is what matters more than conducting contests and offering announcements for building a loyal followers base. Good content and engagement should be on the top of your list because researchers have found that customers who feel connected with a brand are 70% more likely to recommend it to their friends and family. Also, they are 78% highly probable to buy your product. Responding to various types of customers' comments and using a suitable content strategy to express your brand personality and voice are the best approaches you need to take while several techniques exist. Interacting repeatedly with your customers is an evergreen strategy that provides long-term results, thus ensuring and maintaining permanent growth for your Instagram account.
Final Words
While implementing these strategies, you will better understand how the Instagram algorithm works for you. Making use of Instagram analytics will let you know how well you perform on Instagram in various aspects from which you can refine your strategy and get good results.