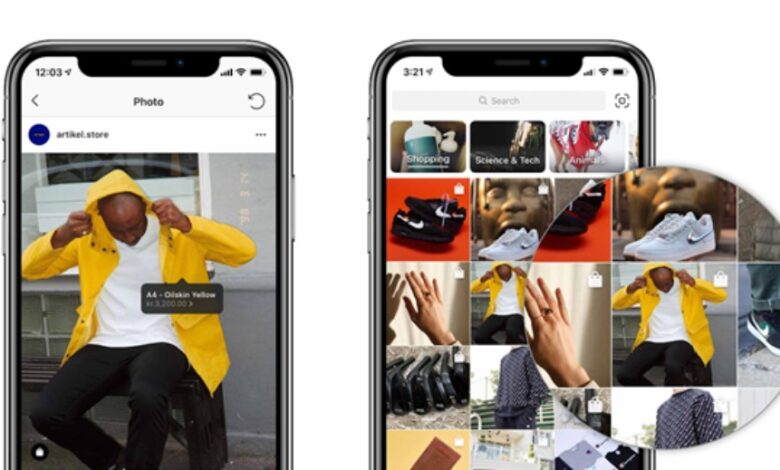 For the past five years, Instagram has introduced Shoppable Instagram posts features to their users. Completely transforming how brands practice eCommerce and sales over digital platforms.
As the popularity of Instagram increases every day, brands are extensively using it to promote their business with their prospects around the globe.
Seeing such marketing and promotional activities undertaken by brands, Instagram allows brands to sell their products and services through Shoppable Instagram Posts.
Most importantly, Instagram is easing users' shopping experience to make purchase decisions. Users can interact with Instagram posts and buy products with a single click without leaving the platform.
That said, we can say that Instagram is the best platform to boost sales with a greater return on investment.
So let's delve into how you leverage your social sales with shoppable Instagram posts.
Definition of Shoppable Instagram Posts
As per Taggbox, "Shoppable Instagram is the visual catalog of the brands that vibrantly showcase the products and merchandise with the product details, specifications, and price tags that helps the brands reduce customer's purchase path."
Shoppable Instagram Posts are the Instagram images with a tiny shopping bag icon in the post's left bottom corner. When a user clicks on this icon, it will disclose details of all products tagged in the post.
It allows users to check the product details, click on the product, and get a precise description of the product with its price and link to buy. Users can then click on a link, visit your website, and checkout successfully. Which will help you achieve new milestones in your social media marketing.
Do you want to know more about Shoppable Instagram Posts and how you can use it to enhance sales through Instagram posts? Then stick to this blog and read more to find if you can exploit this platform for your business.
Your Attention Please:
Before you start strategizing for Shoppable Instagram Posts, make sure your business should be located in one of the following countries: United States, Brazil, Canada, Germany, France, Australia, United Kingdom, Spain, or Italy.
You must also have an Instagram Business account, Facebook page, and an updated version of Instagram for eligibility to sell on Instagram.
How to Boost Sales with Shoppable Instagram Posts
Selling products through Instagram Shoppable posts is not a typical task; you can do it by incorporating two different methods.
One is Instagram's Own 'Shoppable Instagram' feature, and the second is through constructing Shoppable Instagram Posts on your website or eCommerce store.
Method 1: Shoppable Instagram Posts Feature On Instagram
If you are fulfilling all the eligibility for Instagram merchandise store, you can start selling with Instagram by following these below-given steps:
Create Your Facebook Catalog
Start by setting up your Facebook Catalog by uploading your product's images and videos with a particular description. With Facebook Business Manager, you can smoothly create Facebook Catalog.
Connect Facebook Catalog & Instagram Business Account
After creating a Facebook shop, you can manually add or directly transfer products from your website or online store. Link your Facebook shop with your Instagram Business account and click on "Get Started" after verifying your account to enable the Shoppable Instagram feature. From Facebook Shop, select your products to add them to your Instagram posts, and lastly, click on "Done."
Tag Products In Instagram Posts
Now you have enabled the Shoppable Instagram feature, and you can tag your products on Instagram posts by going to the Tag Product feature. Select the same product as shown in the post and tag that particular product in the post.
The bonus here is you can add as many products as showing in the posts and available on your website.
Method 2: Publish Shoppable Instagram Posts On Website
As customers are purchasing through Instagram and finding it effective to buy products that are shown in the posts. Brands are planning to serve the same experience by embedding Shoppable Instagram posts on their eCommerce website.
With the help of tools, you can add Shoppable Instagram posts on your website and tag products in the posts. You can use Instagram images, either on your account, or collect user-generated content to create Shoppable Instagram posts.
Use a Shoppable Instagram Tool
One of the popular tools that many brands use to create shoppable Instagram posts on their website is Taggbox Commerce. It will allow you to create & publish Shoppable Instagram feeds on websites.
The tool helps you collect content from Instagram using your brand handle or user-generated content using mentions, hashtags, tagged, etc. in a gallery. Then it lets you tag products to these Instagram posts and make them shoppable.
Finally, you can publish the shoppable Instagram posts on the website as a Shoppable gallery. You can also create a shoppable link for your gallery and add it to your bio.
Customization features offer you to add different beautiful themes and styles to your shoppable Instagram posts to ornament your website with alluring content. Customize your shoppable Instagram posts with product descriptions, images, and buy links to tagged products.
It will enhance your website look and feel, attract and entice your customers to buy products from Shoppable Instagram Posts.
Final Words
Instagram is a powerful platform for brands and marketers to promote their products. With the Shoppable Instagram feature, brands can sell their products directly to customers who are liking your products.
This article will help you leverage social sales with Instagram and improve your conversion rate exponentially.