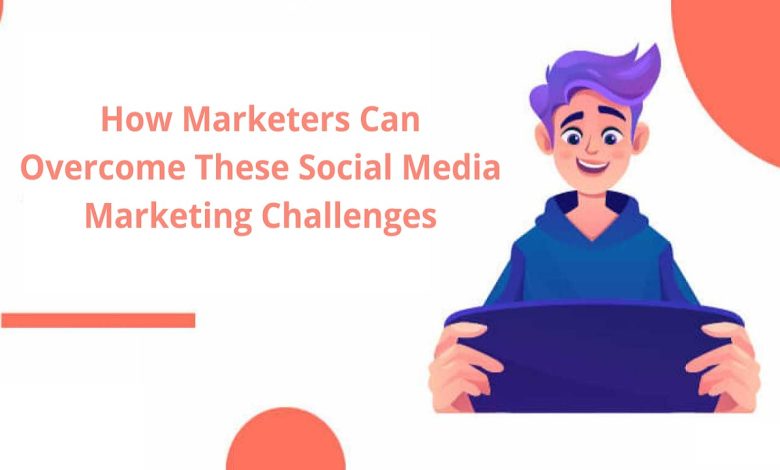 Social media has become a foremost part of all modern businesses over the past decade. Brands all over the world use social media platforms to grow and increase their online presence. The problem starts when these brands don't get enough organic reach and results that they expect. It may be because of targeting the wrong market or audience. Sometimes it becomes hard to understand the issues while targeting your ad campaign or posting any content.
What are the exact issues that cause these challenges, and how can businesses overcome these issues? To know the answer, keep reading.
Here are the top social media marketing challenges and their solutions.
Social media marketing is an effective way of dealing with customers and brings the benefits of direct interaction with your prospects. However, social media also has some significant challenges.
In this guide, we have shared all the solutions to the challenges that companies and social media marketers can face. With the clarifications to these obstructions, you can next time draft your strategies wisely. So, let's get started now.
1. Marketing goals

The first thing that usually marketers of organizations struggle with is creating marketing goals. It is crucial to define a marketing strategy, plan and work according to it. So, it is essential to align your social media strategies with your business goals. For some marketers, creating a social media campaign according to the target audience is a challenging task. So, below is the solution on how to set your campaigns according to your marketing goals.
Solution
With well-defined goals, you can easily measure your market performance metrics. Once you are clear with the objectives and goals of your business, you will be able to shoot ad campaigns according to your marketing strategy. With appropriate objectives, you can set a fixed budget that will keep you on track. You can establish a specific goal achievable in a limited time frame. You can use analytics to measure daily visits and engagements on your profile. You must ensure that your organization's marketing goals can be fulfilled by organic marketing.
2. Choose the right social media platform
Not every social media platform is for your business. You need to understand this. Before choosing any social media platform for your brand, evaluate whether your target audience is an active user of that platform. This is the biggest hurdle that marketers face, they fail to analyze where their target audience is most active. Posting the content without analyzing your target audience is a waste of time and resources.
Solution
The solution to this is not to invest in those platforms where your audience is not even active. To overcome this challenge, your goal should be to understand your target audience completely. Analyze what activities they perform on the sites where they are most active. Now when you know on which platform, they love to spend time, meet them there. Most brands like business to consumers remain active on social platforms like Facebook and Instagram. Thus, you can plan your ad accordingly to grab their attention.
3. Creation of Quality content

The human brain understands pictorial representation better than anything else. Moreover, high-quality visual representation leaves a good impact on the user's mind. Well, it is also a challenge in itself, users will remember the visuals clearly. Most of the time, marketers overlook this point and then struggle with low reach, less share, and less engagement.  Hence it is vital to take some time out and focus more on graphics.
Solution
Marketers can solve this problem by hiring an experienced graphic designer who can create quality visuals. Designing is not rocket science; you can do it if you have an expert graphic designer in your team.
4. Low organic reach and engagement
Lowering organic reach and less engagement is one of the major challenges faced by marketers. When this situation comes, it becomes difficult to manage the budget and the brand goals. The ad costs increase but traffic and the organic reach remains the same.
Solutions
You can overcome this by learning the algorithms of the particular platform and try to leverage that site. For example, if you target Facebook, try to create engaging content in the form of videos, stories that can grab huge attention. On the other hand, if you target Instagram, try to make short reels that define your service and attract your audience.
You can maximize organic reach by going live on Instagram via IGTV. You can engage the target audience of certain demographics with engaging Q&A. It will help you to know their mindsets and how many audiences show interest in that. To increase your organic reach, you must be aware at what time your audience remains most active. It means you need to post at the most appropriate time when you can get a lot of engagements. Try to empathize with your customers by solving their problems.
5. Raising costs of ads
Many brands think of increasing their ad costs to increase engagement and reach a huge audience. Some businesses buy engagements by paying some amount. Whereas in this cut-throat competition, it has become difficult to recover the investments spent on the advertisement of your brand.
Solutions
The only solution to this is to reach your target audience and other prospects. To gain the maximum returns from our ad campaigns, ensure they are targeting the right people and market. Only with this, you can fulfil your ad campaign goals.
6. Knowing the target audience
It is not necessary that the brands that do superb sales as a brick-and-mortar store can do the same online. Some brands fail in doing online marketing. Let's suppose, you love brand A that has a brick-and-mortar showroom, you will approach it for your needs. On the other hand, there are many online stores available having a cut-throat competition with each other. Here the possibilities are of people approaching any online store, hence here brands try to seek out people.
Well, seeking out the right people who need your services is not an easy task. For that, you need to understand your target business market. For example, an academic tutor will target the students who want to shape their career in academics. He will not approach the one who is interested in sports. If he does so, it is called directionless marketing and audience targeting. So, knowing your audience is the first step of developing a brand's identity.
Solution
The solution is to know your ideal customer. If you find it hard, you can check out the followers of your competitors. It can give you an idea of which audience to target. Delve into your existing customer base and check whether you have the relevant data of your customers. Gathering insights about your customer base is a healthy practice. Make campaigns that can pinpoint what they want. Shape the quality and quantity of your content according to your target audience.
7. Managing time
A social media manager or marketer continuously struggles with a lot of work such as finding prospects, engaging with audiences, and many more. Creation of a single ad campaign requires a lot of research and effort. So, no doubt, achieving the target becomes pretty difficult.
Solution
You can deal with this time management problem by using an editorial calendar. Even going for a social media management tool is also a good option to manage time. Furthermore, you can look out for further technologies that can save your time.
8. Maintain a positive response
Maintaining a positive response about your brand is a bit hard. You must know how to respond to negative comments positively. Positive response on social media maintains the reputation of your business and its brand image positively.
Solution
You can solve this challenge by maintaining interaction with your audience, and if they are satisfied with your content and are getting what they expect from you, then it is a plus point. With this, you can maintain a positive impact on the audience. The possibilities are that they may leave positive comments and feedback that is counted as a good response.  For maintaining a positive response on your social media sites, try to deliver the best services. Using word-of-mouth publicity is the best way to get good sales and leads.
9. Experiment with content and being consistent
Most marketers do not come up with new and trendy content whereas, today different technologies have paved their way into marketing. It is challenging to post highly innovative content consistently to attract user attention. Most marketers fail to remain consistent with their voice, which can hamper the brand image. You can solve this problem by taking inspiration from some of the brands that create extraordinary content and keep the tone consistent.
Solution:
You can use innovative technologies like Augmented reality, virtual reality, and many others to create stunning visuals for your followers. You can stick to a consistent tone that suits your brand's personality. Your content tone delivers the exact message to your audience, and being unable to address them is a major drawback. Your brand voice is your power and keeping it consistent is utmost important. You must create and post content that impacts the audience and changes their whole outlook.
Conclusion
Marketing, either offline or online, has its own set of problems, and one must be prepared for those obstructions that come along.  Social media marketing has always been a game-changer. Proper social media marketing can take your business to height, but for that, you need to understand your audience. If you are a marketing expert, you should focus on the solutions to the above-mentioned challenges. Social media marketing is nothing different, it also consists of a set of challenges. You need to embrace different solutions that might help in increasing your social media performance. These solutions can make your social media marketing journey simpler. When you know the strategies to handle the difficulties, you can withstand risk-free with your marketing efforts.