Other
All You Need To Know About Web Push Notifications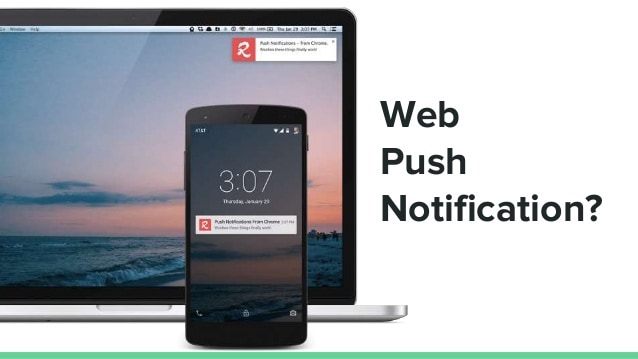 There is no denying fact that we are too dependent on the internet for our perquisites. Most of our time is spent using the internet browser whether on mobile or desktop. While using the browser you must have observed a pop-up suddenly comes out at the top of asking you for permission for the notifications. What exactly it is? Let us understand in detail.
What Is A Web Push Notification?
The Web Push Notifications are those messages that can be sent to the users via a website or a web app who are using the browsers on both desktop and mobile. It doesn't matter whether the user is on your website or not but alerts can still be delivered to its device, mobile, or desktop unless it is opted-in to receive these notifications. These clickable rich content messages are supported by Chrome, Firefox, Edge, and Safari.
In simple words, it allows the users to opt-in for the important updates & notifications from the sites fulfilling their purpose and enables them to re-engage with meaningful content.
What Is The Benefit Of It?
Likewise, other native application alerts and notifications, web push notifications are designed to provide the information conveniently. In this, you are not required to download or install any application as you can easily hit a allow button to get the subscription on permission.
Who Can Use It?
In digital marketing, web push notifications are used by promoters and marketers to create user engagement. The large numbers of businesses across different segments are greatly relying on web push notifications as a medium of communication. Still, wondering what made it born? The biggest reason behind the advent of this is the slow performance of email, SMS, and display advertisements.
Some Of The Best Uses Of This Are:
Providing sports-related updates and news on the devices of the user's lock screen.
Convenient alerts like traffic, weather, and important updates.
Information related to flights, trains, public transport like check-in, delay, and halts.
Alerts related to sales, discounts, offers, etc.
How to Set Up Web Push Notification?
The Web Push Notifications are installed using the two APIs. The first one is Notifications API and the second one is Push API. The Notifications API allows the display system notifications to the users whereas the Push API enables a service provider to manage Push Messages from its server, even while the app is at all active.
Both the Notification and Push APIs are placed on top of the Service Worker API, which reacts to the push messages events in the background and transfers them to your browser or application.
However, both push and notification employ different but mandatory APIs. The push gets activated when a server sends the information to a service provider but notification is the action of a web page script showing information to a user.
Which Browser Supports WPN?
Google Chrome Version 52: It will ask you to generate a GCM Sender ID (which is now called as Firebase Sender ID) and Server API Key.
Firefox: Firefox never holds your subscribers with API keys, you can migrate your existing subscribers hassle-free with the existing implementation.
Safari: In this, a developer needs an APN certificate which needs to be generated for push notifications. The Safari Push Notifications are only applicable for Desktop which itself is the biggest drawback.
Can An HTTP Website Support Web Push Notifications?
It is by nature that only sites having HTTPS supports web push API. Here a user is subscribing to you without any hassle but with those having HTTP, it requires two-step processes. For example – yourdomain.edtech.in or notify.edtech.in.
Summary
The above-said has been created by the digital marketing experts of e-Definers Technology. For any confusion and help, you can comment on us. If you like don't forget to share our blog.