SEO
3 Real Estate SEO Tips to Maximize Your Online Presence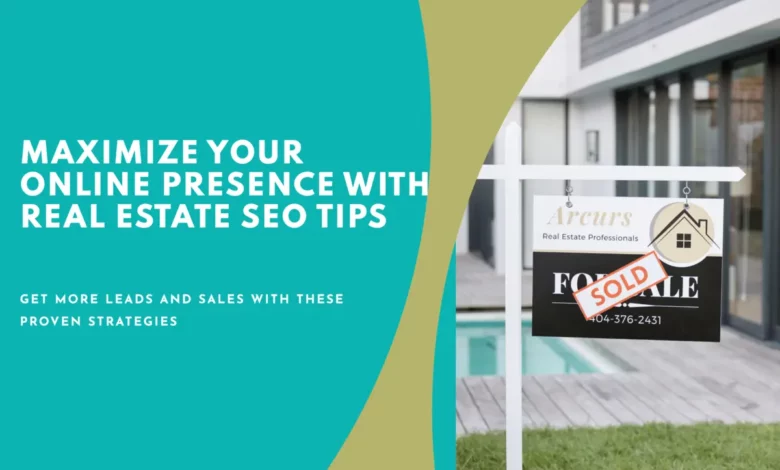 Whether you're talking about wholesale real estate or a traditional real estate environment, one of your biggest assets is and will always be your personal brand.
Real estate is inherently competitive. There are a lot of people out there who do what you do. Therefore, you must make yourself as unique as possible to stand out in a crowd. Search engine optimization (SEO) is the internet's way of helping you do just that. When people are surfing the web for answers, you want to be there to provide them. This isn't necessarily difficult, but it requires you to take a strategic approach to your actions.
1.  Build a Strong Website
An organized, easy-to-navigate website is the backbone of a solid SEO strategy. Without this important aspect of your business, you are going to have a really hard time convincing search engines like Google that you're the authority on any subject.
Many real estate entrepreneurs neglect this important piece, but it is well worth your time and investment. The content within your site will demonstrate that you have some form of expertise in your area.
Take the time to ensure your website has no broken links or other errors. When search engines crawl your site, hitting dead ends or broken links doesn't help you when it comes to SEO. You don't want these things to hamper the hard work you put in on your on-site content, so take the time to ensure your website is healthy.
2.  Use Targeted Keywords in Your Content
One of the best ways to maximize your online presence as a real estate professional has to do with optimizing your on-site and offsite content with targeted keywords.
Keywords can vastly differ when it comes to the intent of the searcher. Someone trying to get information about how to start the buying process might search for "how to buy your first home." Someone searching for a commercial service might search "best real estate agents in Salt Lake City." Someone ready to make a transaction might search for "homes for sale in Salt Lake City, Utah." Knowing which part of the searcher's journey you want to interact with them is key to a strong keyword strategy.
To put this into action, let's say you want to be a resource for prospective homeowners looking to buy their first home. Use SEO tools like Ahrefs, Moz, or Semrush to help you identify keywords that have a decent search volume and low difficulty. Create a page or blog post on your site that is a more in-depth piece on this topic. Be sure to incorporate your selected keywords into the title and body of your page. This is known as a "pillar page" that acts as a cornerstone for your chosen topic.
Next, create subsequent, shorter blog posts or supporting pages that elaborate on pieces of the topic, linking these with your pillar. This practice is known as creating a "content cluster" and helps you rank for specific keywords related to your chosen topic.
The same can be said for offsite content. Securing backlinks to your pillar page on external sites will help show search engines that you have their stamp of approval. By using your target keyword as anchor text, this connection further amplifies your SEO efforts. Creating a strong on-site and offsite keyword strategy will ensure you are there when your customers are looking for you.
3.  Take Advantage of Local SEO
Along the same lines, it is equally important to lean into the principles of local SEO when optimizing your online presence.
Local SEO is content that plays to a specific geographic area. According to one recent study, approximately 98% of consumers use the Internet to learn more about local businesses yearly. Ranking highly in local searches increases the chances that someone will pick up the phone and give you a call when they need you. More than that, once they have found you, they're likely to make contact within the next 24 hours.
So, from that perspective, remember that you're not just trying to maximize your online presence in a general sense. You don't want to be seen as a generic "real estate industry expert." You want to come off as a legitimate expert in your local area.
It makes no difference if people halfway around the world can easily find you on Google when they are never likely to need your services to begin with. You want to attract the attention of the people in your own backyard. To do that, you should start by setting up a free Google Business Profile. This local listing shares information about your business with the searcher. Most importantly, it allows your business to appear in the map pack and Google Maps.
Again, being seen as an expert in your local market will ultimately benefit your reputation more than being seen as one on a national stage. Think more precisely, not bigger.
A Solid SEO Strategy Builds Authority and Visibility
In the end, remember that most people will find out about your real estate services for the first time via a search engine like Google. People only use Google if they feel it is returning quality, authoritative results to whatever they're searching for. Therefore, the higher you rank in Google, the more authority you are perceived to have.
SEO best practices like those outlined above will help you broaden the visibility of your website. They'll let you start relationships with potential buyers in meaningful and long-lasting ways. They'll also help you establish more trust online, always leading to closing more deals. They're a way to tap into every ounce of potential of your online presence while staying ahead of your competitors simultaneously.