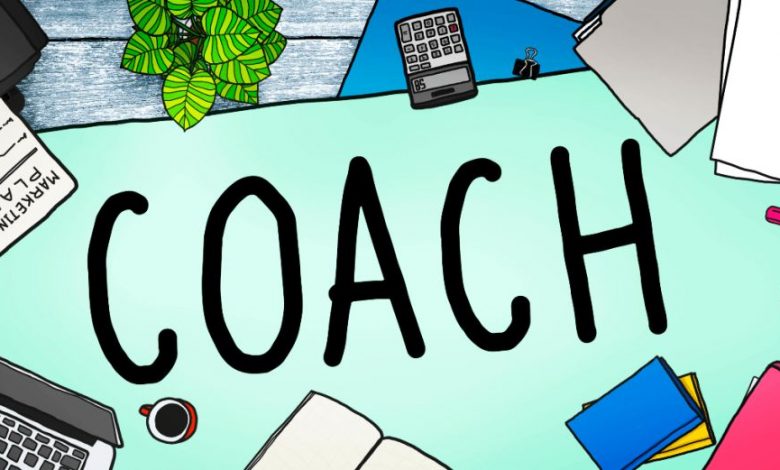 Top Free and Paid Life Coach Directory Listings
When coaches start their careers, one of the most frequent questions is, "How do I find clients?" Life coaching directory websites may be the answer to this question for both beginners and experienced specialists.
Instead of looking for clients, coaches can take advantage of coach directory websites to let clients find them. Even though it has its tricks (which we will uncover in this article), this tool can become a part of the promotional strategy for specialists of any level.
In this article, you'll learn:
What life coach directory websites are, and why should you use them
How to find a high-quality listing and use it to your advantage
Top websites for specialists of all levels and clients all over the world
How to get listed in the life coaching directory
Life Coach Directory: What is it?
A life coach directory is simply a website with a list of coaches available for sessions. A person looking for a specialist can get on the website and filter the listings based on location, experience, language, and other parameters. We've added examples for trusted life coaching directories in the next chapter to see what the listings look like and their differences.
These listings help benefit both clients and specialists. Clients have many options to choose from and often get matched with the help of the platform, while coaches get another source to attract potential clients and grow as specialists.
Will the Life Coach Directory Work for You?
Besides the obvious reason for joining a life coaching directory (finding new clients), there are a few more advantages:
The quality of both clients and coaches. For coaches, listings are a way to stand out, share more about their approach and coaching focus, and set convenient rules. In directories, every certificate and sentence matter. At the same time, clients can find coaches that fit them the best in terms of personality and experience.
Opportunity for coaches who do not have a personal brand and an established audience. When specialists don't yet have an audience who trusts and recommends them, finding clients can be more challenging. The directory website partly solves this issue, as potential clients are interested in the coaches' services from the moment they reach the website. All the coaches need to do is to reveal their personality well in their profile to attract clients' attention.
Diversification of platforms for coaches. Having a backup source of potential clients in an unstable virtual world is always a good idea. Making yourself noticed among popular listings can have a meaningful impact on the number of clients, their quality, and, as a result, the specialist's income.
Now, How Do I Find Such a Directory?
There are many ways to find life coach directories, but here we'll focus on the two easiest ways.
The first is to google it using special search operators. You can make a list of search queries often used to define such a directory and search for them on Google. The most straightforward examples are "coach directory" or "find a coach," etc.
The second way is much faster. You need special software for backlink search like the one offered by SE Ranking, and you can enter your competitors' websites there. Then, you'll get a list of their backlinks and use filters to find life coach directories. The main benefit of such an approach is that you can estimate the quality of each directory by using metrics like DT (Domain Trust).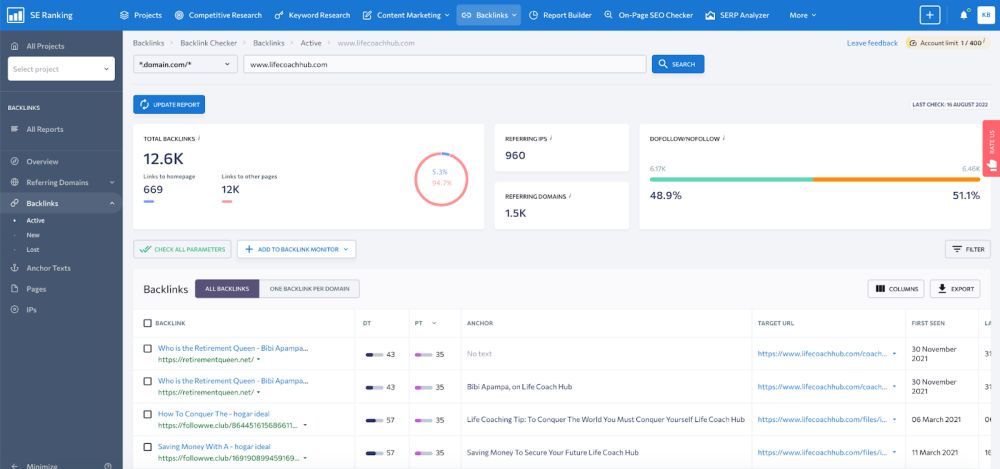 Top free and paid Trusted Coach Directory Sites
This life coaching directory focuses on the qualification of specialists and their trustability: coaches need to prove they have the needed coaching hours, and the platform verifies every review to ensure it comes from a real person. The client can filter by specialization, years of experience, the payment per hour, and language.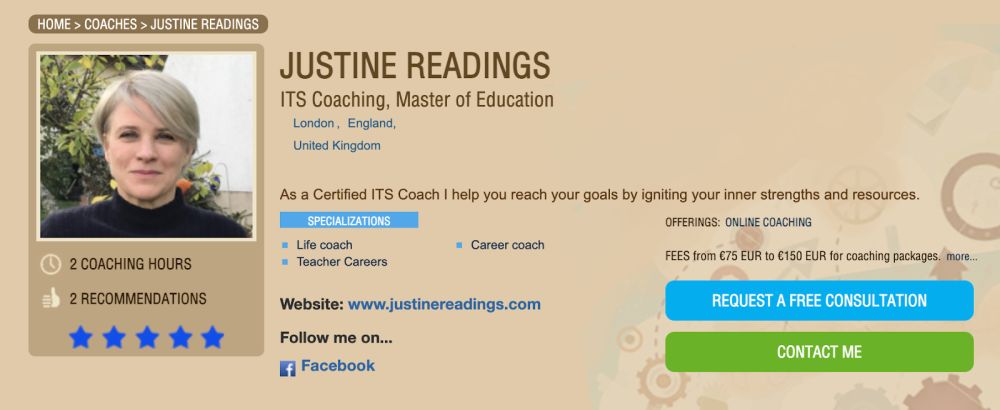 The portrait of the candidate is pretty clear. The clients get to read about the specialist, which helps them to make up their minds and feel connected to the coach. Additionally, a free consultation option is available — a client can book a call at any convenient time and see if the coach is the right fit.
All the Trusted Coaching directory specialists undergo a reference check, constantly attend supervision, and are fully insured. The platform has a list of featured coaches based on reviews; the client can reach any of them.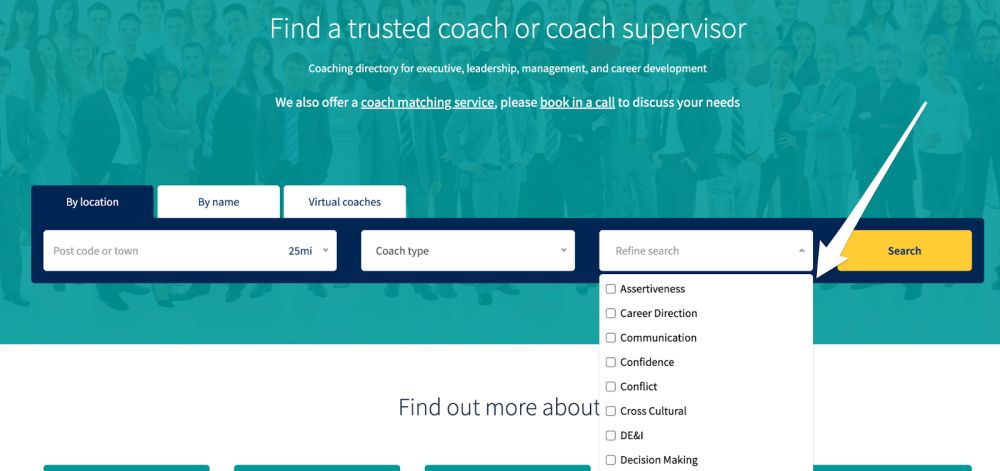 The search is convenient, allowing clients to find coaches by their names, places of residence, and it even understands the topics the client wants to cover during the sessions. Based on the request, the platform searches for coaches who will work best for the client.
This platform works for both clients and organizations. Organizations can book coaching sessions to develop leadership skills for various industries, matching team members with coaches they will benefit from.

Noomii has educational materials, which can be useful before finding a coach. Clients can check out videos and read short articles. The list of coaches is presented in 2 locations: The United States and Canada.
The International coaching federation has the goal of empowering the world through coaching. Specialists can join a global community of trained coaches, get training, and receive certification. Gathering coaches from all over the world, the company aims to build a community of professional, well-trained, and diverse specialists. They have a block called 'Experience Coaching,' where clients can find coaches and learn more about sessions, read transformational stories, and see how they can benefit from coaching.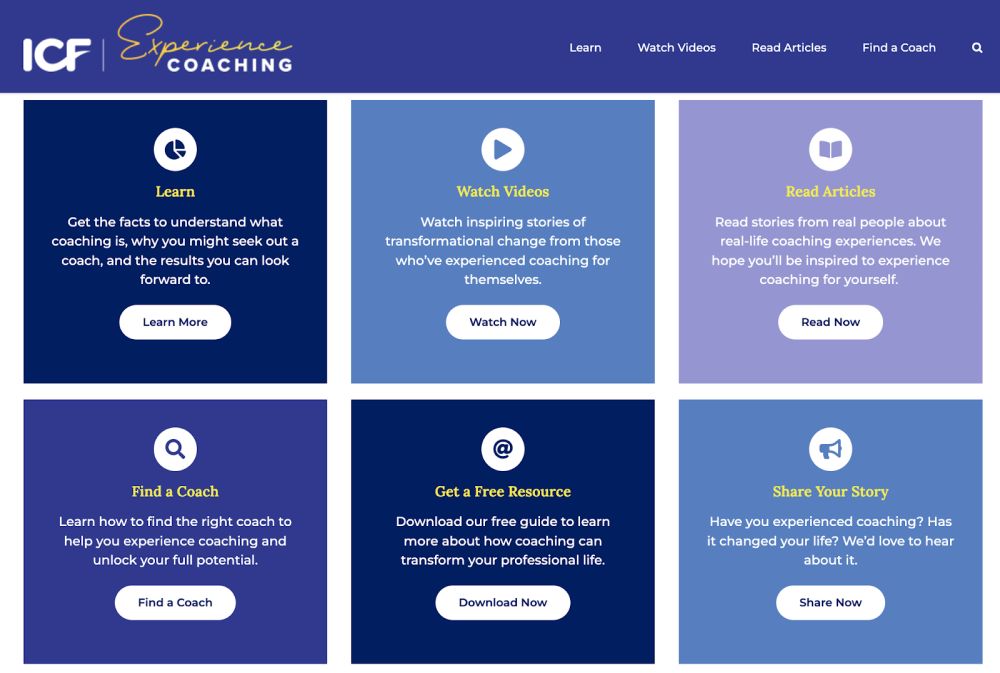 The Bark platform has an interesting feature that helps to pick a specialist that will be the best fit for the client. If clients don't know where to start and what coach to choose, they can fill out a short form, answering questions (such as topics they want to cover, gender preferences, length of sessions, format, etc.), and they'll get a list of coaches that will work best for them.

This life coaching directory contains over 300+ certified life coaches offering their expertise. The directory also has a client match: to find a coach, the client can fill out the form based on preferences, get a match, and have up to 3 coaching sessions with the best matches to choose the best one. The limitation of this platform is location — not everyone can fill out the form, and the service works only for certain countries.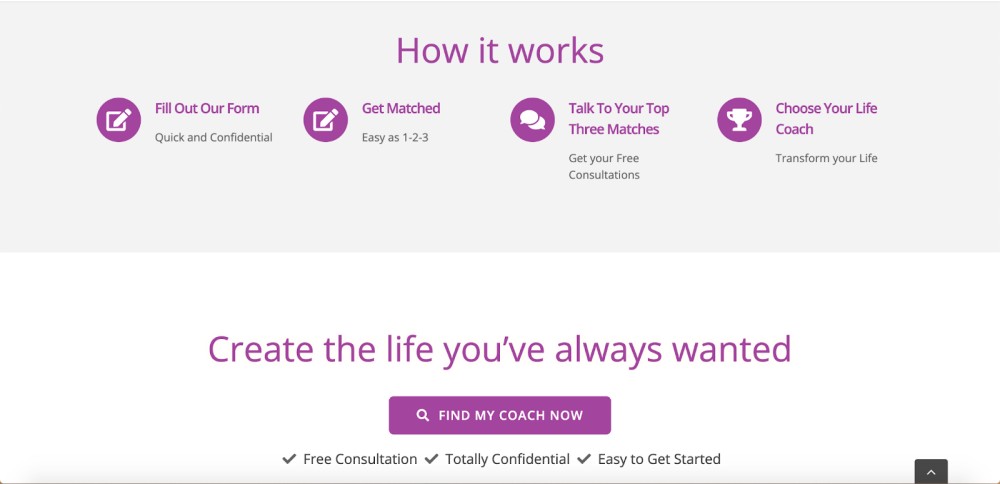 The Welldoing platform focuses on therapy and coaching, considering the client's needs. Every coach in the system has a profile that contains professional information, coaching focus, fees, training, and qualification. The directory matches with offline and online specialists, meaning there are no location limitations. With 1200 qualified therapist members, the competition is high.
From the client's perspective, an easy-to-navigate website and a large library of articles and other educational materials make it much easier to find the right coach for the request.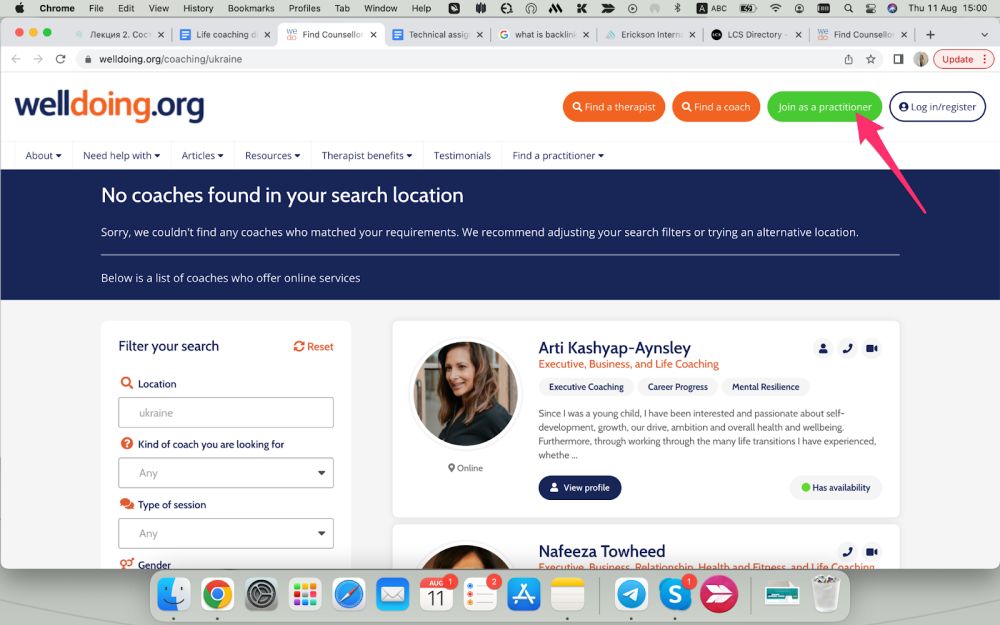 Another convenient website that lets clients search for coaches and professionals. Besides the usual search options and articles on different topics, the platform has an interesting feature that lets potential clients learn more about their emotional state and how coaching can help in their specific situations. The interactive list is made in the form of an alphabet, which can help readers to find the request they want to work with.

How to Get Listed in the Life Coach Directory?
Joining any trusted directory requires certain expertise and the appropriate education. Most companies do reference checks that require specialists to wait until they get approved, and the process can take up to a week.
From the technical perspective, the process is quite easy: every website has some kind of 'Join' button that leads to registration and profile verification.

If you cannot find the button, try searching for the 'Contact' section and contacting them via email. Some platforms will ask you to pay a membership fee, starting from 15 euros/month.
Let's find out how to register in one of the directories on the example of the Welldoing platform:
Click the 'Join as practitioner' button on the main page.
Choose the 'Register as coach' option on the next page.
Then, enter the registration process and enter personal details: name, email, password, and insurance number.
Indicate professional bodies, choosing from the list on the page. The platform will verify this information.
Once a specialist has filled in all the information, they can become a member by purchasing the membership and getting verified. On this platform, the membership costs 15 euros/month. It lets coaches promote themselves through articles/videos and find clients.
Coach Directories: Short Takeaway
The Coach directory has its own opportunities and limitations covered in the article. When used correctly, coaches can make participation in directories an additional source of income, while clients can choose qualified specialists that match their requests. To sum up, let's go over the most important aspects to get the most out of the life coach directory:
Trusted coach directory websites help benefit both coaches and clients, making it a convenient additional source of income for specialists.
Not all coaches can apply to the directory; they need the appropriate education and certifications. Some platforms have limitations based on country of residence and language.
You can use a backlink checker tool to search for trustworthy listings.
The directories have various specialists, from beginners to experts, in various locations, with different coaching focuses and approaches. Clients with any request can find a suitable specialist through such directories, which makes them worth considering for the promotional strategy.