Other
Why You Should Use Colorful Powerpoint Templates for an Outstanding Presentation?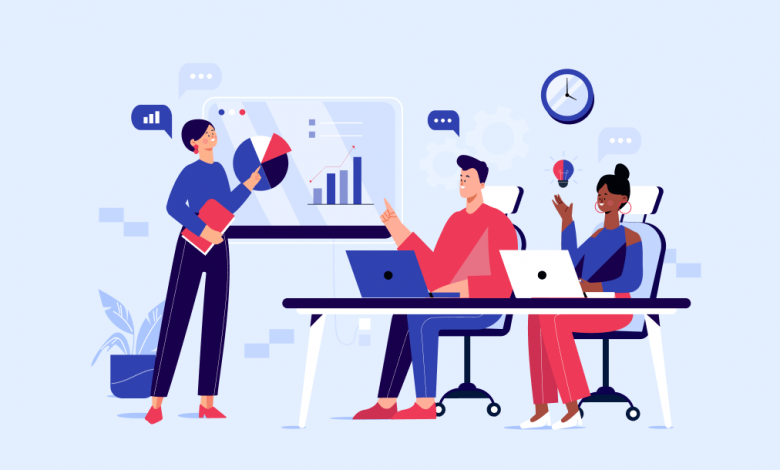 Pre-designed presentation templates are a time saver for many. They fit a wide range of presentation topics, from business to educational slide decks. These designs cover many individual styles, they can be creative and pop or restrained and sleek for business presentations. All themes are highly customizable and simple to edit. 
Whether you are a creator or are in need of these cool PowerPoint templates, there are many digital marketplaces like for example, MasterBundles, where you can find hundreds of templates in different colors and themes. 
The Importance Of Using Color In Presentations
Using the right colors in your presentations helps you communicate your ideas clearly and engage your audience. Colors may affect how well your audience understands what you're saying and how much information they retain afterward. Your presentation's appearance can be greatly influenced by how various colors interact with one another and how you employ them.
Many forget that colors perform a much more important role than just making the slides look pleasing. They assist you in making your message memorable, highlighting a key point, maintaining consistency throughout your slides, and conveying certain emotions. 
Color Combination Tips For PowerPoint Presentations
There are some basic rules you need to remember when choosing colors for your presentation. These simple tips will help you avoid color mistakes that can affect the way your listeners understand what you are trying to explain and perceive new information:
Some color combinations should be avoided at all costs.

There are some colors that should never be used together, like red and green, orange and blue, and red and blue. These are contrasting colors, which are hard to look at, they can cause discomfort and unsettling feelings.

Be careful with patterns.

Make sure the pattern or design you choose to utilize in the backdrop of your presentation slide is undetectable. Many presenters utilize patterns or graphics to make their slides more visually attractive, but it's as crucial to use them cautiously and make sure the slides don't get too complicated to read.

Know the emotion you want to convey.

Research has revealed that colors can cause diverse overall emotions in different people. Hues may be interpreted in many different ways. For example, the color blue symbolizes certainty, whereas the colors brown, purple, yellow, and white signify purity.

Lack of contrast between the colors in text or images.

It's one of the biggest mistakes presenters usually make when creating a presentation. Therefore, make sure the visual or text on the screen is in line with the backdrop color if you want your audience to be able to read the text on the slides.
There are many color tools available on the internet, which you can use to choose a color palette for your presentation. There are also ready-made color schemes for presentations relevant to specific industries or topics. 
Why choose ready-made templates?
Creating a good presentation takes a lot of time and creativity. First, you need to put information in such a way that it will be easy to understand for people who haven't heard anything about your topic before. But then also make sure the visual aspect of the presentation is also considered.
Professionals also make a big mistake when focusing only on the presentation's content. They underestimate the power of first impressions and design. These aspects are extremely important for a successful presentation. It's better to use themes and templates that have been created by designers to save time and receive creative, high-quality presentations. 
The knowledge of color theory is vital for compiling a good presentation. Some people have a feeling about which colors are better to use, some – don't. With PowerPoint templates, you can stop worrying about that.
With the best PowerPoint templates, you can forget about choosing which color looks better or where to put an image or a diagram. In templates, there are already specific spaces intended for everything needed. And you can also easily customize them the way want to add a personal touch if you want.
10 Cool Premium MasterBundles Products 
All of MasterBundle's products are unique and have passed a required screening. The PowerPoint templates have all a different vibe and functions depending on how a user wants to apply them. Here's just a look at a few of the colorful PowerPoint templates. 
This podcast's colorful presentation template has a minimal professional, yet ultra-modern and unique design. Each slide of the template is created with love and attention to detail.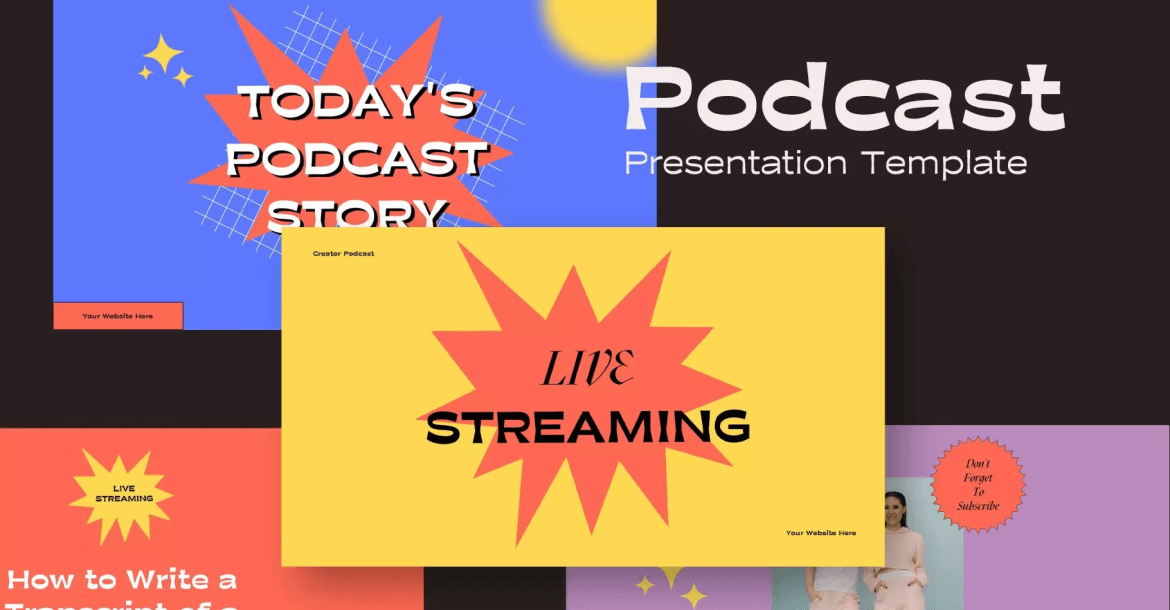 The template was crafted for product/event presentations and marketing, it's also perfect for catalogs and lookbooks. The colorful design is suited for fashion, girl boss, ladypreneur, and other related businesses. 
This music presentation template has a blue background with curly shapes in a variety of colors, which resemble sound waves. This Music Presentation Template has great electronic music vibes. It's combined with musical icons and other images, which give the template a trendy look.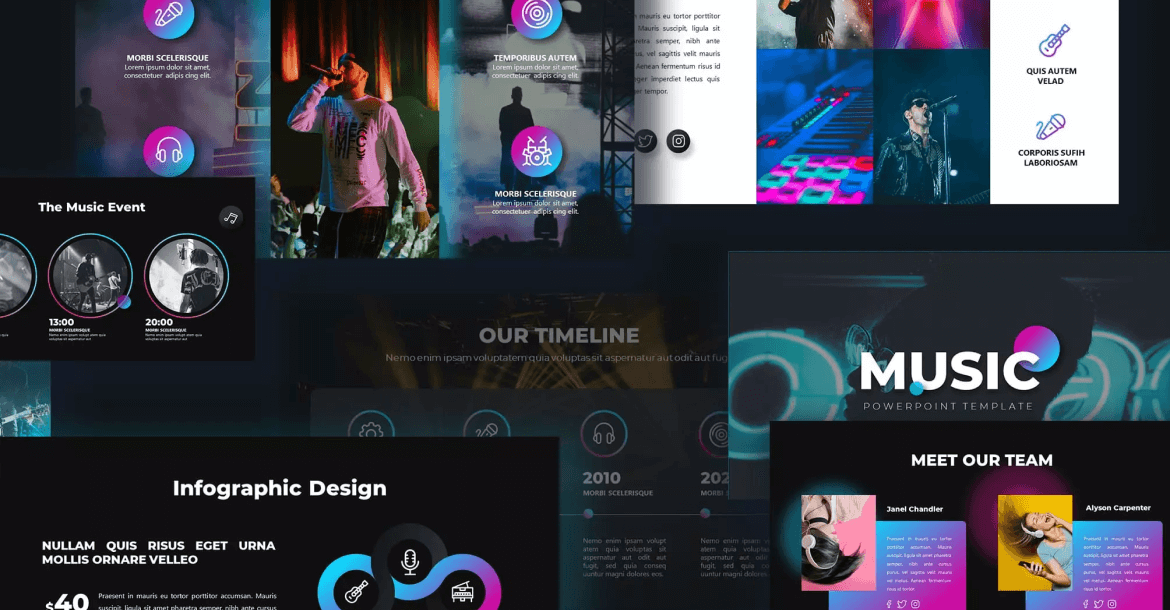 The template includes 50 different slides. Also examples of styles of charts, graphs, and tables. All details are fully editable. 
The smart PowerPoint template withholds just everything that is needed to create an educational presentation. The beautiful combination of pink and blue colors will catch the audience's attention.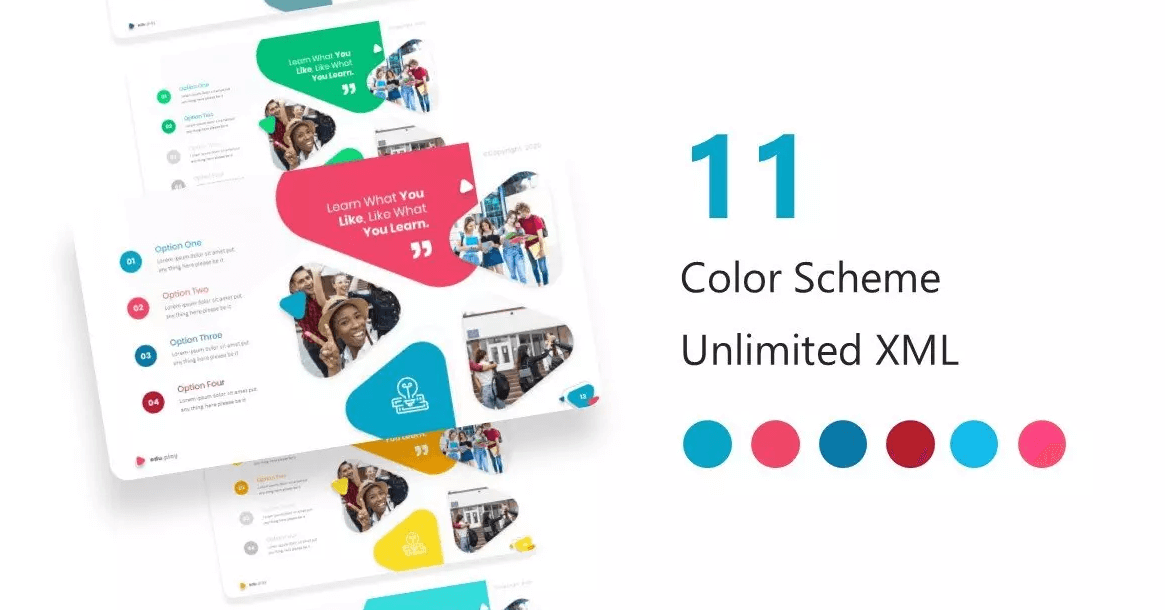 This beautiful and smartly designed template will impress any audience, whether you are pitching investors, presenting ideas to colleagues, or making a sales pitch to your target customers.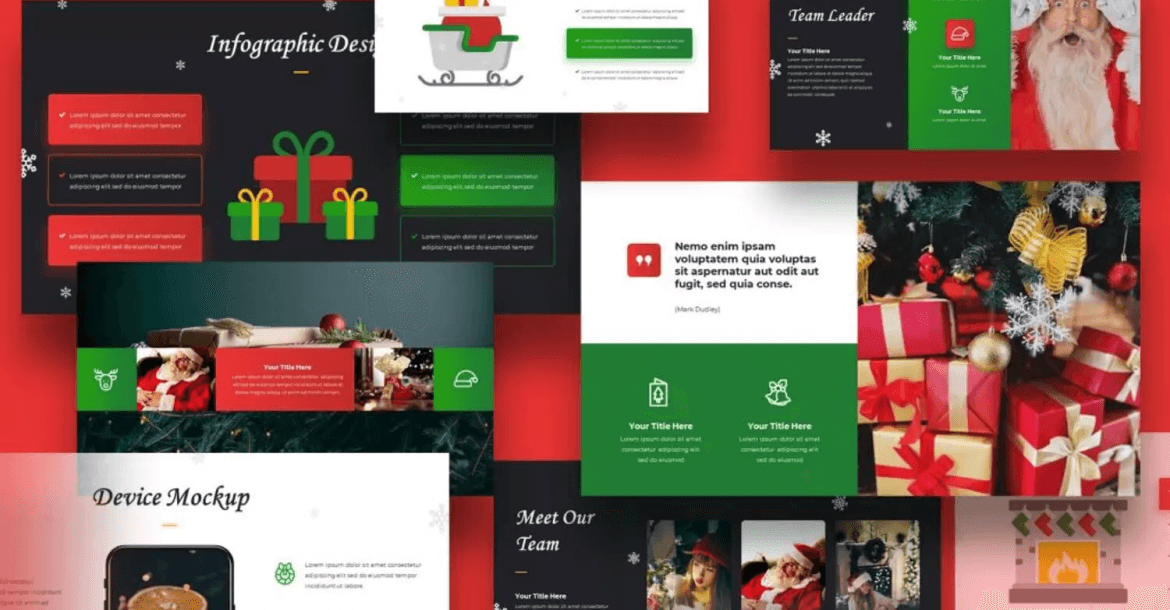 This colorful Christmas PowerPoint presentation is perfect for setting the holiday mood. Christmas is a holiday that brings together, even the most distant relatives or friends.  With light and dark color schemes don't pass the opportunity of decorating your whole life on the eve of the holidays.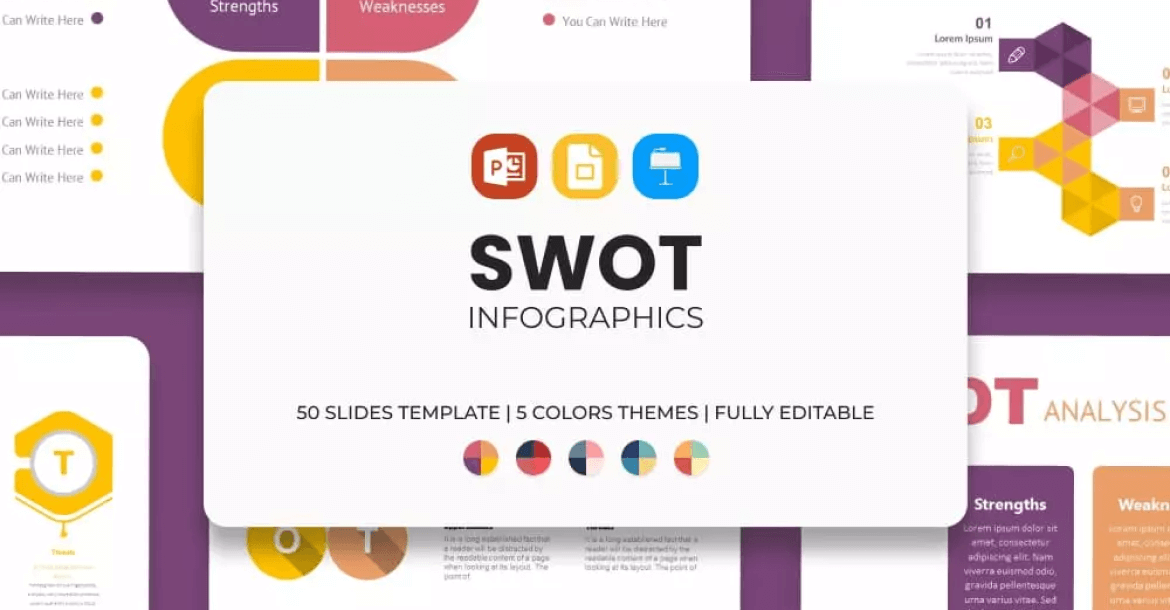 This quite purple presentation template offers a huge variety of slides, suitable for Keynote, Google Slides, and PowerPoint. You can use this template for your marketing or business presentation, where the SWOT analysis is needed.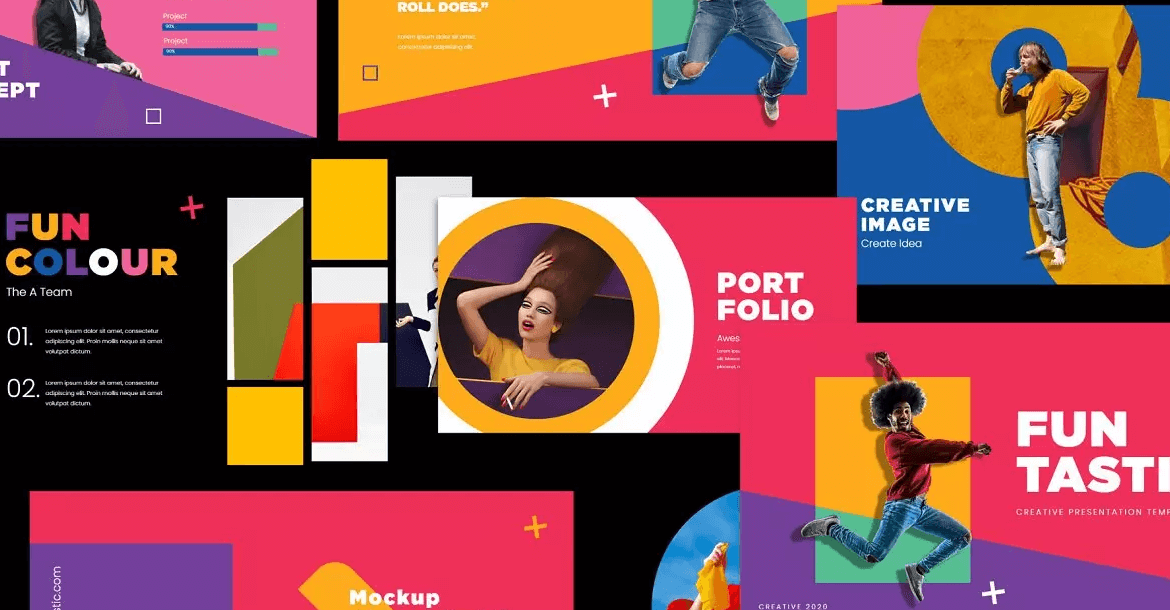 This Powerpoint template offers a minimalist professional design, where all slides are bright and cool and will definitely be remembered by your audience after you finish.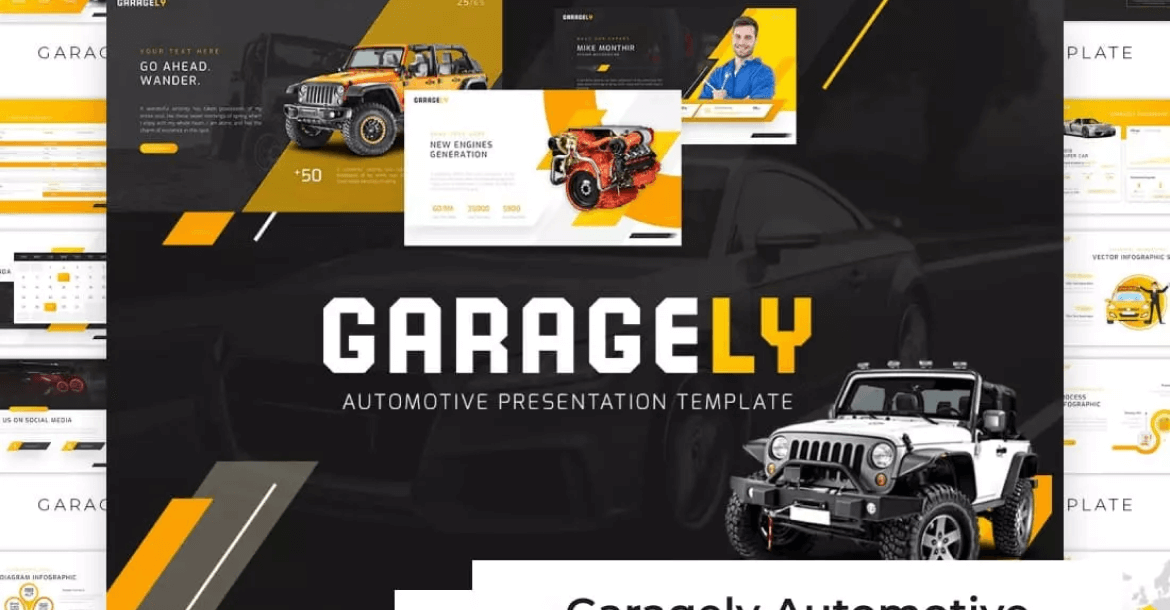 The automotive PowerPoint template is quite interesting and very simple to use. It's suitable for all kinds of festivals, business purposes, events, or party needs. Based on master slides and editable vector elements is one of the features of this template, which will make your presentation more professional and can amaze your potential business investors.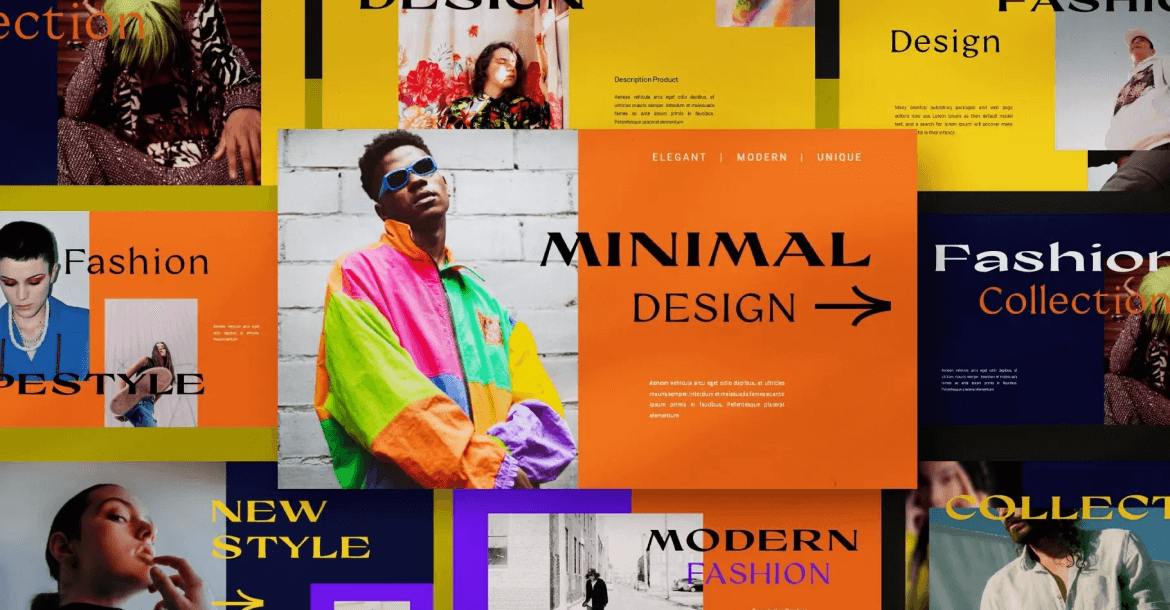 Yeager multipurpose presentation template offers a set of unique trendy slides with beautiful typography and color combinations, suitable for different business presentations as well as fashion and entrepreneurial topics.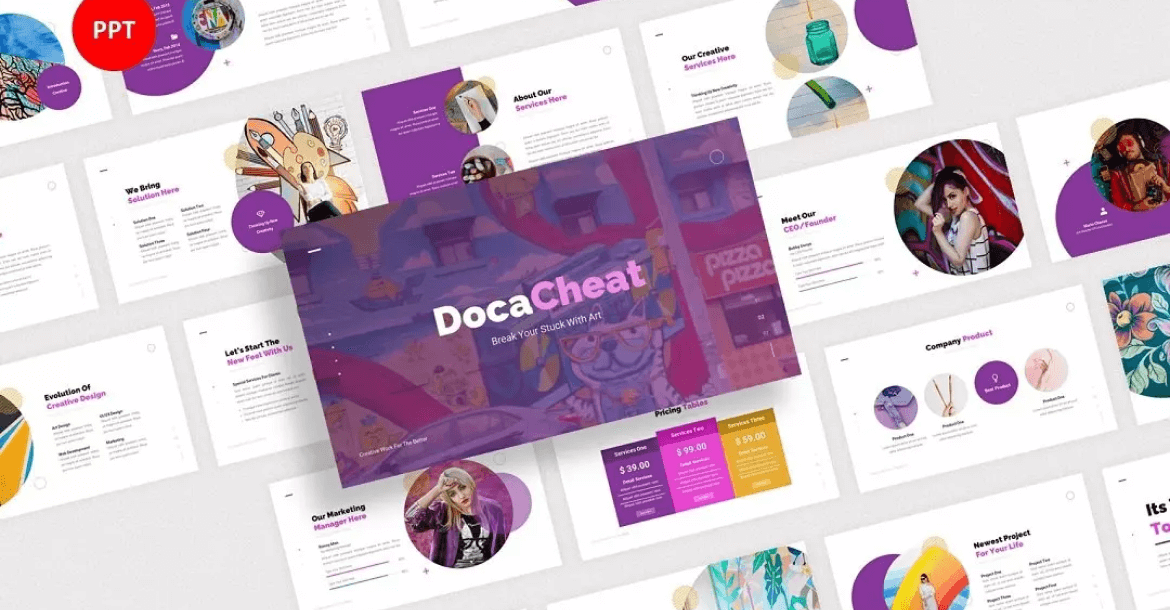 When it comes to taking your startup to the next level, the Pitch Deck template is crucial. For that reason, Pitch Deck is powerful, memorable, and effective. Even though the design is creative yet simple and clean there are a total of 80 slides.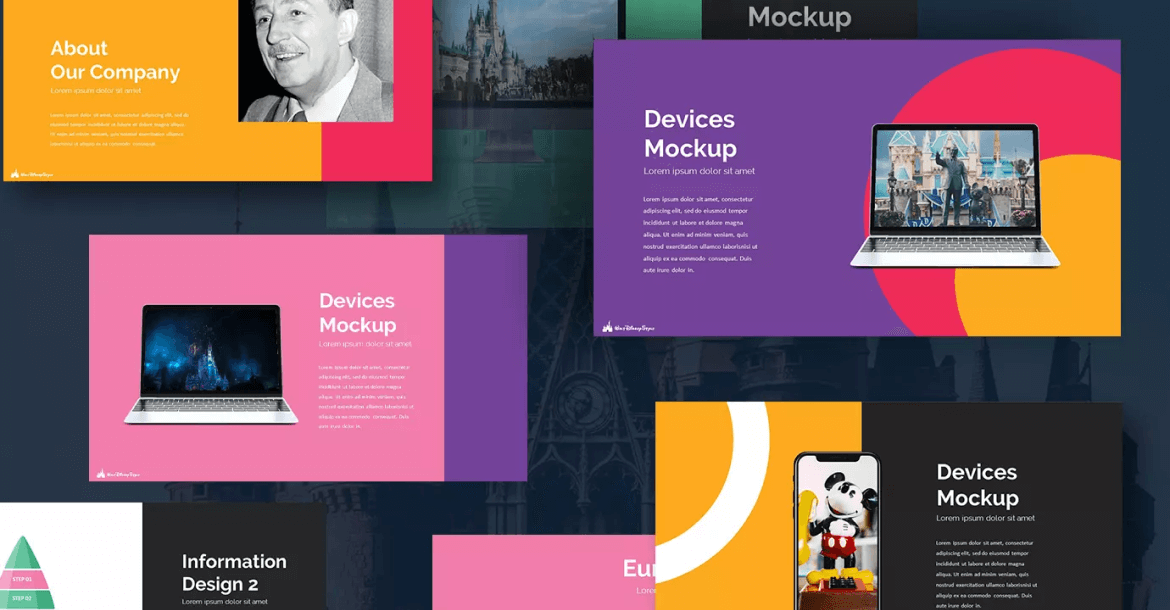 This Disney presentation template includes 50 unique editable PPTX, Google Slides, and Keynote slides. It has a blue background with the logo of the Walt Disney Company. This simple background makes your template look neat and professional with various slide layouts.

Other Colorful PowerPoint Templates 
Make sure to check other colorful presentation templates, such as the following ones: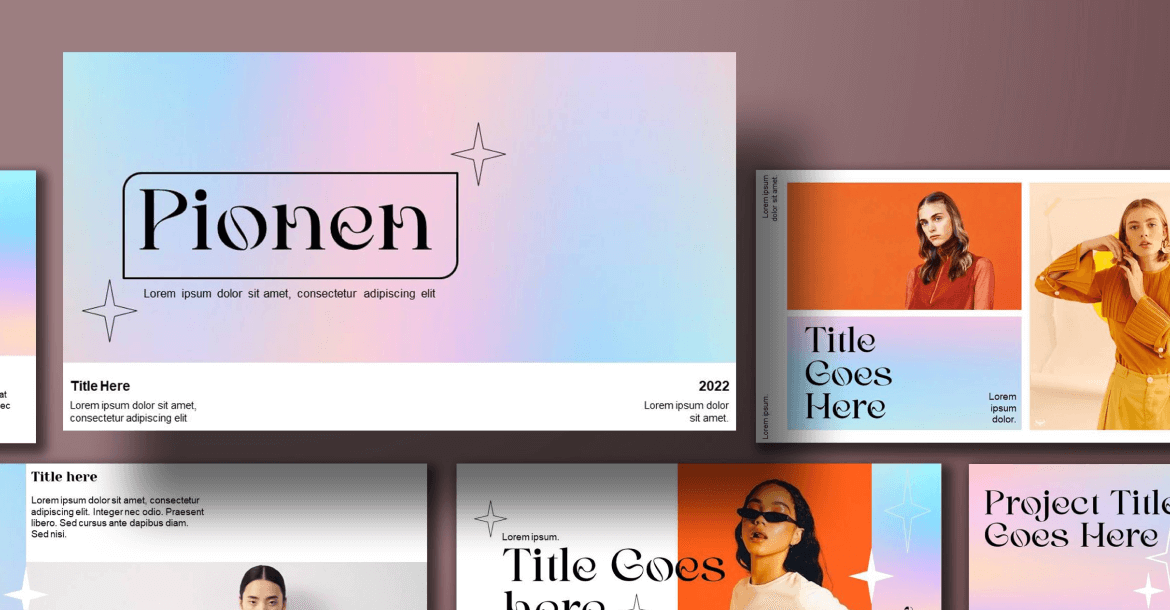 Pionen is a simple yet impressive multipurpose template suitable for PowerPoint, Google Slides, and Keynote. There are more than 33 slides with many different elements, which makes this template perfect for any field.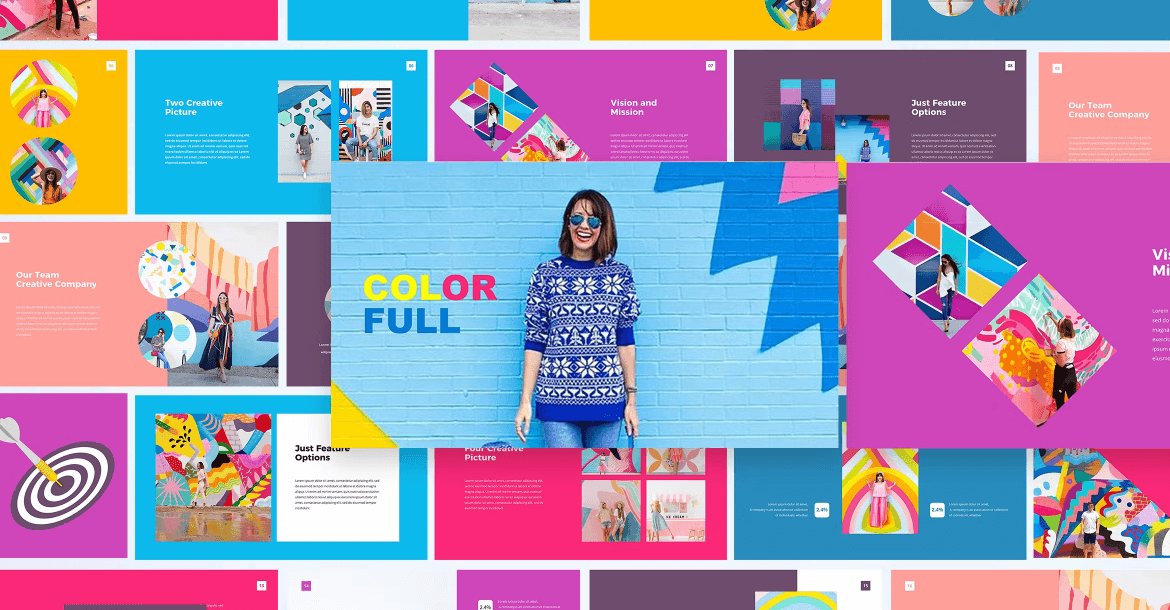 This is a colorful PowerPoint template, modern, colorful, minimal, and professional. This template is suitable for all types of business presentations and fits presentation requirements. It is fully resizable, customizable, and easy to use.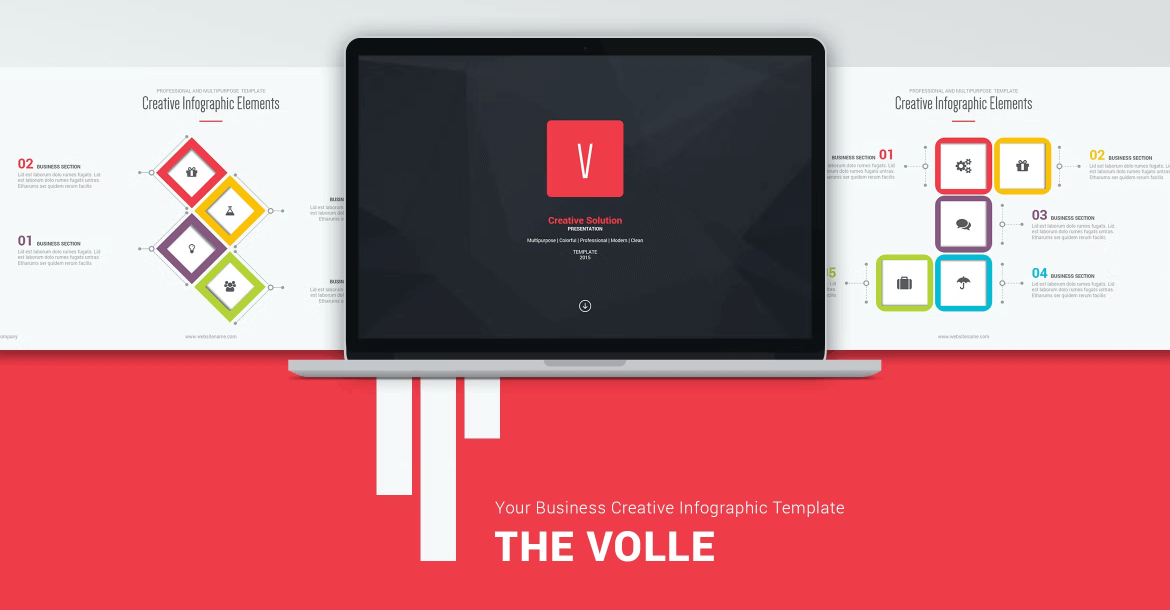 This Volle colorful PowerPoint template presents 92 different, colorful slides. All the slides are based on master slides which let you drag and drop images and photos onto the slice. It comes with infographic elements, chart graphs, mockups, and icons. Also, the template is available in both a dark and light layout to give you the variations you need. 
Conclusion
MasterBundles withholds many great products. You can find some very creative artwork and elements that you are in need of. For an artist, the marketplace is a space to express themselves and earn a good cut from selling their masterpieces. If you ever decide to go on an online shopping spree – MasterBundles will not let you down!