Ecommerce
Everything You Need To Know About Ecommerce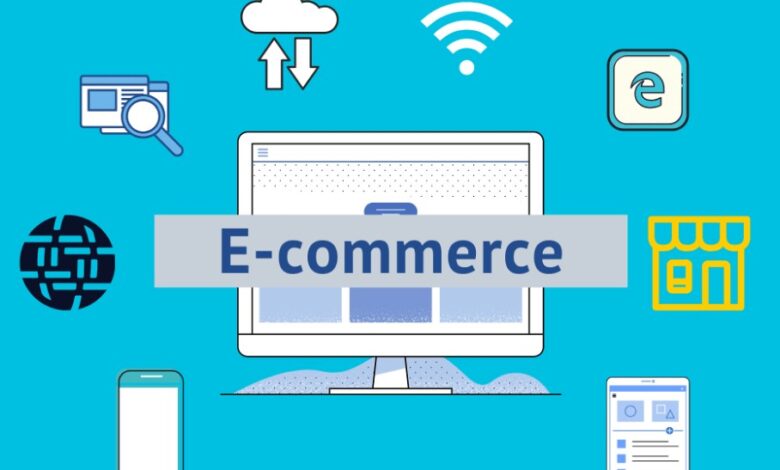 E-commerce or electronic commerce is the transactions that occur through the internet. Every time people or companies are buying or selling goods and services online, they are participating in eCommerce activity. The term eCommerce doesn't include only buying and selling but it also encompasses online auctions, internet banking, payment gateways, and online ticketing, and so on. It is a type of trade or commerce that occurs on the internet.
HISTORY
The stepping stone of e-commerce started over 40 years ago when Electronic Data Interchange (EDI) and teleshopping were introduced in the 1970s. These paved the modern-day e-commerce activities that we know of today.
The history of e-commerce is closely interrelated with the history of the internet. Online shopping pr internet shopping became a possibility when the internet was opened to the public for the first time in 1991. Amazon, Netflix, eBay, Alibaba were some of the first eCommerce sites, founded in the mid and late 90s that started selling products online and thousands of businesses have followed the path since then.
The first e-commerce transaction was made in 1994 by a guy named Phil Brandenberger. He used his Mastercard to buy Sting's Ten Summoners' Tales via the internet for $12.48. This particular transaction made history and indicated to the world that the internet is now open for eCommerce transactions.
Although eCommerce opened to the public and increased the scope of online business, it also contributed in declined sales of many offline businesses.
TIMELINE OF E-COMMERCE
The development of the Electronic Data Interchange (EDI) in the 1960s paved the way for eCommerce. EDI replaced traditional mailing and faxing of documents by allowing a digital transfer of data from one computer to another. EDI allowed the transfer of data seamlessly without any human intervention.
Michael Aldrich's invention involved hooking a television to their supermarket to have the groceries delivered. Aldrich coined his invention "teleshopping" (shopping at a distance), which can be seen as the precursor for modern online shopping.
In 1990 Tim Berners-Lee and Robert Cailliau published a proposal to build a "Hypertext project" called "World Wide Web."
In 1991, the National Science Foundation lifted its restrictions on commercial use of the NET, causing online shopping to grow exponentially. In September 1995, the NSF began charging a fee for registering domain names. The number of domain names quickly grew to two million by 1993.
In the mid-90s, there was some major advancement in the commercial use of the internet. One of the first eCommerce sites was Amazon, which started in 1995 as an online bookstore but grew to become the largest online retailer in the world today. Traditional bookstores would hold about 200,000 titles of books. Amazon on the other hand, with the benefit of
being an online store could offer more products to its shoppers as it had no physical limitations.
Amazon's range has expanded over the years and now includes music, video downloads, electronics, apparel, furniture, food, and toys, groceries. The retail giant was one of the first online retailers to add user reviews and a rating scale for their products. Product reviews are now considered one of the most effective tactics for driving sales and building consumer trust.
Other eCommerce marketplace success stories include eBay, an online auction site that debuted in 1995, and Etsy, which launched in 2005 and by 2019 saw gross merchandise sales total $4.97 billion globally.
TYPES OF E-COMMERCE
As eCommerce continues to evolve, so do the ways it's conducted. Following are the traditional types of e-commerce models-
Business to Consumer (B2C) B2C eCommerce is the most popular e-commerce model. Business to the consumer means that the sale is taking place between a business and a consumer. For example, you buy stationery from an online retailer. For example, Ikea, Netflix, Flipkart, Amazon are a few companies that engage in B2C eCommerce.
Business to Business (B2B): B2B e-commerce refers to a business selling a good or service to another business, for example- a manufacturer and wholesaler, or a wholesaler and a retailer. Business to business e-commerce doesn't include consumers and usually involves products like raw materials, software, or products that are combined to maybe further create a product. Manufacturers also sell directly to retailers via B2B.
Direct to Consumer (D2C): Direct to consumer e-commerce is the latest model of eCommerce. D2C means that a brand is selling directly to its end customer without going through a retailer, distributor, or wholesaler. Subscriptions are a popular D2C item, and social selling via platforms like Instagram, Pinterest, Facebook, Snapchat, etc. are popular platforms for direct-to-consumer.
Consumer to Consumer (C2C): C2C e-commerce refers to the sale of goods or services to another consumer. Consumer-to-consumer sales take place on platforms like eBay, Etsy, Fivver, etc.
Consumer to Business (C2B): Consumer to business is when an individual sells their services or goods to a business organization. C2B includes influencers offering exposure, photographers, consultants, freelance writers, and so
THE BENEFITS OF E-COMMERCE
Ecommerce offers a bunch of benefits. Following are some of the most common benefits-
1. Global marketplace
Customers from around the world can easily shop on eCommerce sites. Companies are no longer restricted by geography or physical barriers.
2. Personalization and customer experience
E-commerce marketplaces can create user profiles that allow them to personalize the products offered to them and make suggestions for other products that they might find interesting. This improves the customer experience by making shoppers feel understood on a personal level and it also helps in increasing brand loyalty.
3. Convenience
Online commerce makes purchases simpler, faster, and less time-consuming, allowing for 24-hour sales, quick delivery, and easy returns. For example, Amazon now offers 2 day delivery with Amazon Prime subscription.
4. Minimized expenses
Since physical stores are no longer required, digital sellers can launch online stores with minimal startup and operating costs.
5. Wide product range
With eCommerce, consumers have the luxury of browsing a wide range of products to make an informed purchase decision. They now have choices they can make from different brands, quality, price, time of delivery, and so on.
THE DRAWBACKS OF E-COMMERCE
1. Privacy and security concerns
Consumers still hesitate to share their personal information on an eCommerce site in the fear of fraud especially in the case of credit & debit cards, bank transactions online shopping.
2. Lack of engagement
In some cases, engagement between a consumer and seller seems necessary, like in the case of apparel shopping. In the case of apparel shopping determining the size, color, material, etc of the clothes is difficult.
3. Delivery time
In eCommerce, the time taken in the delivery of a product can vary and it can take longer than expected in some cases. In some cases, the product might never get delivered. If you the product to be delivered to faster then you will have pay extra express shipping cost which also seems unfavorable in some cases.
We, e-Definers Technology (edtech) are a dedicated ecommerce website design and development company in Delhi, India. We are specialists in providing designing and development solutions to the various industrial sectors. We have a young enthusiastic team of experts who delivers the utmost level of work. We are also top lead generation company in Delhi