Most of the times entrepreneurs and business owners get confused between SEO and PPC. Even if you have entered in the space of digital marketing, the chances are higher that you will face this state of confusion for sure. Ethically, we all know SEO stands for search engine optimization which is widely recognized for its sustainability but it is a time-taking process which takes hours, months and even years to deliver the expected results. On the other side, PPC stands for pay per click that delivers the results quickly by charging for each click.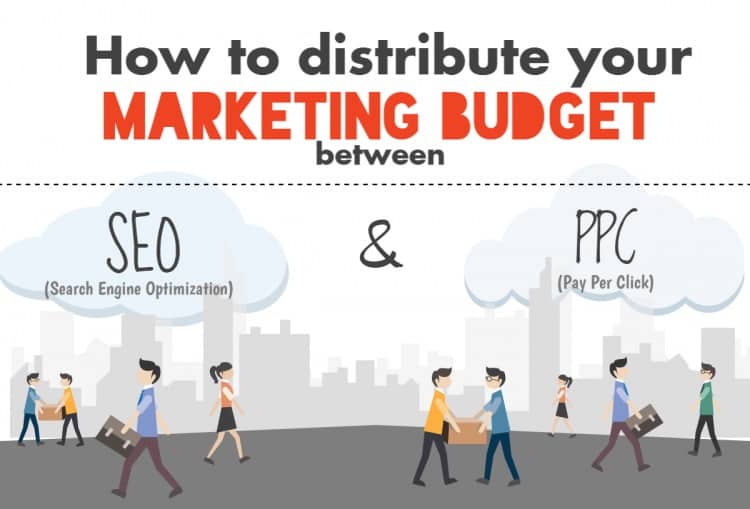 You may have seen brands spending a good amount on their promotion related strategies but failing to receive the expected revenue. Then there are brands that have never spent any amount in the paid advertising but are still collecting a hefty amount of revenue by using leads and conversions sourced from the organic traffic.
Below are some of the questions you should ask yourself while deciding your marketing budget:
What is your aim behind this?
The success of any strategy depends on the proper planning and execution. You should be extremely clear with your objectives. Before you plan your budget clear your requirements in mind by asking these below questions –
Do I really need more customers?
Do I need more refined leads?
Do I need more newsletter subscribers?
Do I want to lower my bounce rate?
Should I improve my conversion rate?
If you are planning to get the fresh leads instantly then PPC should be on your list at the top.  It is best suitable if you are marketing your products or services for a specific period of time. For instance, boosting a special offer for a limited period.
In case if you are looking to reduce your bounce rate then search engine optimization (SEO) will be a better option.
However, for remarketing PPC can also be a great option. This will hook your visitors who have left you in the past with a properly managed marketing campaign.
What is your identity?
It is important to understand who you are exactly as a brand? What type of products and services your business offers? Who are the competitors in your arena?
If you are a just launched startup business and looking forward to establishing your strong market presence then PPC for sure give you the better initial results. In the beginning Pay Per Click will drive the traffic and gives you the great brand awareness. But, getting significant results from SEO Services in Delhi take time and works slower but provides better stability and future results.
Another crucial factor to keep in mind is how familiar your products are. If it is non-familiar product then PPC should be your first priority. Analyze your potential
What about the expenditure?
This is something which needs to focus sincerely. Limited budget means you can only invest in a certain boundary.
In some of the industrial segments, PPC seems to be an expensive deal. For example, the automobile industry clicks can cost higher and same in legal too.
So before you plan anything to make you have an idea how much your budget is allowing. The product value and per click value should not same otherwise you will just get pennies in return.
Where you are currently?
If you have a local business then it is best to invest in local search engine optimization compared to pay per click. All you need to do is some tweaks on the website and with the proper optimization will start receiving the visibility locally.
But if you are catering the international audience and ready to ship your products globally then you can choose both multilingual SEO & PPC both.
Conclusion
Now you have read all the points and it's totally upto you what you want. If you can wait then hiring SEO Experts will give you the fair results but if you want immediate results then PPC which quite expensive. It depends on your business too.
The above said is compiled by the Digital Marketing Experts at e-Definers Technology. For more, you can visit this space for the latest news, information, and blogs related to online marketing.