Digital Marketing
What Are the Differences Between Traditional Marketing and Digital Marketing?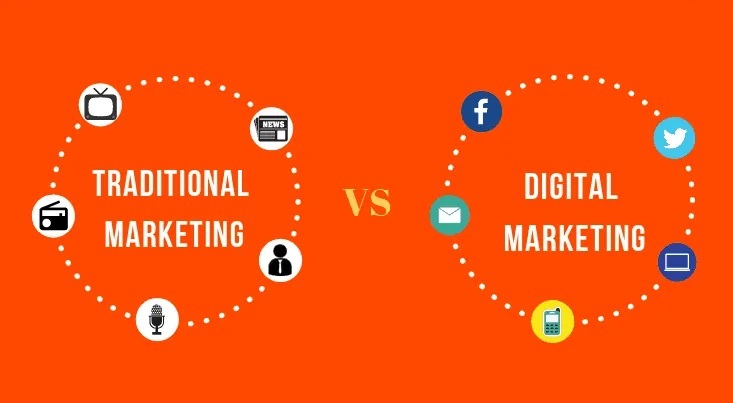 In today's world, recruiters are on the lookout for digital marketing experts with expertise in the latest marketing tools that can help businesses achieve their specific objectives. Digital marketing has increasingly replaced traditional marketing strategies in most large companies around the world. While traditional marketing strategies are still in use, online or digital marketing is currently trending, and for all the right reasons. So, if you are into digital marketing and wish to advance in your career as a digital marketer, there has never been a better time. Therefore, enrolling in a digital marketing course or other reliable digital marketing certificate programs is the right way to further your career prospects and secure a guaranteed position in any organization as a top-rated marketing specialist.
Do you still need clarification as to why digital marketing is better than traditional marketing? Then, this article will provide a clear overview of why digital marketing is preferable over conventional marketing strategies to address modern-day marketing challenges.
Online Marketing vs. Traditional Marketing
In traditional marketing, conventional advertising channels like radio or television commercials, newspaper advertisements, billboards, flyers, handouts, and even word-of-mouth.
On the other hand, online marketing is the process of leveraging the power of the internet to increase brand awareness through various social media platforms, Google Ads, Facebook Ads, video marketing, email marketing, and website optimization by the help of an SEO company. Moreover, there are countless digital marketing certificate programs to learn online marketing at very nominal costs. Learning traditional marketing, however, requires expensive college degrees and dedicating a few years at least.
Now, let us understand in what ways online marketing is better than traditional marketing.
1. Cost
Compared to conventional marketing, online marketing is much more cost-effective. This enables smaller brands to develop marketing strategies on a much smaller budget, which can be learned easily through online digital marketing certificate programs. So online marketing allows for a level playing field when competing against big names in the industry. However, offline marketing makes it difficult to get a wide reach without exorbitant budgets, making it difficult to compete against already established big brands. Moreover, traditional marketing calls for extravagant marketing strategies, which again is possible only with a high budget and a skilled team.
2. Customization and Adaptability
Digital marketing allows firms to customize their marketing strategies better and adapt faster to changing trends. Implementing a traditional marketing strategy, from the initial conception to the actual materialization, consumes a lot of labor and resources. On the other hand, Digital marketing certificate programs teach effective marketing strategies that can be implemented with only a fraction of the resources and manpower. Therefore, even if an online marketing strategy fails, it is easier to reimagine and implement a whole new marketing campaign. However, the same is not true for a traditional marketing campaign.
Similarly, it is very hard to customize an advertisement published via a traditional medium like television or a billboard. However, in the online space, with just a few minor adjustments, an ad campaign can be customized for different target audiences or even for individuals. For example, with some minor changes in the content, say in terms of language or tone of writing, an online banner can be shared across different groups on Facebook. However, customizing an offline ad campaign for different linguistic groups and age groups is a cumbersome and costly process.
3. Reach / Geographical constraints
Digital marketing goes beyond the constraints of geography. Virtually, there is no geographical limit for a piece of online content. It could very well reach a global audience. However, via traditional marketing, brand promotions are typically limited to a small section of customers. If n advertisement is creative enough, it can connect with a huge audience and even become viral, thereby getting more audience engagement.
4. Customer feedback or interaction
Digital Marketing campaigns can include channels through which customers can directly connect with the brand to conduct business or raise queries and concerns. Customers who have any concerns or suggestions about the product can send an email or directly leave a comment on your social media posts. It's as simple as that! This is not possible in a traditional marketing scenario. There, customers are required to connect with the brand later after receiving the message through the offline medium. Too bad TVs and newspapers don't let you ask questions about the ads they show. Positive customer reviews can increase your sales and serve as an indirect marketing strategy. This happens particularly in online shopping because the genuineness or quality of your products comes under direct scrutiny in the eyes of other customers.
5. Measuring the Success of the Marketing campaign
In Online marketing, it is possible to accurately measure the ROI of an ad campaign or video using marketing analytics tools such as Google Analytics. It is easy to monitor web traffic and gain an understanding of customer demographics and preferences. You could get a variety of metrics like customers' geography, average age, time that they spent on your webpage, and the overall metrics based on views, likes, shares, followers, purchases, etc., via digital marketing.
Using digital technology in your marketing strategies gives you a clearer idea of how well your brand is performing, allowing you to re-strategize your marketing campaign, eliminating any flaws and optimizing what clicked with the customer. While traditional advertising is a more concrete and tangible form, the company has no idea how many people see the advertisements. This is the marketing equivalent of playing in the dark. So, take no time to start your digital marketing career by joining the right digital marketing certificate programs today.